People don't cook with beetroot enough, in my opinion. Beetroot is a brilliant ingredient; tasty, healthy and versatile. Forget the mounds of acidic stodge found floating in pickling juices in jars on supermarket shelves. Go back to the raw ingredient; beautiful beets, vibrant pink stalks sprouting from their tops, headed with green leaves. Have you ever tried it roasted? No? You haven't lived. I'm envious of you, for being able to experience for that first time the revelation that is fresh roasted beetroot. Endlessly sweet, earthy, juicy, sweet again. Serve it lukewarm with a drizzle of honey, good balsamic and a young goats cheese. Maybe some walnuts. Jesus.

Now that I've set the stage and beetroot is once more in your good books – try out this recipe. Beetroot is also brilliant raw! Fresh, crunchy and perfectly paired with sweet and tart flavours. This recipe is an adaptation from the lovely Jamie Oliver, whom I adore. Try making it using different types of fresh beets – they come in lots of beautiful colours; the traditional pink/deep purple that stains your hands for days after (caught red handed, ho ho ho) plus golden and yellow! The sweetness of the pear, together with the tartness of the lemon vinaigrette is a perfect complement and the fresh mint lifts it and makes it even more fresh and fragrant. Great with fatty meats, to cut through the richness, or just by itself, a simple summer salad.

Jamie adds feta. This would be beyond superb, but it is equally yummy without.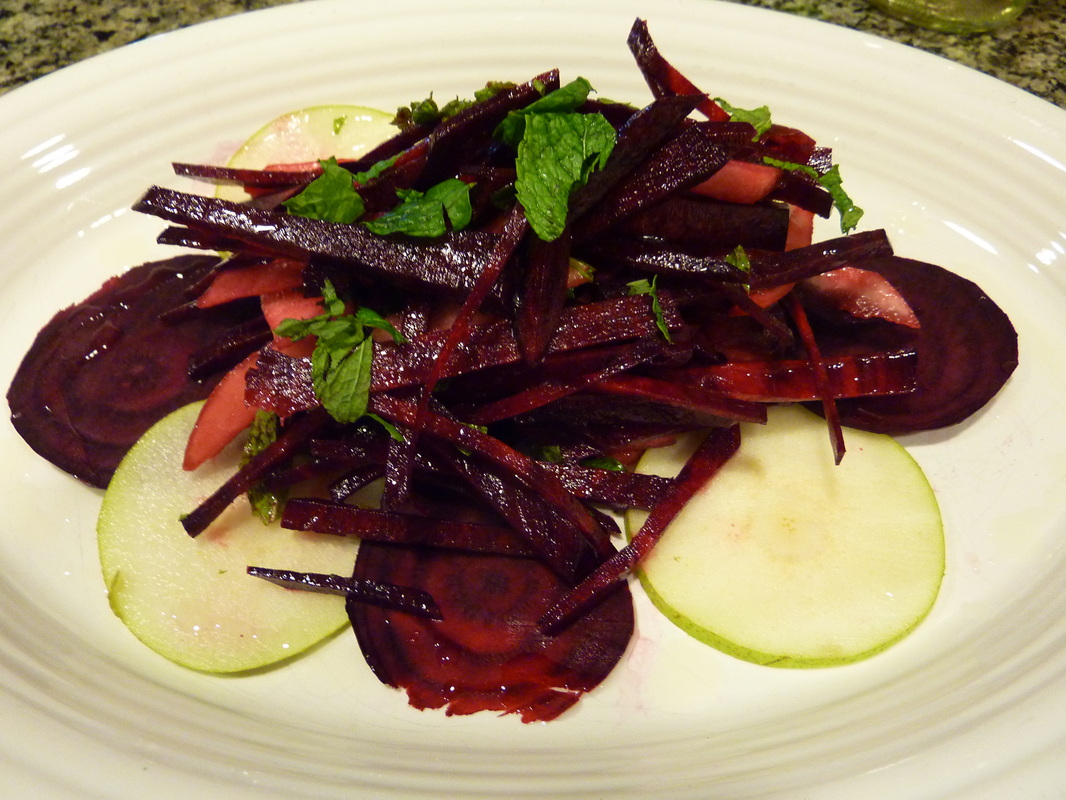 Recipe

Ingredients (Serves 6):

4 fresh beets, medium sized, peeled and cut into very thin match sticks
4 fresh pears, not too ripe, peeled and cut into very thin match sticks
3 lemons
Good glug of olive oil
Salt and pepper
2 handfuls of fresh mint, chopped

Method:

1.       Make the dressing by combining the juice of three lemons with equal quantities of olive oil, salt and pepper and whipping up to combine with a fork.
2.       When ready to eat, not before, combine the pear and beet matchstick and toss together. Add the dressing and stir to combine.
3.       Add the mint and combine. Taste and season if needed.
4.       Serve! To make it extra pretty, thinly slice circles of the pear and beetroot with a mandolin slicer or very sharp knife. Overlap these on a plate in a circle and then heap the salad in the middle of them, but so that their edges can still be seen. Garnish with more fresh mint and olive oil.