I got this recipe from my flatmate for the last 3 years at University; a veritable goddess in the kitchen and the best baker you'll ever meet. Full credit goes to her for the utter deliciousness that this recipe holds. Risotto is a fantastic thing in general – perfect comfort food; smooth, creamy, rich and carb-heavy yumminess. This one is particularly nice. The butternut squash adds a warmth and autumn-like depth to the dish, the feta an acidic tang and the roasted garlic a moreish pungency that leaves you grasping of third portions. I don't think risotto needs to be accompanied really by anything – I hate that typical 'boy' thing, mimicked by far too many restaurants, that they do when they cook a pasta dish and plonk a random chicken breast on top. Unforgivable. If you have to serve it with something, do a simple rocket salad in a sharp dressing.
Note – this is fantastic with crispy bacon in it too. I didn't do it here because I was cooking for a vegetarian but all you meat lovers – saute some bacon at the beginning, set it aside and then add it in at the end with the cheese.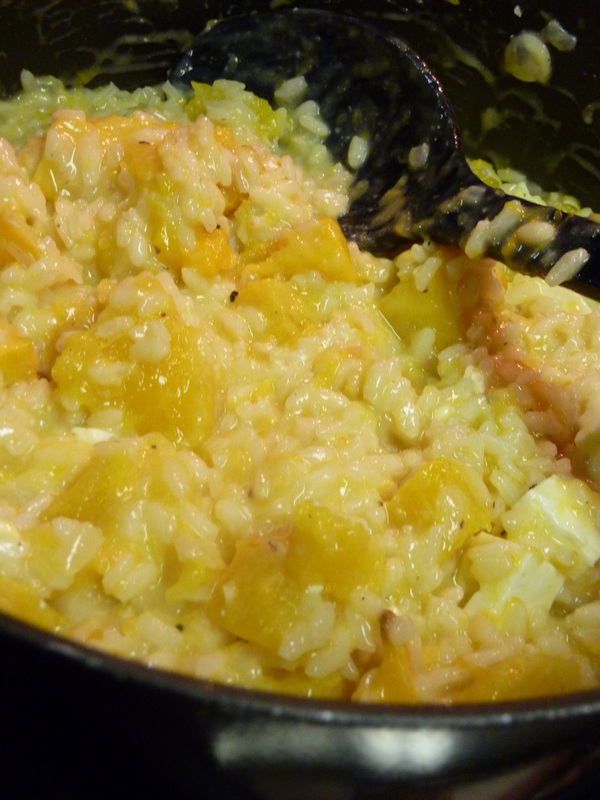 Recipe
Ingredients (Serves 4-6):
1 large butternut squash
, cut into 1 inch cubes
1 bulb garlic
200g feta cheese, cut into 1cm cubes
100g Parmesan cheese, grated
6 handfuls Arborio risotto rice
– buy good quality rice; don't get the quick cook stuff
15og salted butter
1l chicken stock
1 large white onion, diced
100ml white wine
olive oil
salt and pepper
Method:
1. Heat the oven to 200 Celsius. Put the squash onto a baking tray
along with the cloves from half of the bulb of garlic, skins still on. Drizzle in olive oil and season. Roast for around 30-40 minutes until the squash is soft and cooked throughout.
Turn the oven off and leave.
2. Place a very large saucepan
over medium heat and chuck in a glug of oil and a knob of the butter. Put in the white onion and saute until soft and cooked, but not browned; approx. 5 minutes. Add the garlic and saute for another minute until fragrant and cooked.
3. Add the risotto rice and saute for about 3 minutes until the rice has gone slightly see through. Make sure it doesn't get too dry – add more butter as required.
4. Add the white wine and stir until evaporated.
5. Then add a ladle of the chicken stock and stir until the rice has soaked up all the stock. Add another ladle and stir. Repeat, stirring constantly, until the rice has swelled and is soft throughout. This might take more than a litre of the stock or it might take less. It will take about 30-40 minutes. Keep tasting and when the rice is soft but still holds its shape and has a little bite, then it is ready.
6. Take off the heat and stir in the Parmesan cheese. Add the roasted squash and squeeze in the garlic from their skins, discarding the skins. Finally, stir in a big knob of butter and add the feta, stirring it in to combine. Season to taste.
7. Serve immediately.