Imagine a mouthful. Imagine a mouthful that is spicy, meaty, sweet but salty. Imagine it with just the right amount of fat fried crunch around the outside. The perfect amount of yielding crisp as you bite, the perfect amount of butter rich fat coating your lips. Juicy chicken going into a zing of chilli and ginger, creamy garlic, warm spicing creeping in, thin but crunchy batter, butter, ghee, salt, all washed away by the juices of the chicken, trapped inside the shell.
It's not great for you, but it doesn't matter, not when it smells like this, not when it tastes like that.
I met this mouthful in Goa in Southern India, when it was cooked for us by the Nepalese hosts of our beach shack. In Goa it cost 1 pound for a huge plate but, damn, I'd have paid much much more. Have a go and see what you think. Try and imagine yourself on a white sand beach, at sunset, sipping a Cobra and perhaps it will enhance it even more.
You can either steam these (for a more healthy option) or deep fry them, my personal favourite, for crisp and texture.
Serve with a spicy dipping sauce and a cold lager.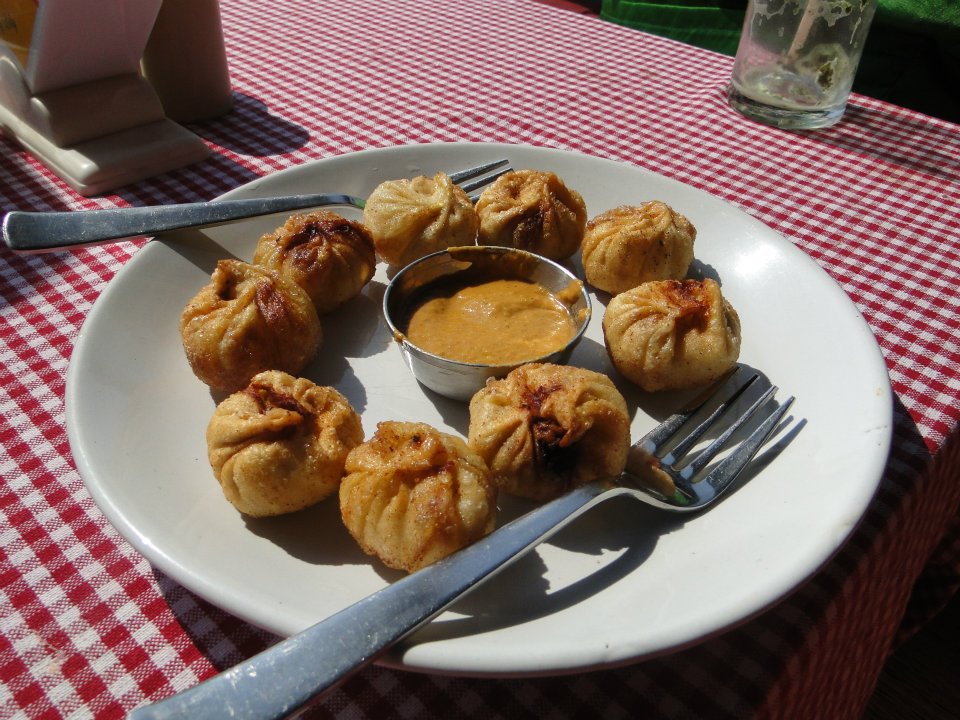 Recipe
Ingredients (makes 10):
½ chicken breast
½ tsp garam masala
½ tsp masala powder
½ tsp cumin powder
½ tsp turmeric
½ tsp coriander powder
1 tbsp ginger-garlic paste (mince your own if you can't find any)
1 tbsp chopped onion (1 small)
1 tbsp chopped fresh coriander
½ tsp salt
Pastry:
100g plain wheat flour
100ml water
Method:
1. Mince/process the chicken into a paste. Mix in the other ingredients.
2. For the pastry:
Mix together the ingredients and knead.  Shape into a sausage shape.  Divide into 10 roughly inch blocks. 
3. Dust a surface with flour.
Take each block, flour  it and press into an patty shape.  Roll out into a circle. 
4. To fill them, take each circle and spoon the chicken mixture into the middle. Pinch one end of the circle together and then pinch pleat around the chicken mix forming a bag or purse shape around the filling. 
5. Either steam or deep fry.  To steam, lightly oil the steamer and then add the momos.  Steam for about 8 minutes.  To deep fry, heat vegetable oil in a saucepan and place the momos in and deepfry till golden brown, a couple of minutes. Alternative, use a deep fat fryer if you have one. Season. 
6. Serve with a dip of choice.  Traditional would be to fry chopped onion with garlic, garam masala, cumin powder, salt, coriander powder, masala powder and then blend until smooth.  Alternatively it would go rather nicely with a raita or soy/chilli dipping sauce.