Recently I've been playing around with cocktail making again. For those of you who don't know, I got into cocktails at the same time, more or less, that I got into food and spent about 4 years working on high end cocktail bars in my tweens. I've been trying out the new Franklin & Sons soft drink product line to design a signature cocktail for a competition they're holding with 146 Paddington. If you don't know Franklin & Son's, you're probably not a gin drinker; they're best known for their swanky tonics but have recently branched out into equally swanky soft drinks. For more information on the new drinks, see further down.
First up though, here's my signature cocktail made with their classic Ginger Beer with Malted Barley and a squeeze of Lemon, The SOS Hornet. Honey and ginger go together like a dream and the drink has a social message too, inspired by one of my favourite things in the whole world; the humble bumblebee. Bumblebee populations are dropping at record levels due to use of pesticides, GM crops and over farming. Who cares right? Wrong. As a keystone species, if bees go extinct so do many other species including…..us! As Albert Einstein is quoted to have said, 'If the bee disappeared off the surface of the globe, then man would only have four years of life left. No more bees, no more pollination, no more plants, no more animals, no more man.'! Read below for how you can help!
The SOS Hornet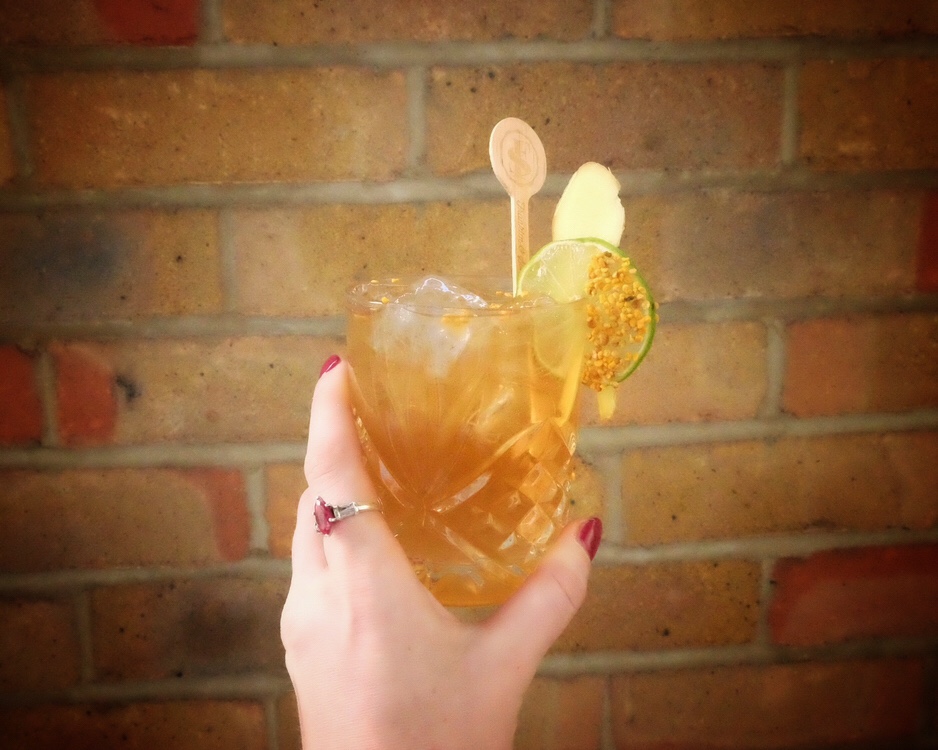 Ingredients:
Franklin & Sons Ginger Beer
50ml The Kraken rum
2 Limes, juice of
1 table spoon of honey, loosen with hot water so that it dissolves into the cold drink
Garnish: Bee Pollen, lime slice, ginger slice
Serve: Tumbler
Method
Shake the rum, lime juice and honey.
Serve over ice in a tumbler.
Top with a spritz of Franklin & Sons Ginger Beer.
Garnish with a slice of lime, ginger slice and bee pollen.
Find out more about the bees!
Find out more information about how to help recover our bumblebee populations, head to the website of and support charities like the Bumblebee Conservation Trust > https://www.bumblebeeconservation.org.
The Franklin & Sons Soft Drink Range
Franklin & Sons have been making drinks since they launched in Rickmansworth in 1886. They're very well known for their tonics, and their newer soft drinks are quickly becoming recognised by the industry in the same way. 80% of their range has won a Great Taste Award and you can't get much better than that! They use only natural flavours, extracts and colours and never include preservatives or sweeteners. The soft drinks range includes:
1886 Cola with West African Kola Nut and Green Coffee Bean
Valencian Orange & Pink Grapefruit with Lemongrass
Cloudy Apple & Yorkshire Rhubarb with Cinnamon
British Dandelion & Handpicked Burdock with Star Anise
Brewed Ginger Beer with Malted Barley & a Squeeze of Lemon
Sicilian Lemonade & English Elderflower with Crushed Juniper
Wild Strawberry & Scottish Raspberry and Cracked Black Pepper