Sometimes in life, you just need a get away. I've had a lot on my plate recently….
I've had builders at my house doing massive bathroom works, descending my house into a hellhole of dust and brick, and sucking every penny from my current account.
At the same time (literally the same day the building begun) I've started a new and high pressure day job.
Add to this the general pressures of life in London, worries about friends, family, my partner anddd………
….we have ourselves a bit of a tough time. All that being said, a recent mini break to country inn Bel and The Dragon's branch in Kingsclere, Hampshire, could not have been better timed.
They've just this autumn established a partnership with champagne brand Laurent-Perrier and are doing these great Gourmet Getaways for £160 which includes a night's stay in one of their rooms, a three course supper with a glass of lovely LP Rose, and breakfast. The weekend of my trip I literally JOGGED to my little car to escape my house and get on the road there!
It's a cute little spot in an oldy woldy style country inn, slap bang in the middle of Kingsclere village. If you haven't heard of Kingsclere don't worry – neither had I. It's nearish to Basingstoke, about 50 minutes drive from London, and quite near the Bombay Sapphire distillery (fun fact for a day trip!).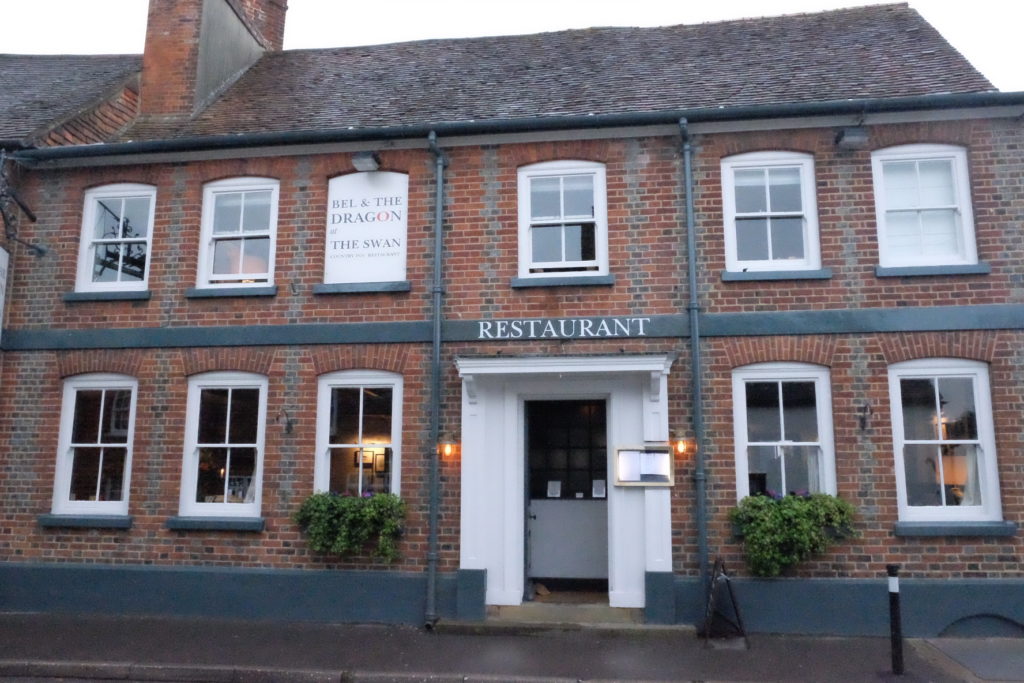 They have 9 ensuite rooms which are….exceptionally comfortable. Mine had a free standing bathtub in the room! One of the nice features of the Bel and the Dragon is that every room has a complimentary bottle of Sipsmith gin or, in my case, damson vodka in for guests to sip at! A lovely touch. For £63 quid extra you can have a bottle of Laurent-Perrier Rose in your room too.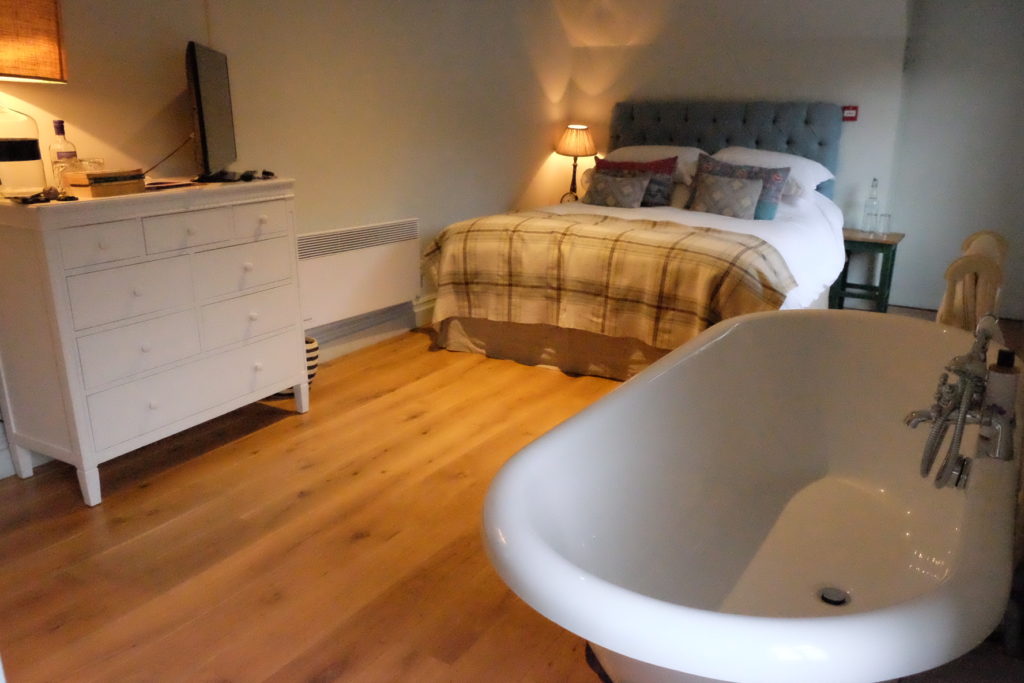 There's a luxurious lounge with exposed beams, teas and coffees, chess and more of that complimentary booze – single malt whiskies this time.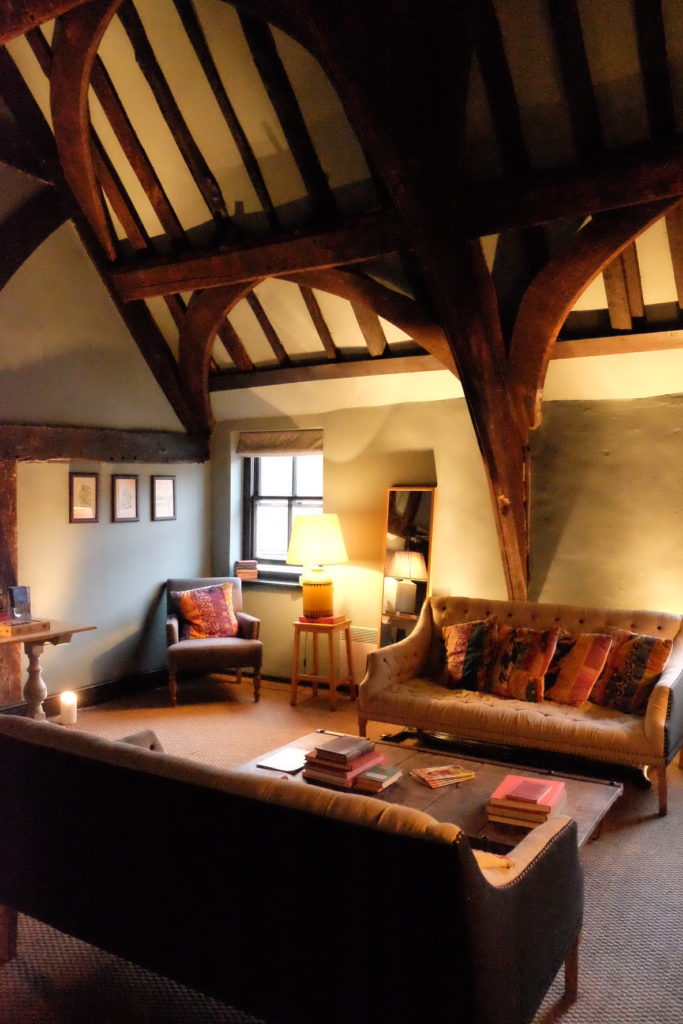 After relaxing in that bathtub with more than an ample measure of damson vodka, I dressed myself for dinner and headed down to the pub dining room for supper. It's quintessentially British, cosy pub downstairs with more original wood features, a roaring fire and the warm buzz of contented diners. Some of the tables have black chalk board coatings so you can doodle on them with chalk which was fun! I kicked things off with a glass of that chill, ruby LP Rose which I think must be how all great evenings start.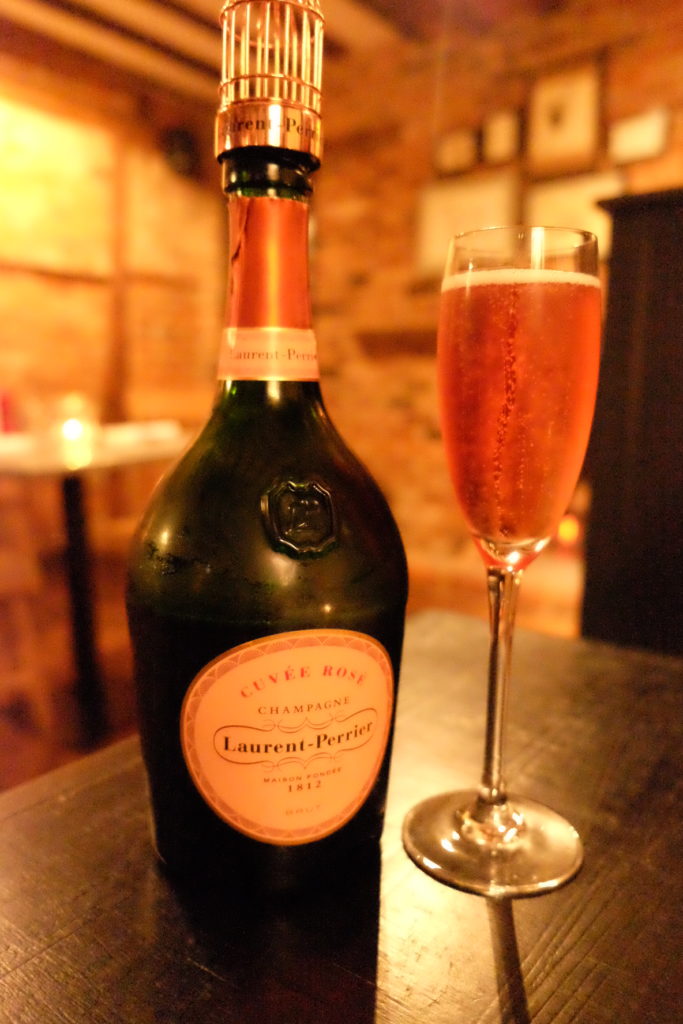 There's a huge a la carte menu (although the deal now only includes items off the party menu) ranging nibbles, starters, mains, grill items and sharing platters. I started with the MOST delicious starter which could have been designed just with my tastes in mind (!)- seared scallops with crispy pancetta and smooth artichoke puree. Glorious.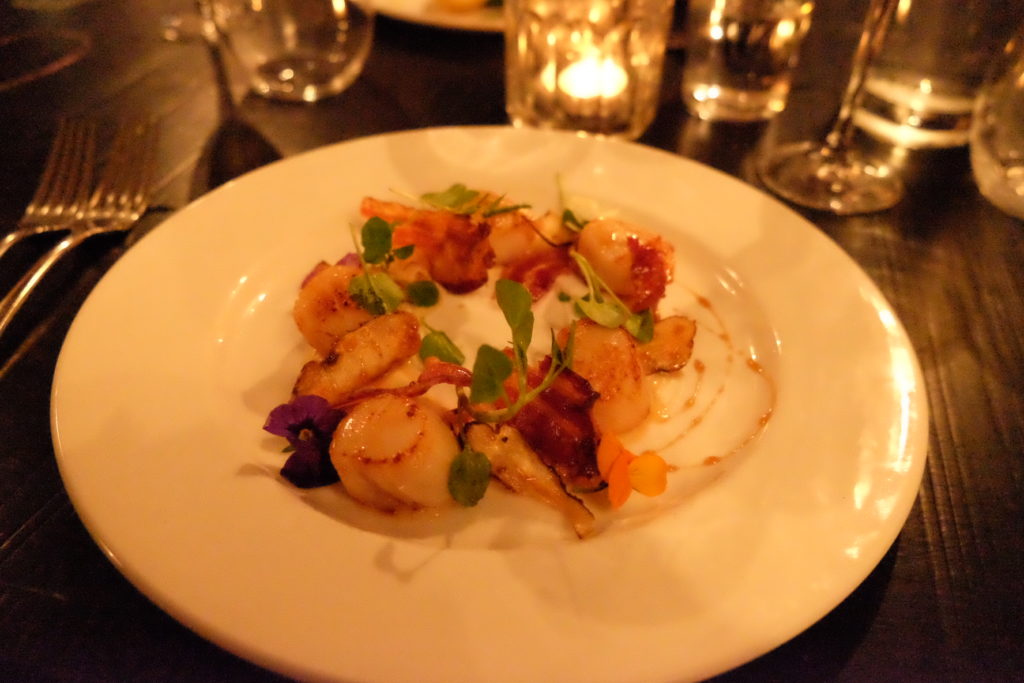 Next – a very naughty sharing platter of rib of beef with thick cut chips, roasted vine tomatoes and garlic and savoy cabbage with bacon. What could be nicer? The beef was good quality, cooked rare like I love it and the chips were GREAT ones.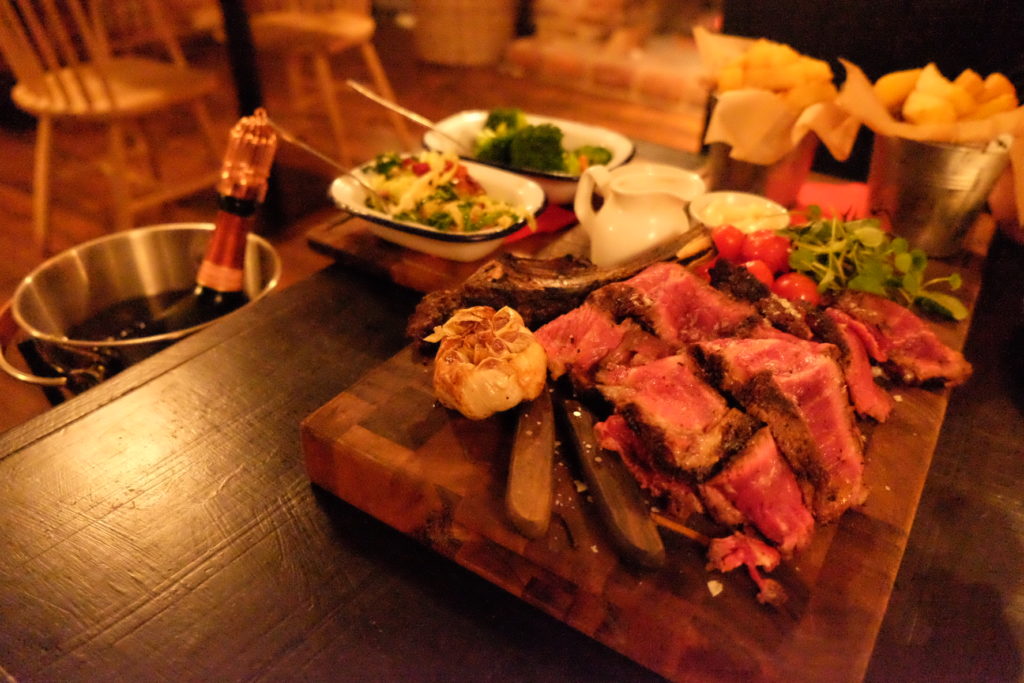 I finished with what actually IS my favourite dessert in the world – apple tarte tatin. Whilst the pastry was slightly on the underdone, soft side, in the face of perfectly caramelised apples spewing out the most extraordinary juice, I can forgive it.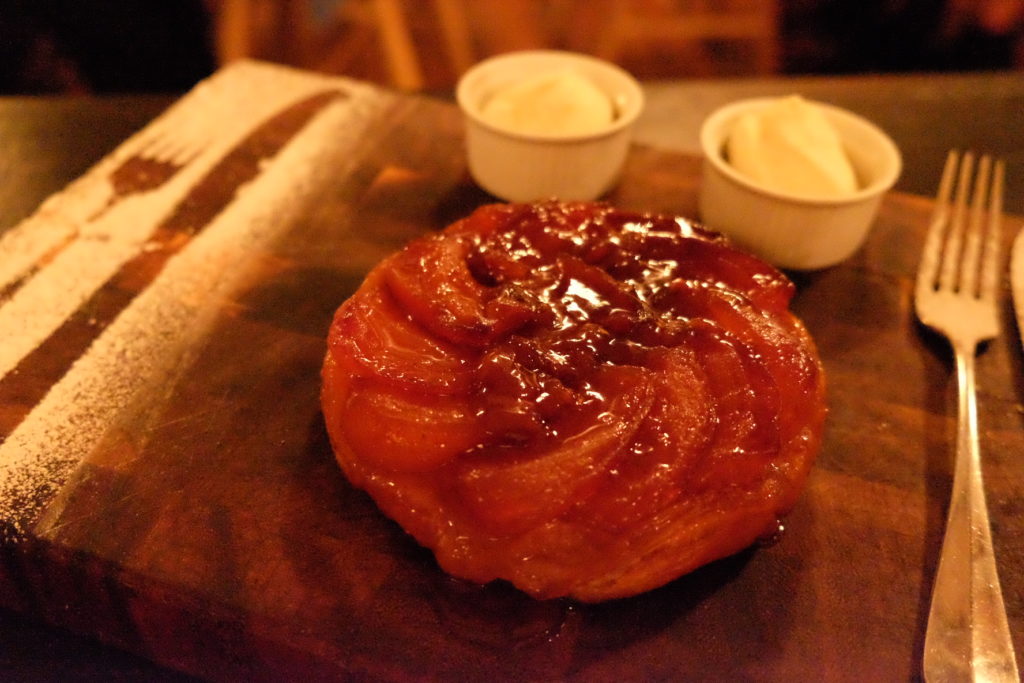 Fed to the gills, warmed to the cockles and not entirely 'unsozzled' with champagne and complimentary whisky, I retired to bed and got one of the best nights sleep I've had in a long time.
The next day I was excited for what is always my favourite part of any stay….the hotel breakfast!! Bel and The Dragon have many options (from Poached Duck Egg with BACON CHUTNEY and avocado, to blueberry pancakes) but for me, as usual, there was only ever one choice: the full English. The below picture tells a thousand words – most being 'yum'. I remember the sausage of wild boar being particularly good.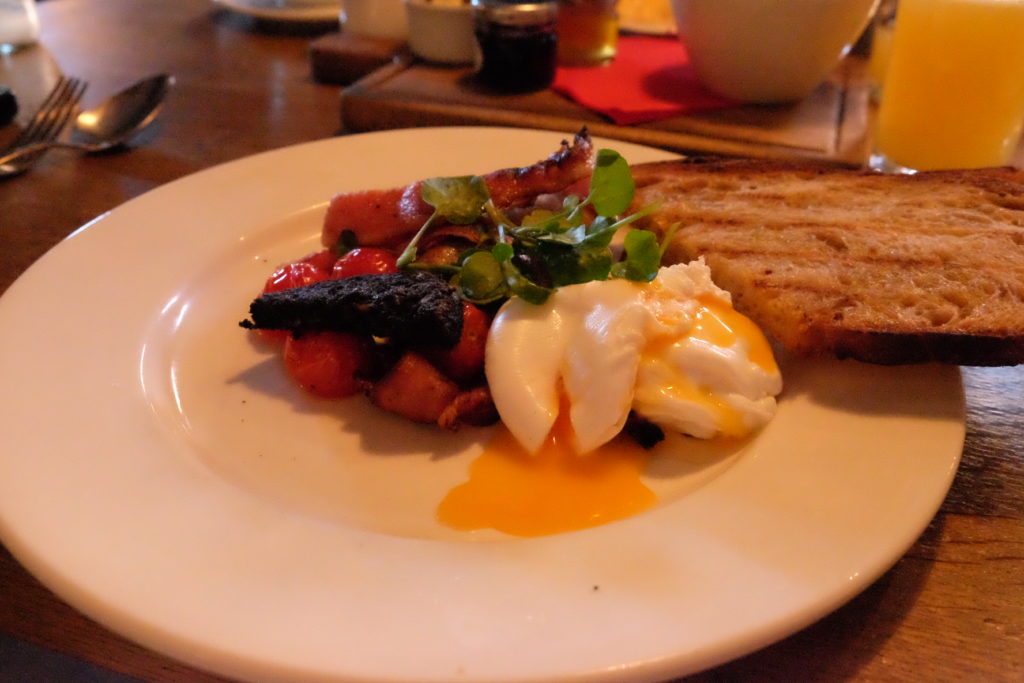 I had a wonderful champagne getaway at Bel and The Dragon. Honestly, it was just what the doctor ordered and I left feeling so much better. For £160 for two people including the Laurent-Perrier, it really is good value, and I'd definitely do it again. Recommended!
http://belandthedragon-kingsclere.co.uk/
http://www.laurent-perrier.com/
Bel & The Dragon
Swan Street
Kingsclere
Newbury
Hampshire
RG20 5PP