You must all know by now how much I like interesting vegetables. If not, then…well, I do. My mother always says judge a restaurant on their vegetables, and it's true. If chef can only be bothered to cover up some barely turned vegetables with some cling film and nuke them, with a flick of butter and no seasoning or, heaven forbid, boil them, then what does that tell you about the rest of his cooking. Vegetables deserve respect and they take an equal amount, if not more, skill to do well than any meat or fish ingredient.

This is a recipe for a yummy and quite different Indian carrot salad, adapted from a recipe of our beloved Jamie Oliver. Cumin goes fantastically with anything sweet – see my mango chutney recipe! –the same applies here with the sweet, raw carrots. The lemon juice adds zing and acidity, ginger  and the coriander and mint a freshness and perfume.

I think you'll like this.  Serve with meat or fish, for example with spiced lamb cutlets, or just on its own.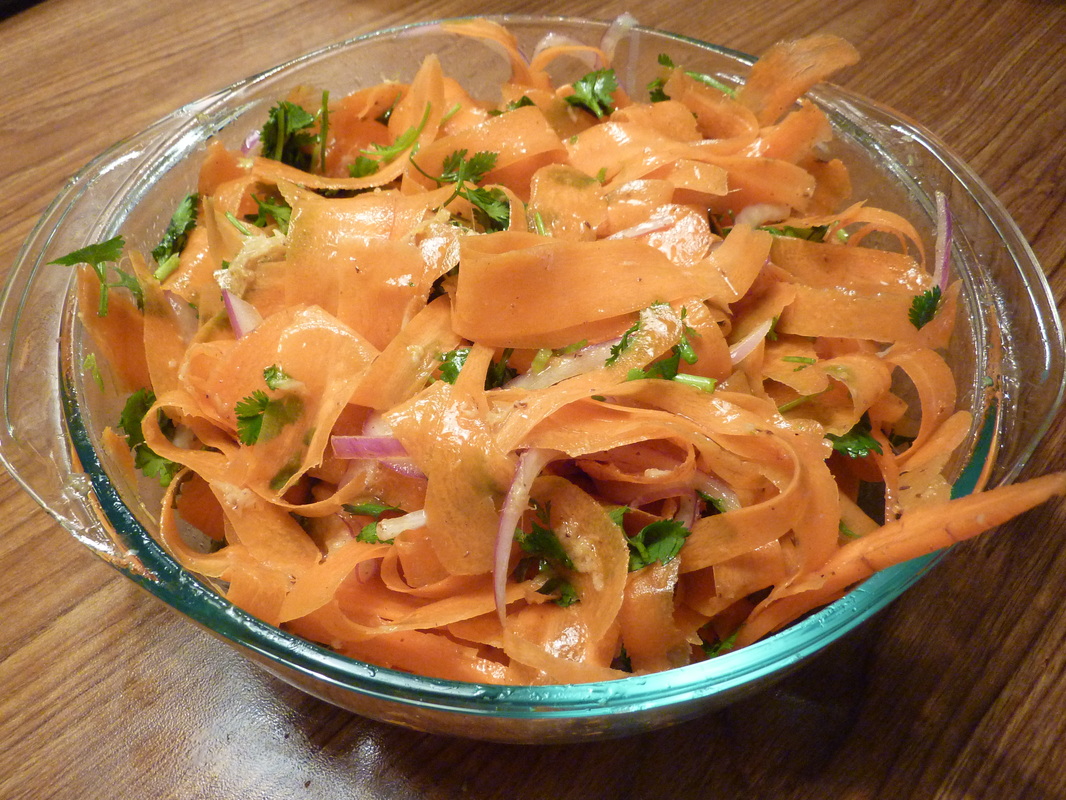 Recipe

Ingredients (serves 4):

1 pound carrots, peeled
A small bunch fresh coriander, chopped (leave the tender stalks in – they contain the majority of coriander's flavour. Chop off the very bottom thick bits of stalk, leave the top tender ones.
A small bunch fresh mint, leaves picked and chopped

For the dressing:
1 teaspoon cumin seeds
1 small red onion, peeled and sliced very thinly
1 lemon, zest and juiced
1 inch of fresh ginger, peeled and grated
Olive oil

Method:

1.       Heat a small frying pan on medium high heat, don't add any oil, and when it is hot throw in the cumin seeds and toast, tossing frequently, until they are darker and fragrant. Their scent should be strong and a faint smoke is sometimes visible from the pan. The point of toasting spices is to release their flavours, so this is what is happening here. Once toasted remove from the heat, cool and grind into a powder in a pestle and mortar, or by putting in a freezer bag and crushing with a rolling pin.
2.       Slice the carrot very thinly in long strips using a mandolin slicer or just a peeler.
3.       To make the dressing: place the lemon zest and juice in a dish and add the onion, cumin, ginger, salt and pepper and about 4 seconds worth of glug of good olive oil. Whisk up with a fork to combine.
4.       Toss the carrots in the dressing until combined. Add the chopped coriander and mint and stir in. Taste – add more lemon juice/salt/pepper according to taste if needed. Serve!