If you know me you know I love me some whisky. But if you know me better, you'll know I don't love it peaty and dry. No – my notes are sweet, caramel and coffee. Much of these comes from a process called cask charring, in which bourbon casks are literally flamed with giant flame throwers, caramelising the sugars in the wood and coaxing out a sweetness in the spirit later aged within. I love it. When I heard that
Ballantine's
was releasing a new blended whisky, specifically focusing on this process and its flavours, its
Hard Fired
, I was excited to try it out.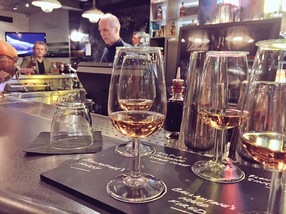 I headed down to its launch at
Hixter
restaurant, Bankside, (another massive draw – Mark Hix is a
divine
cook) to learn more about the new Hard Fired whisky. Guided by whisky legend and Ballantine's Master Blender, Sandy Hyslop, we learnt first about the individual whiskies contributing to this final blend. It's blended in part from Allt-A-Bhainne Single Malt, sweet and caramel deep, and a peaty Glenburgie Single Malt, bringing the notes of honey and smoke to the whisky. The barrels are then charred twice, adding further smoke, sugar and fruity hits to the blend. I enjoyed it a lot – if you were going to profile me in whisky, this wouldn't be a bad attempt.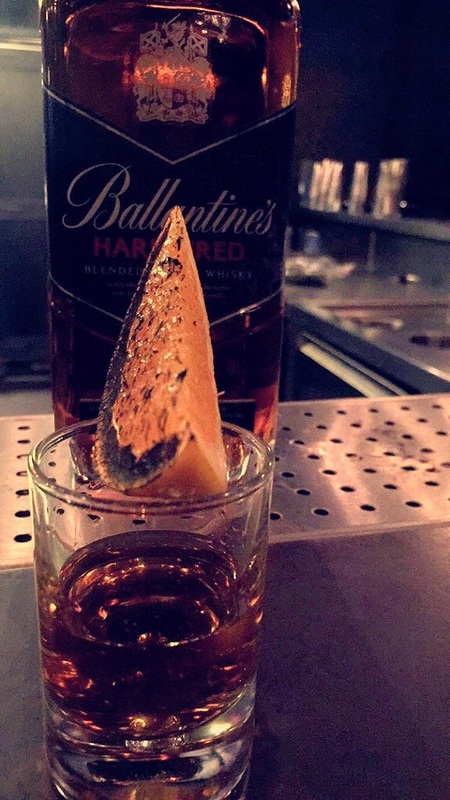 They also had put together some signature cocktails, developed by some of Scotland's foremost mixologists, to showcase the whisky. My favourite blended the Hard Fired with bee pollen, honey, lemon juice and pine smoke, smoked straight into a jam jar. Scummy – the honey and citrus play off the blend's inherent notes, the pine adding fragrance and smoke.
I also enjoyed their…simpler serve of the Hard Fired with a blackened orange segment. Simple, and a shame to shoot such a nice sip, but tasty.
To summarise, this is a good new offering by Ballantine's. It works as a sip or a cocktail serve and is an accessible 40% ABC and £25.
Keep your eyes out for it – it launched in France and Poland in November and will be followed by a global roll out in 2016.