We all love a good brasserie. Uncomplicated food, a great wine list, warmth and buzz….all hall marks of this. Add to this a designer (yet unpretentious) interior, star studded Chef fresh from the passes of The Dorchester and Le Meridien, and food that goes beyond uncomplicated and into fabulous, and you have yourself the makings of a very nice evening indeed. I found such a place recently at 108 Brasserie when I was invited down to try Chef Russell Ford's 'Dish of the Month'.
The brasserie is actually part of The Marylebone Hotel, one of the luxury Doyle Collection hotels (which are all gorgeous), and has a relaxed cafe next to it, 108 Pantry. I went after work on a Tuesday and it was buzzing – plenty of folk drinking cocktails at the bar and a packed brasserie too. All good signs.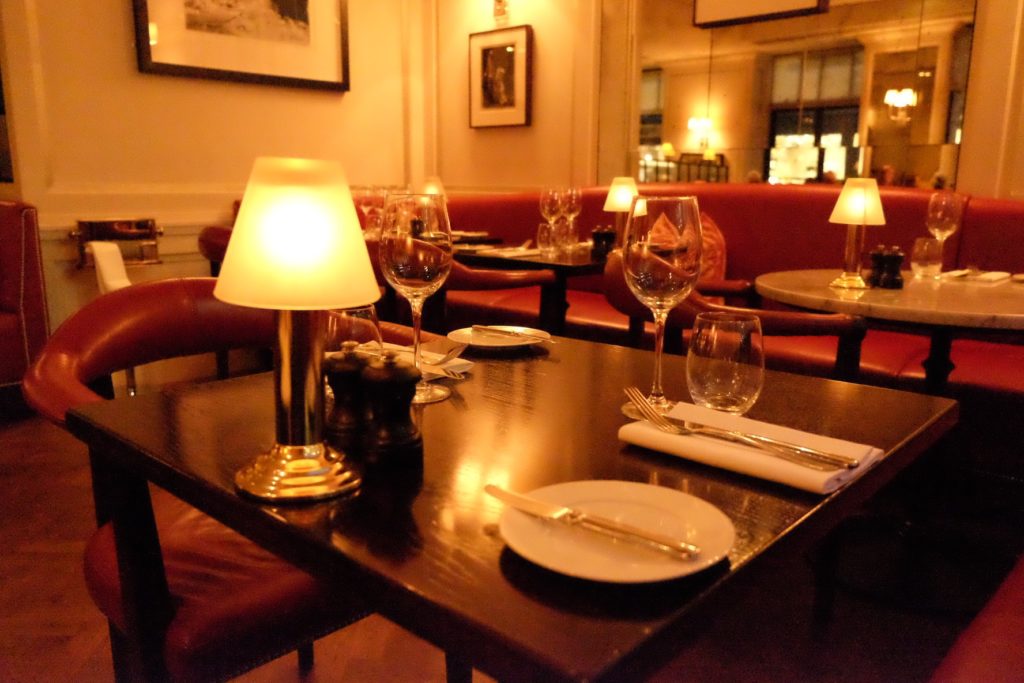 The dish of the month was a Josper grilled dry-aged porterhouse, with baked bone marrow, hand cut chips and Stilton butter. If i share that my last meal would be rib eye steak with a blue cheese sauce, you can probably appreciate that I was HAPPY about this dish! The idea is that each month Russell will create a dish to showcase the best of the season's produce and it'll sit on their specials menu – I guess I lucked out in October!
Food began promisingly with a great bread selection of 3 different breads AND my favourite butter in the whole world – Abernethy Butter, featured here in my recent blog on Northern Ireland.
We began the meal proper with starters of crispy pigs cheeks with mustard crème fraîche, apple & raisin chutney and seared tuna with soy & ginger dressing, pickled walnuts and a wasabi crème fraîche. The tuna was the highlight – perfectly seared pink jewels and a huge punch of hot spice from the wasabi creme fraiche. The crispy cheeks were also good – crispy indeed, but by contrast to the tuna, they could have amped up the mustard a lot more.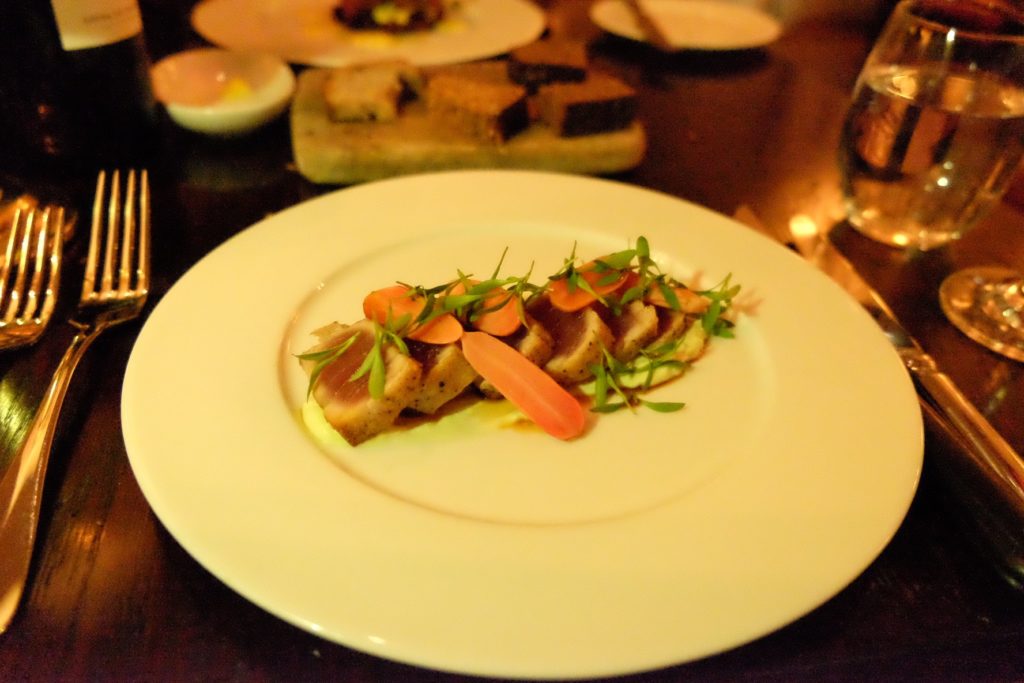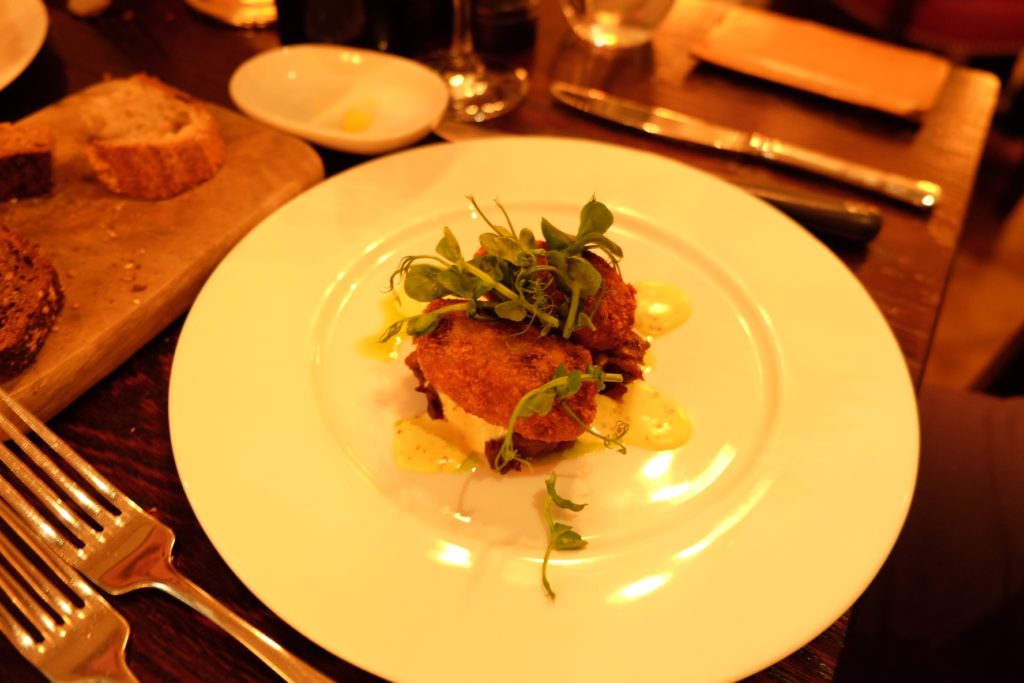 The main event followed and portions were not small (for £65, they shouldn't be). The Porterhouse is an interesting cut – fillet on one side, sirloin on the other side of the T Bone – and I always enjoy tasting the very noticable differences with each side. As usual, I'm a sirloin girl – it was deeply flavoured and deliciously crusted. The stilton butter was a good one too – plenty of stilton in it giving it a good punch of my favourite cheese. A side of bone marrow with braised shortrib and breadcrumbs was a nice touch, and the bernaise was good.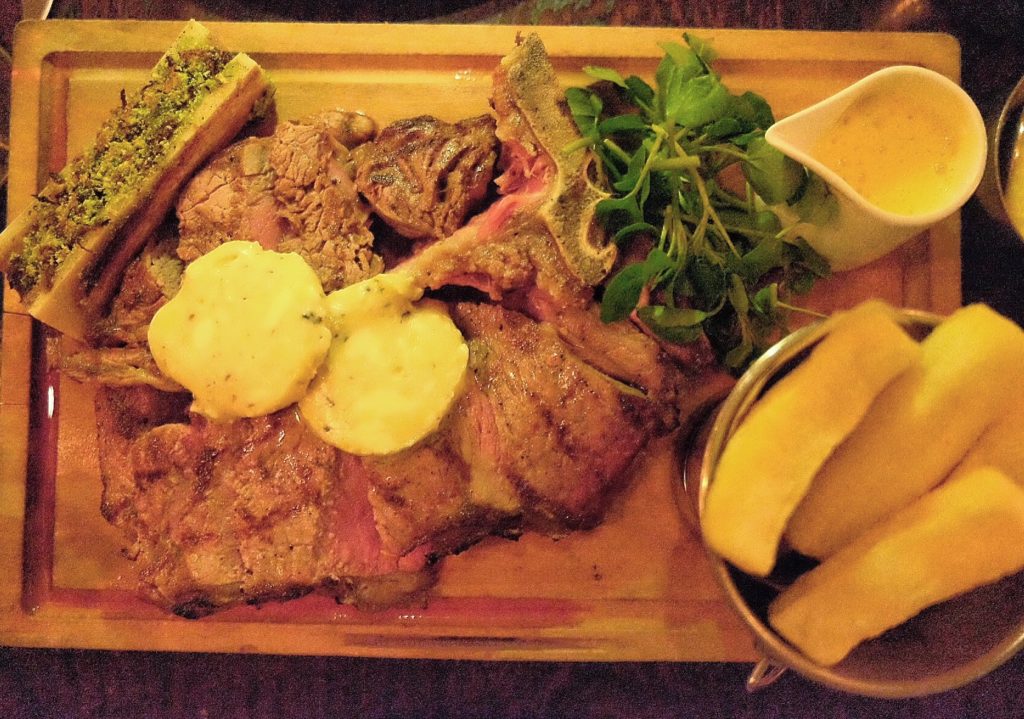 Dessert finished things off nicely too with another favourite: Brown bread ice cream with caramelised walnuts and honeycomb. Simple flavours but good ones – I'll take another portion.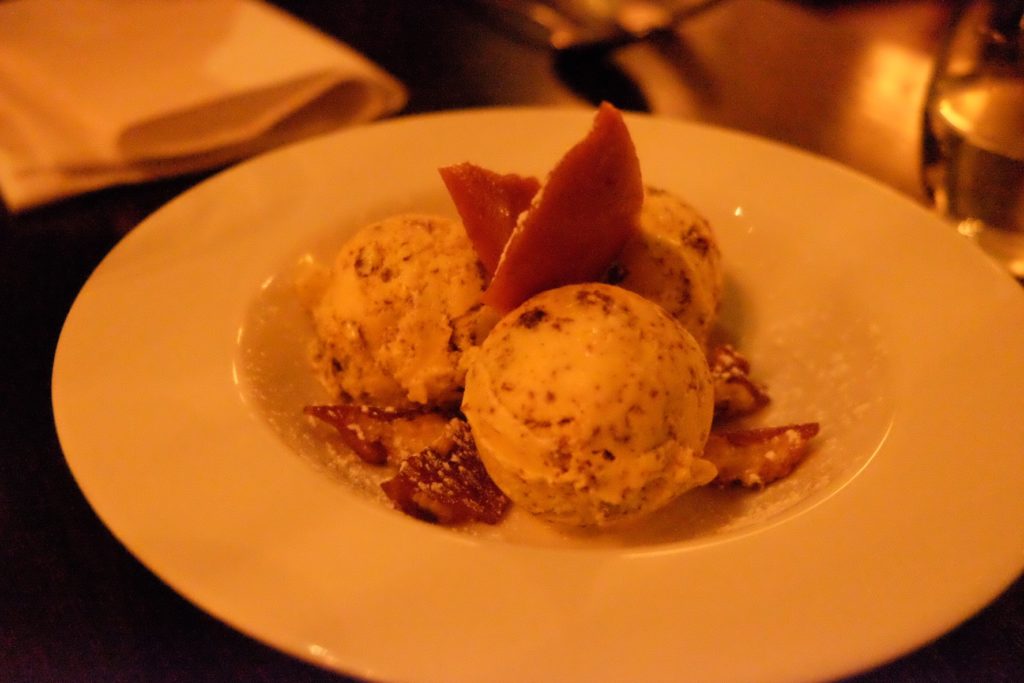 To sum things up, I enjoyed 108 Brasserie. It's a solid brasserie with good food and a reliably good atmosphere. Service is slick and everything is stylish and lux. Accordingly, it comes with a price tag. For me, it's probably about a quid on the steep side on the starters (£8-12) and desserts (£7) and there's a sharing burrata for £15 (!), however there's a good selection of mains around £16 and there ARE reasonable wine choices available. Worth a try.
108 Marylebone Lane, London, W1U 2QE