By Vik Chauhan, Food Goblin Central Correspondent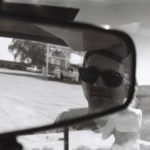 Bella Cosa is an Italian restaurant sprinkled with Japanese touches in South Quay, a short walk from the hustle and bustle of London's financial district, Canary Wharf. Spread over two floors, the venue offers panoramic views of the river and private dining in luxurious surroundings. The ground floor offers the 'Chef's Isle', where Michelin trained chef Kentaro Torii prepares antipasti, raw fish and Italian cold cuts. Head upstairs for more of a fine dining experience with a private dining room. This the setting where we would enjoy a set menu of Kentaro's imaginative spring dishes on spring evening for an exclusive blogger preview of the menu!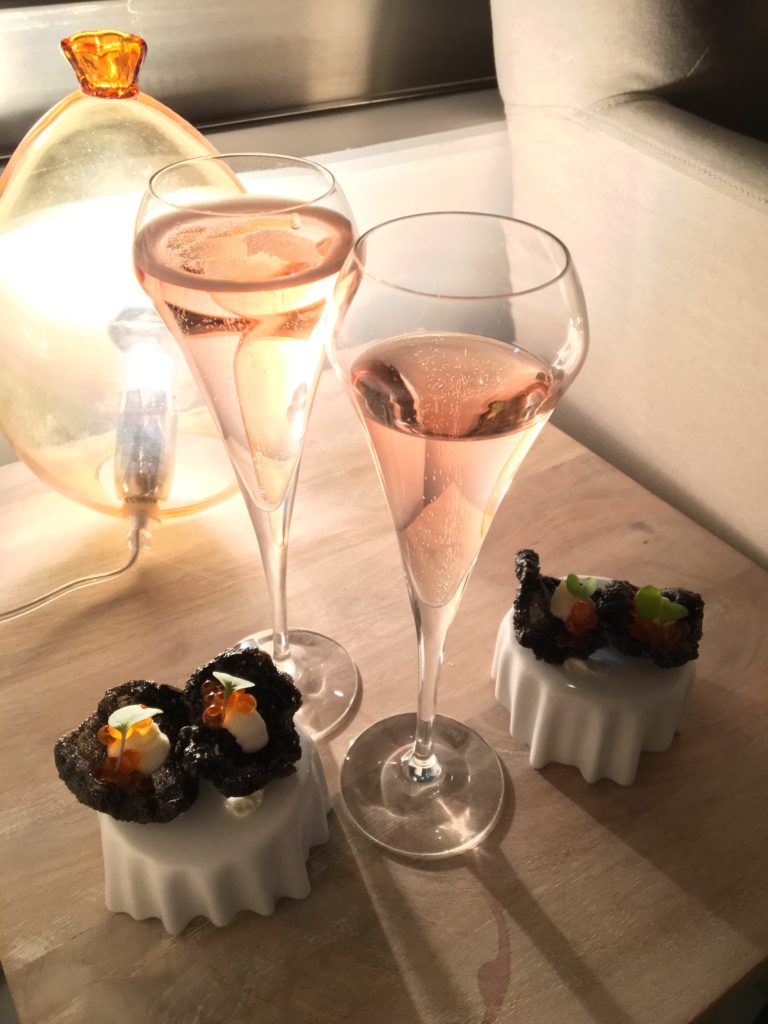 Kicking off the menu was a very well presented amuse bouche – scallop, cannellini puree, truffle, lardo and olive oil powder. It set the tone of the evening at a high standard and came served in an oyster shell dish. The flavours were delicate however were brought together well with the puree and truffle. The 'Sea Carpaccio' was one of the stars of the show, and definitely my favourite. The colours, presentation and unique flair from Kentaro was demonstrated here on the plate. A mix of thinly sliced cured seafood, Oscietra caviar and lemon puree was artistic. This is where the Japanese touch meets Italian dining. Fresh, neat and the lemon puree brought a welcome touch of acidity to cut through the seafood.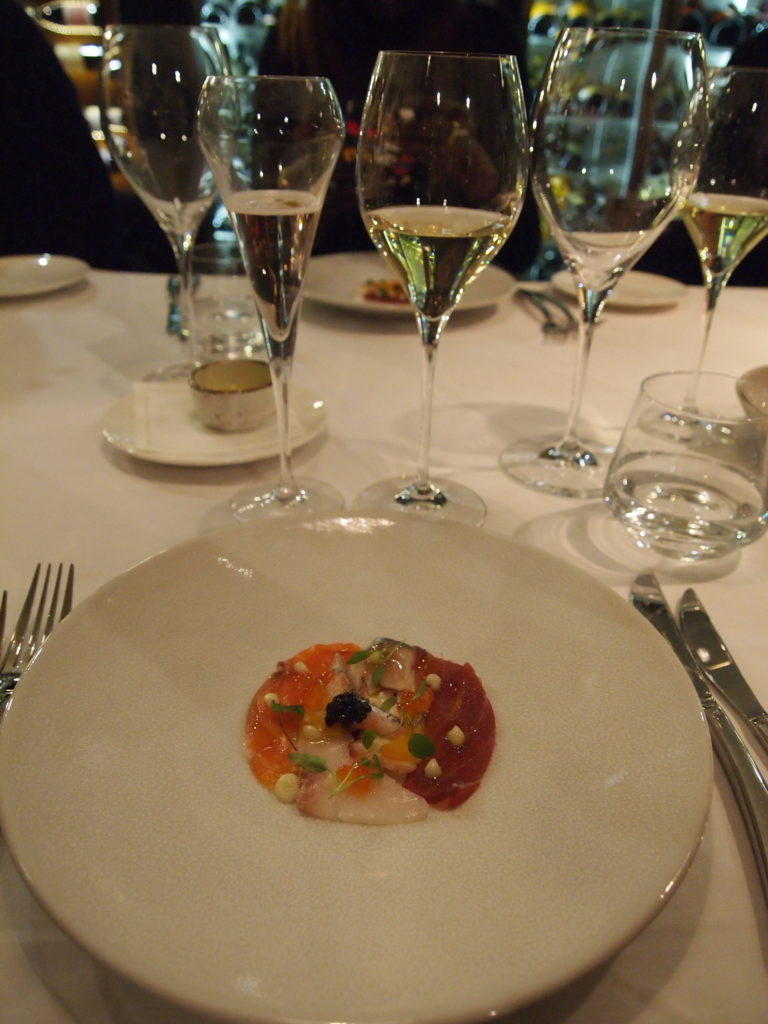 Next was the '5 Cheese Ravioli 'Mezzelune'' consisting of saffron sauce, Iberian Pork Cheek, Beetroot Puree and Winter Black Truffle. No truffle was spared with this dish and rightly so, the ravioli packed flavour with the pork cheek, and the beetroot puree balanced the depth of flavour well with the saffron sauce. The fish dish main was less appealing than others; the dover sole on this occasion was dry and the cauliflower puree with winter vegetables lacked flavour or any particular wow factor. That said, the pork belly also on offer received high praise, leading me to think I made the wrong choice on the night.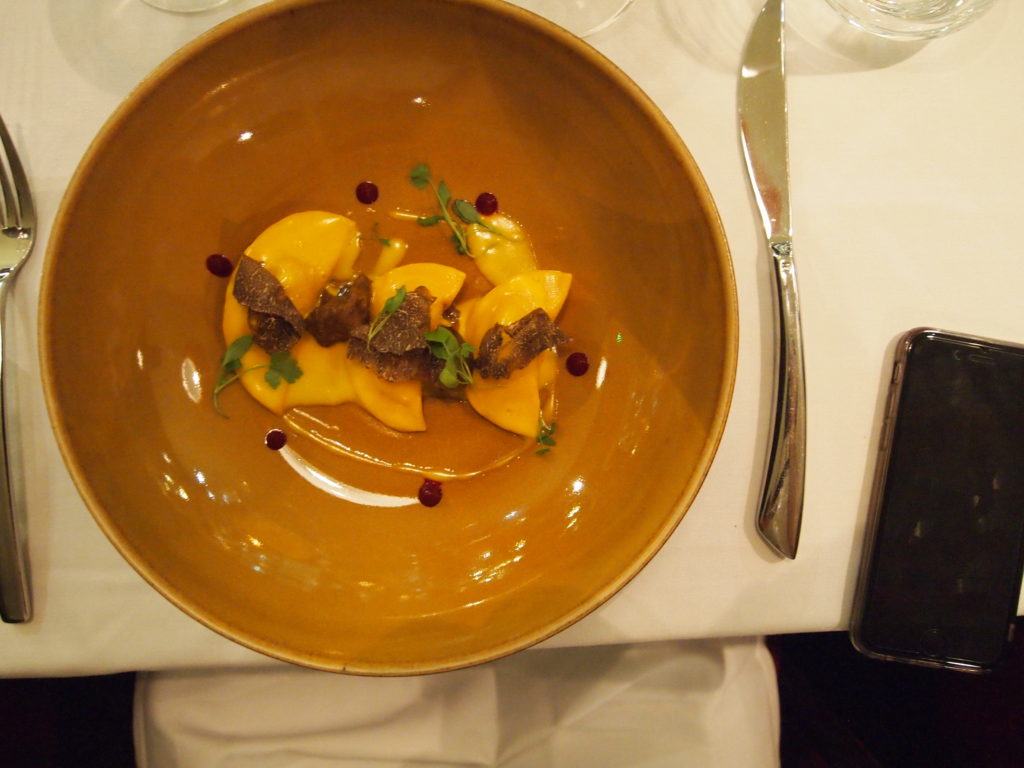 Dessert finished the dinner in the same fashion as it begun. White chocolate, strawberry and green tea – introducing that Japanese touch once more.
Kentaro has put a lot of thought into the dishes at Bella Cosa. The delicate Japanese additions shine through and brings a new spin on traditional Italian dining. The location may discourage those who are sick of the sights of Canary Wharf come close of business, however as we now approach lighter days, and with panoramic views along the river to be enjoyed, Bella Cosa should be THE destination for a post work dinner.
Bella Cosa
Drewry House,
213 Marsh Wall,
London
E14 9FJ
http://www.bellacosarestaurant.com/
Twitter: @bellacosauk
Instagram: @bellacosauk
Facebook: https://www.facebook.com/bellacosarestaurant