South Londoners have long been in the know about a little (/ not so little) place known as Ben's Canteen. They have two joints, Clapham Junction and Earlsfield, and are famous for two main B words….Burgers and Brunch! The vibe is the definition of chill, prices are reasonable and the quality of produce (both drinks and food) is always second to none. I've long been a customer, but recently I was invited down to try a new offering of burgers and wine pairing. Needless to say, I was down there in a jiffy to get my chops around a few buns.
If you haven't been before, the first thing I'd recommend is a lengthy peruse of their drinks menu. They have a massive selection of beers, wines, spirits and cocktails, including many local to London. One of their most enticing offers of the moment is an extended gin and tonic menu, with quirky garnishes fitting the tasting notes of each gin. I loved a Langleys Old Tom gin with Fevertree Tonic and a garnish of 70% dark chocolate and orange segment.
On to the food. Before cracking on with the burger and wine pairing, I ordered a couple of starters including their signature scotch eggs with piccalilli. This is one of their most popular dishes and there's a good reason why. A must order if you go. I also tried their DIY Guacamole which was fun. It arrives as a platter of avocado, tomato, chips and seasoning with a giant pestle and mortar for you to mash your own dip.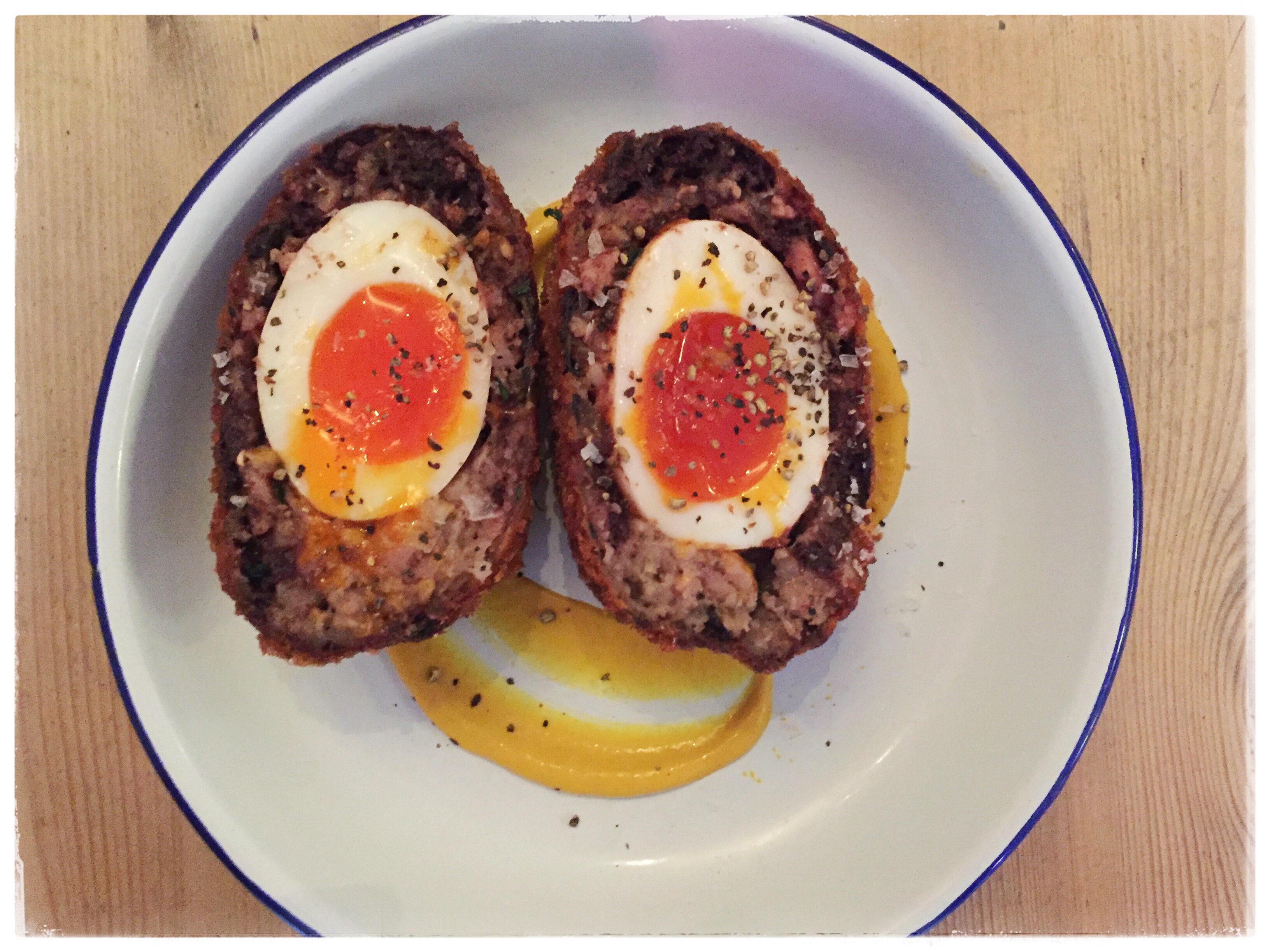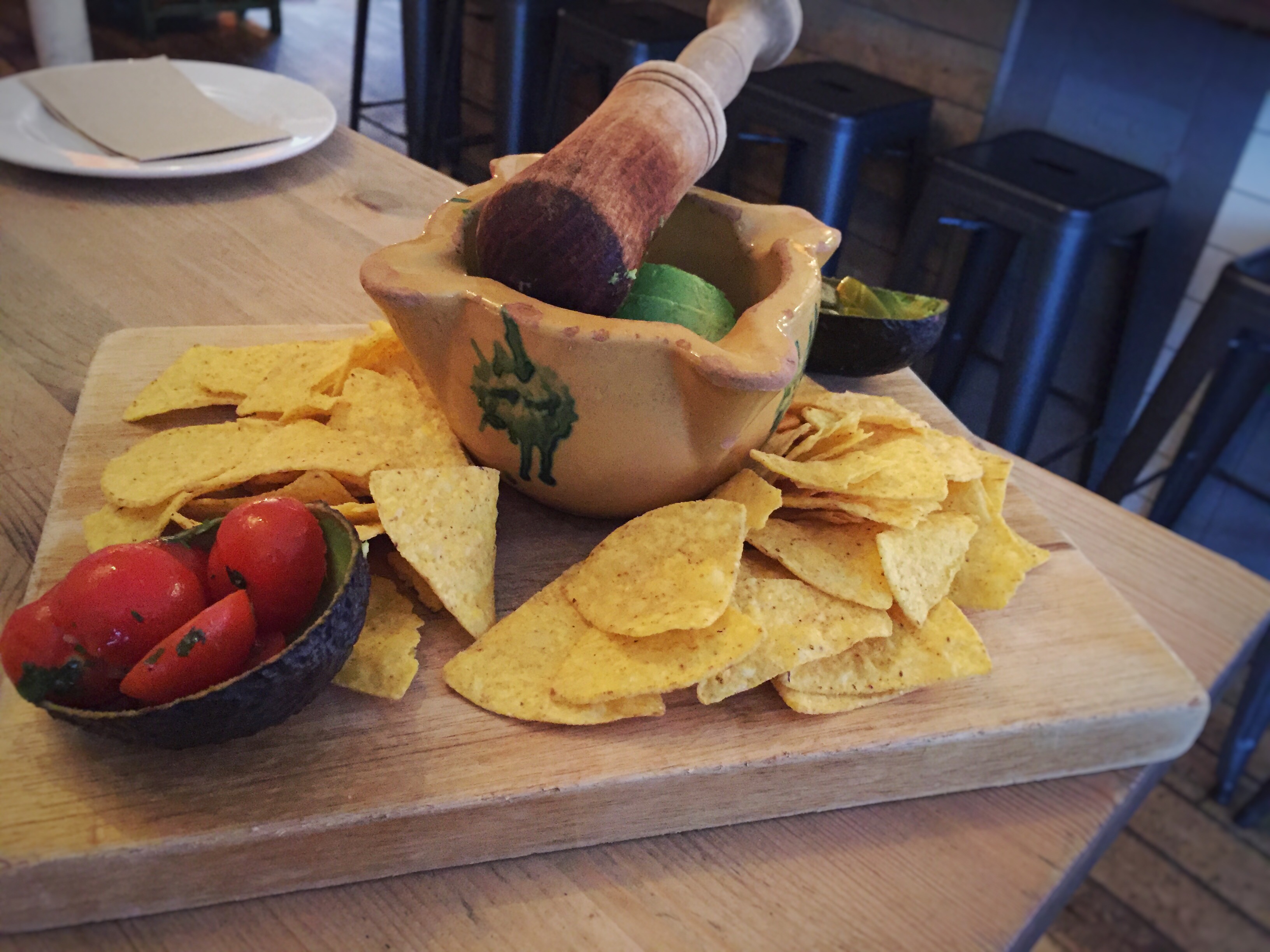 On to the main event, the burger and wine pairing. It's a novel idea and a good chance for them to show off some of their excellent wines – it really is a cool wine list with some unusual types not often seen. You get three mini sliders, each with a 125ml glass, and if that doesn't tickle your pickle, you can have a full sized burger with a full glass instead. First up, a classic cheese burger with an excellent Australian shiraz called Middle of Everywhere. The burger was a cracking little mouthful – all deep beef and salty cheese, exactly as a burger should be. The shiraz was something special. Reading back on my Vivino (amazing wine app – I recommend it) notes, I can tell I was blown away. I quote (with the full disclaimer that this was after a few of Ben's Canteen's gin and tonics!), 'Amaaaazing. Big, fat, bold shiraz badbOI!'. A good sign.
Next up, a veggie burger with a sweet potato patty, garlic mayo and pickled red onions. I'm never really one for vegetable burgers; I feel they always lack texture, but this one was good as they go. It was paired with an unusual Alvarinho Vinho Verde from Portugal. This is a seldom seen grape on most menus and has a slight effervescence.
The final burger, 'Posh Fried Chicken' with bacon, was my favourite – I'm told that this is not unusual and that this is their best selling burger. This was a moist gobble of tender chicken, crisp bacon and crunchy slaw. They paired this with a brut Cava from Catalonia which was a good call to cut through the fatty bacon and mayonnaise in the slaw.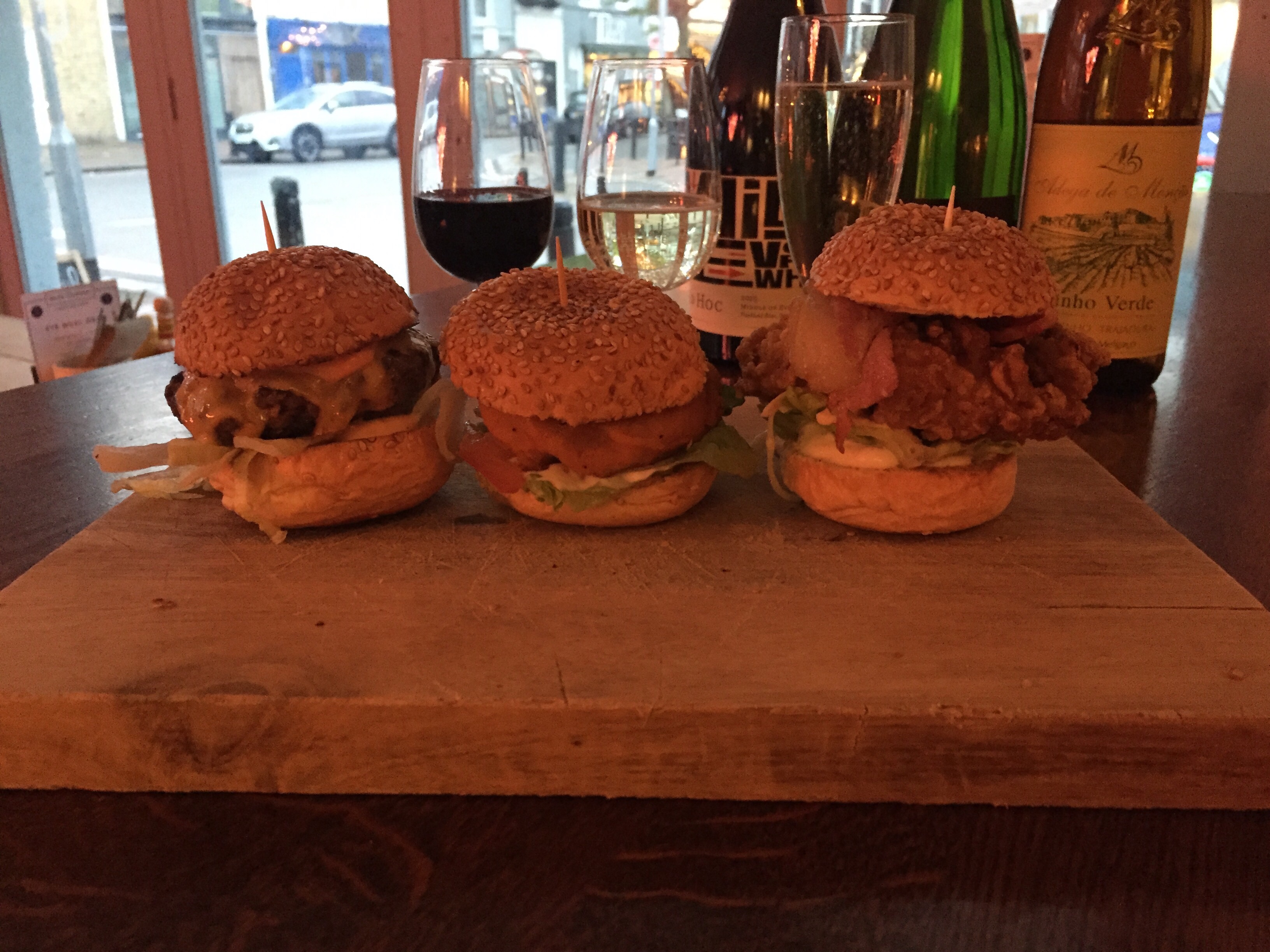 Stuffed to the gills, I soldiered on and finished up with something(s – lol) sweet from their dessert menu. Their chocolate and peanut butter brownies is one of the nicest things I've eaten in ages. Really naughty and squidgy, but totally worth it for how good it is. Finally, I tried their DIY Doughnuts (seeing a theme here?) which were cool. They come as hot little doughnut puffs with various syringes filled with different fillings (jam, vanilla custard and chocolate cream) which you then inject the doughnuts with. Simply glorious.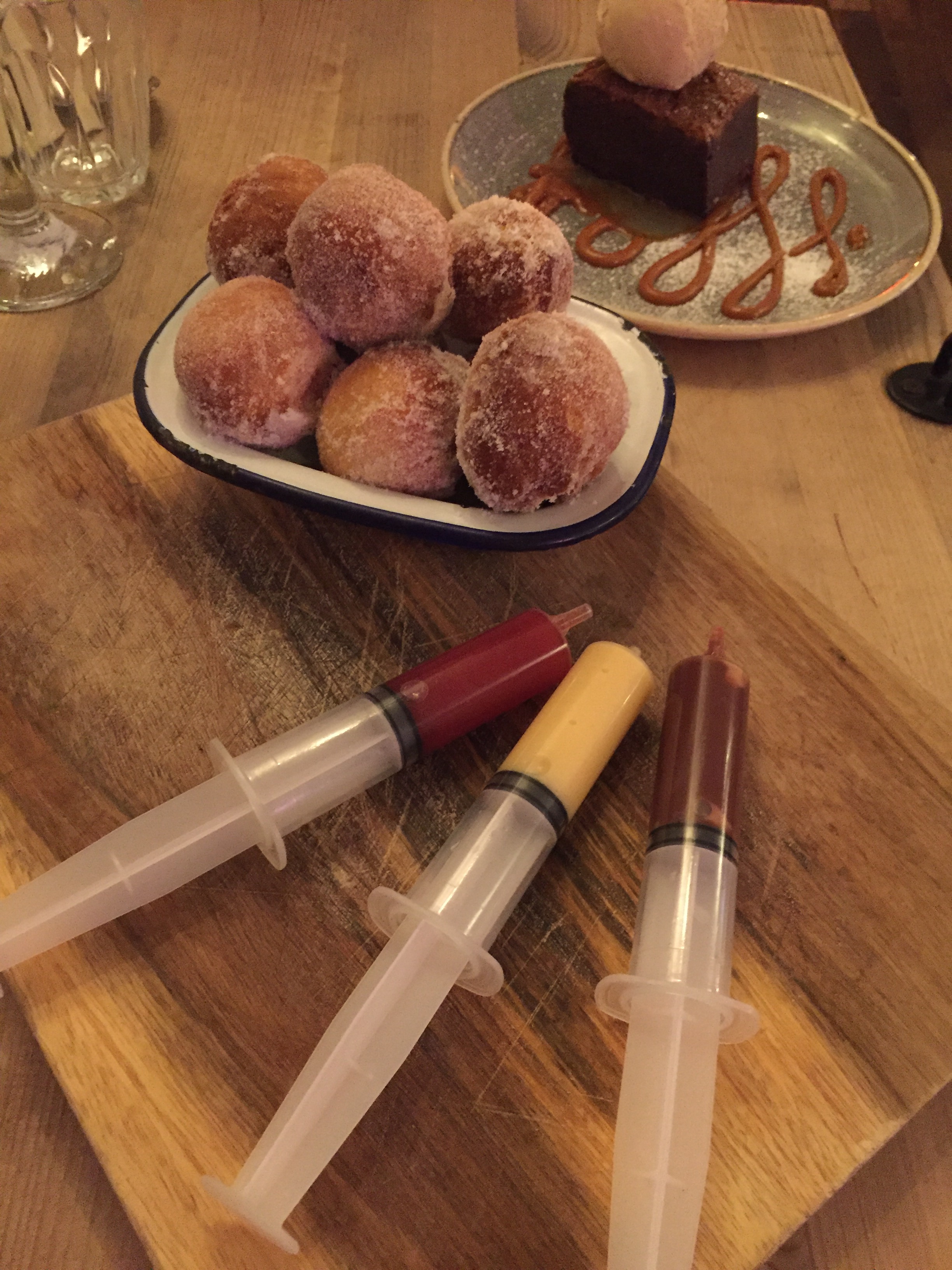 All in all, I had yet another great meal at Ben's Canteen. Their food is always great, the service is swift and the atmosphere is chilled and buzzing. if you're looking for a reliable and top notch neighbourhood hang out, this is surely it. Go and visit!
140 St John's Hill, Battersea, London SW11 1SL