Piece by Vik Chauhan, Food Goblin Central Correspondent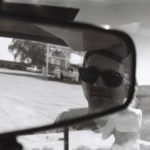 Hip hop we don't stop. The theme is clear here for hit London soul food and (now) brunch joint, Dirty Bones. Loud (but not conversation stopping loud), American, cocktails, everything but the usual healthy brunch. Shoreditch is the perfect backdrop to Dirty Bones latest addition to their already up and running sites in Kensington and Carnaby. As a brunch aficionado, this will now be one of my go to recommendations when anyone asks for the latest and greatest on the brunch scene.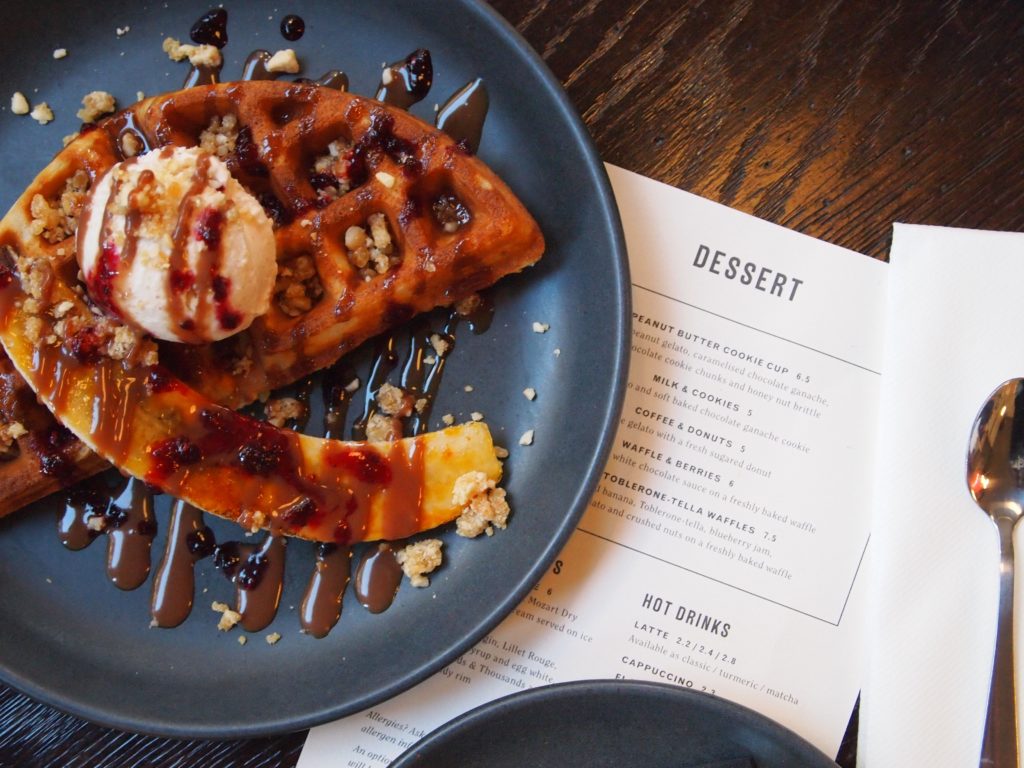 The venue itself is light and airy, situated on the corner of Bethnal Green Road and Club Row, a few minutes' walk from Shoreditch High Street station and easily accessible for the beginning of what may become a hangover, or the post night out hangover cure itself. Large windows let light pour in over the purple velvet sofas lining the sides of the restaurant and high ceilings mean the walls can be adorned with Dirty Bones neon lights and funky artwork.
We indulged in the brunch menu with a matcha latte and dirty chai to wash it all down. The food is rich, filling and oh-so tasty. The menu has all your usual favourites but with cheeky little twists. Short rib features on the menu on either the Shoreditch crumpets ladled with hollandaise over poached eggs with perfect yolks or the short rib hash. The Dirty Bun is exactly that, dirty. Sausage, bacon and a fried egg in a brioche roll with either porcini mushroom ketchup or smoked tomato ketchup, just be sure to come here with an appetite.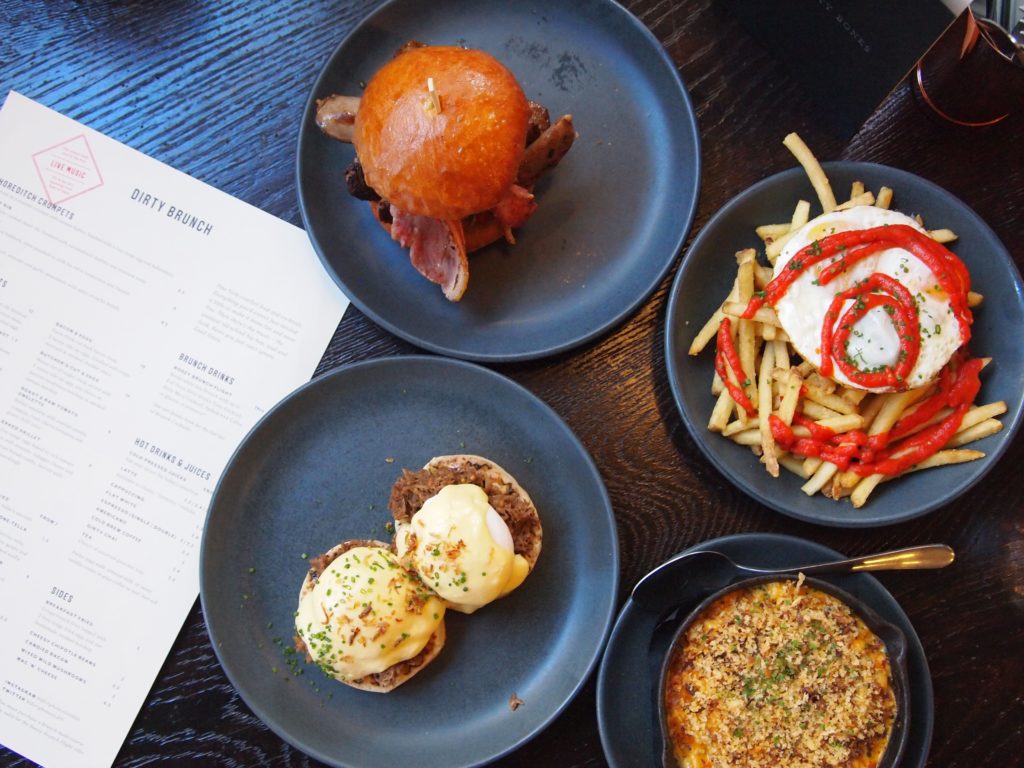 Sides were just as a great, if you can manage them. The mac 'n' cheese is generous, powerful and delicious, and you'll keep going back for more, topped with crisp breadcrumbs. The sweets are an absolute must. Do not leave here without trying the Banana Toblerone-tella waffles: caramelised banana, Toblerone-tella, blueberry jam, peanut butter gelato and crushed nuts on a freshly baked waffle. If that isn't enough to get you out of bed to cure your hangover then I'm not sure what will.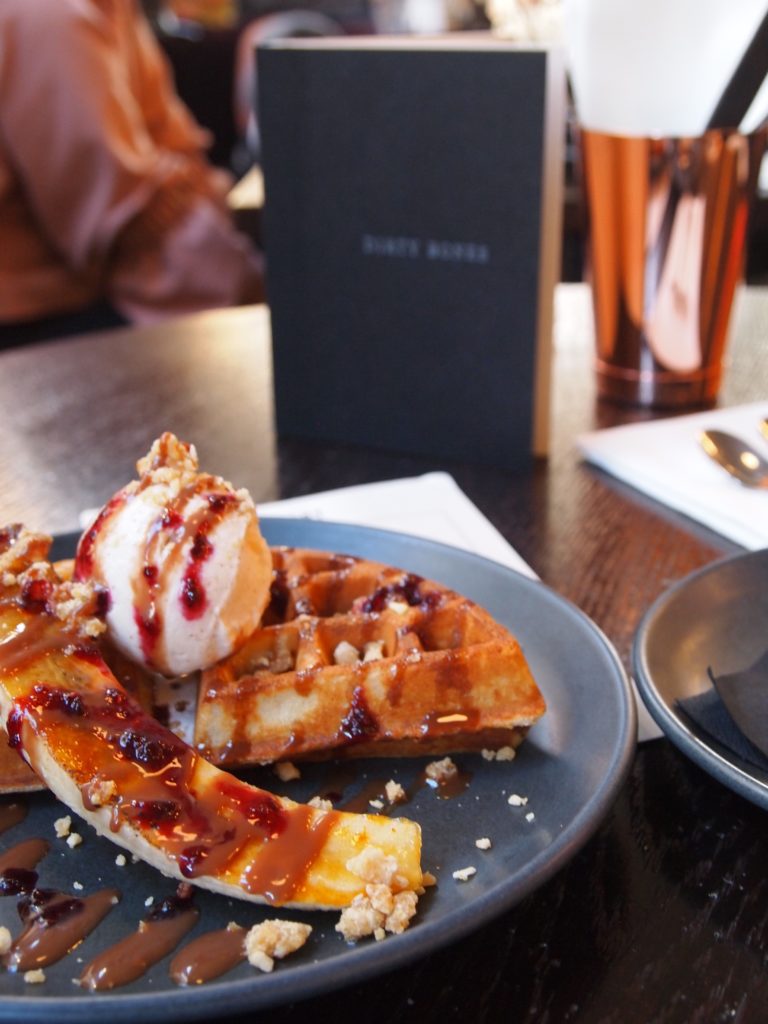 The cocktail menu also looked inviting and whilst we didn't take a tipple this time, I'm sure it'll be on the cards for next. Friday and Saturday see Dirty Bones open up with DJ sets spinning from 9pm to 12am. Let me reiterate, the menu is not your usual healthy brunch. But this is not what we came for. We came to cure hangovers, we came to indulge and live a little. We came for those Banana Toblerone-tella waffles. Pace yourself, this may just be the best brunch you'll have. The pictures can do the rest of the talking.
Good vibes, good drinks & good beats.
1 Club Row,
London,
E1 6JX
Twitter: @DirtyBonesLDN
Instagram: @dirtyboneslondon
Facebook: https://www.facebook.com/dirtyboneslondon