The Jam Tree in Clapham Common used to be a real local for me. I used to live round the corner and was in there all the time. It has a particular….vibe for me. In that it was my go to date spot back in the day when I was living the Tinder life large, with all its warts and glories. I've had numerous first dates in that place, rarely a second! The Jam Tree is set up for that sort of vibe, with a massive (and reasonably priced – important!) cocktail menu, a decent happy hour and a reliable buzz. It's got a cool feel to it, with a hidden function room behind a bookcase, funky decor and massive windows that look out onto the street, giving you a sneak peek of your date arriving (and the opportunity to run off out the back if you need to!).
Those days are behind me now and I'm happily settled with a wonderful man, but when I was invited down to try out their new menu it was amidst nostalgia and some queasy remembrance that I returned to try it out.
The menu is relatively international with a blend of dishes from various influences on the menu. The cocktail list is GREAT – they've got a huge selection of different drinks, and a large gin list, making it always a popular spot for evening drinkers.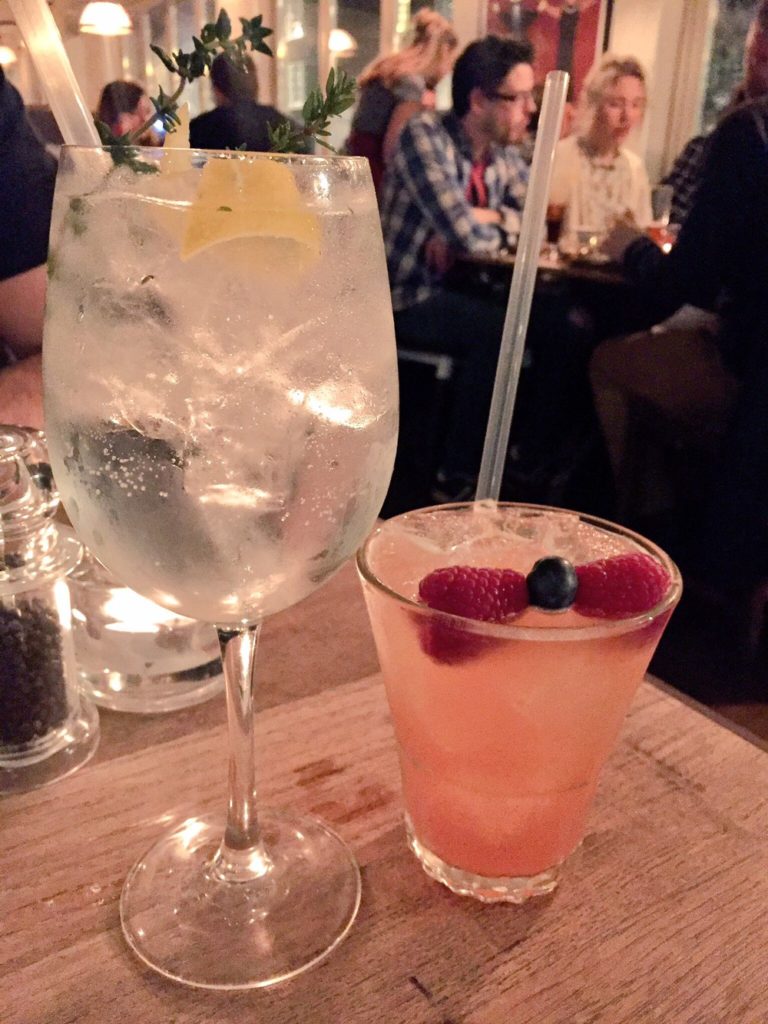 I began with their Sotong Manis – sweet and spicy, deep fried squid in a sticky sauce. This was my highlight of the entire evening and I've not had fried squid like it before. The batter was exceptionally crispy – the crispiest probably that I've had – and was then coated in a tasty sauce. Knock out – order it when you visit.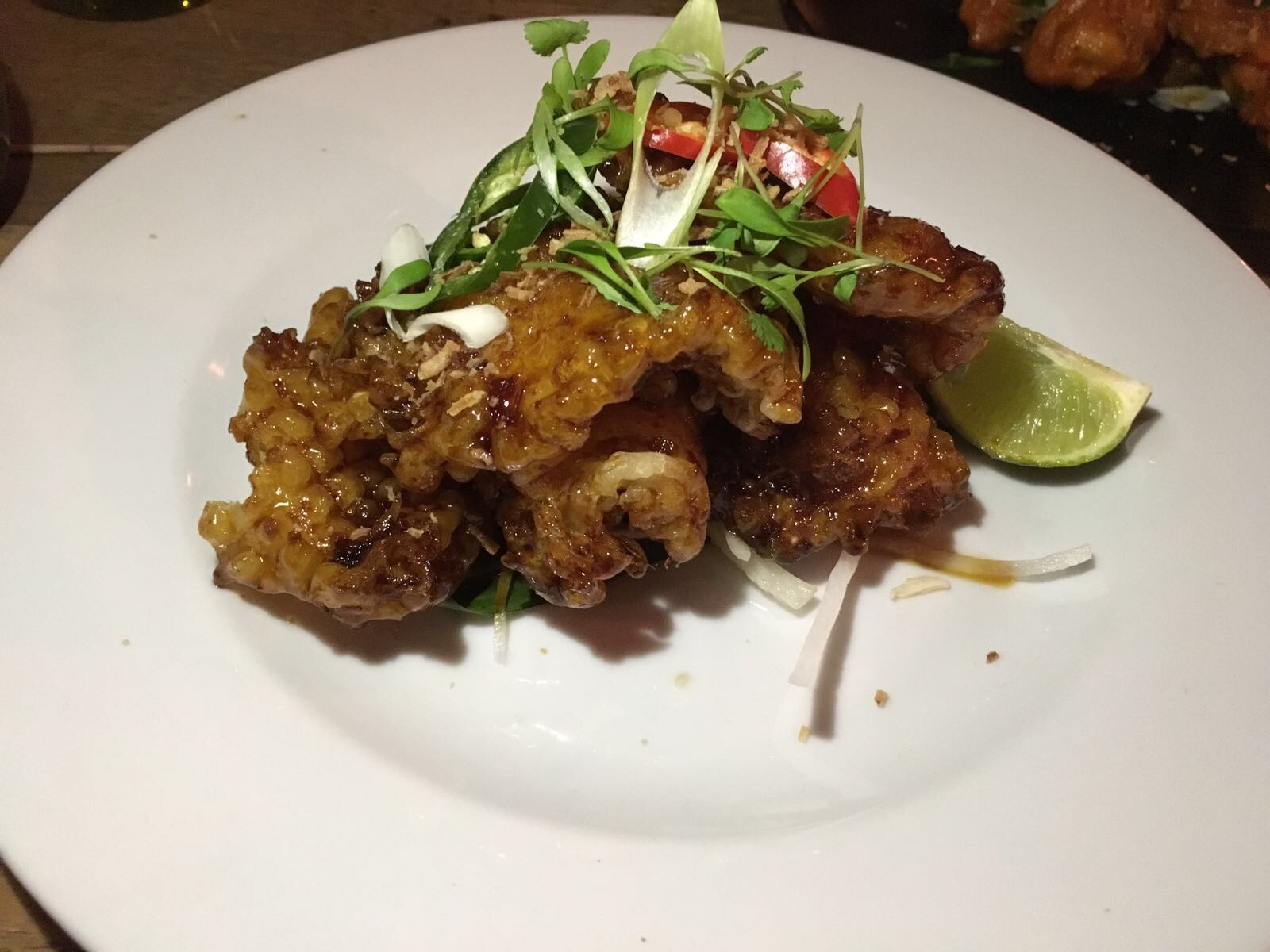 Next I tried an altogether less successful starter of pressed pork belly with peanut powder, apple gel and nasturtium leaf. This just beamed of a chef trying too hard. The plating was aiming for being all fancy and arty, but ended up scruffy. The pork tasted fine but the crackling was disappointing, and was paired with little swirls and sprinkles of pointless things that added little. It's since disappeared from the menu so I assume that other reviewers felt the same as I did.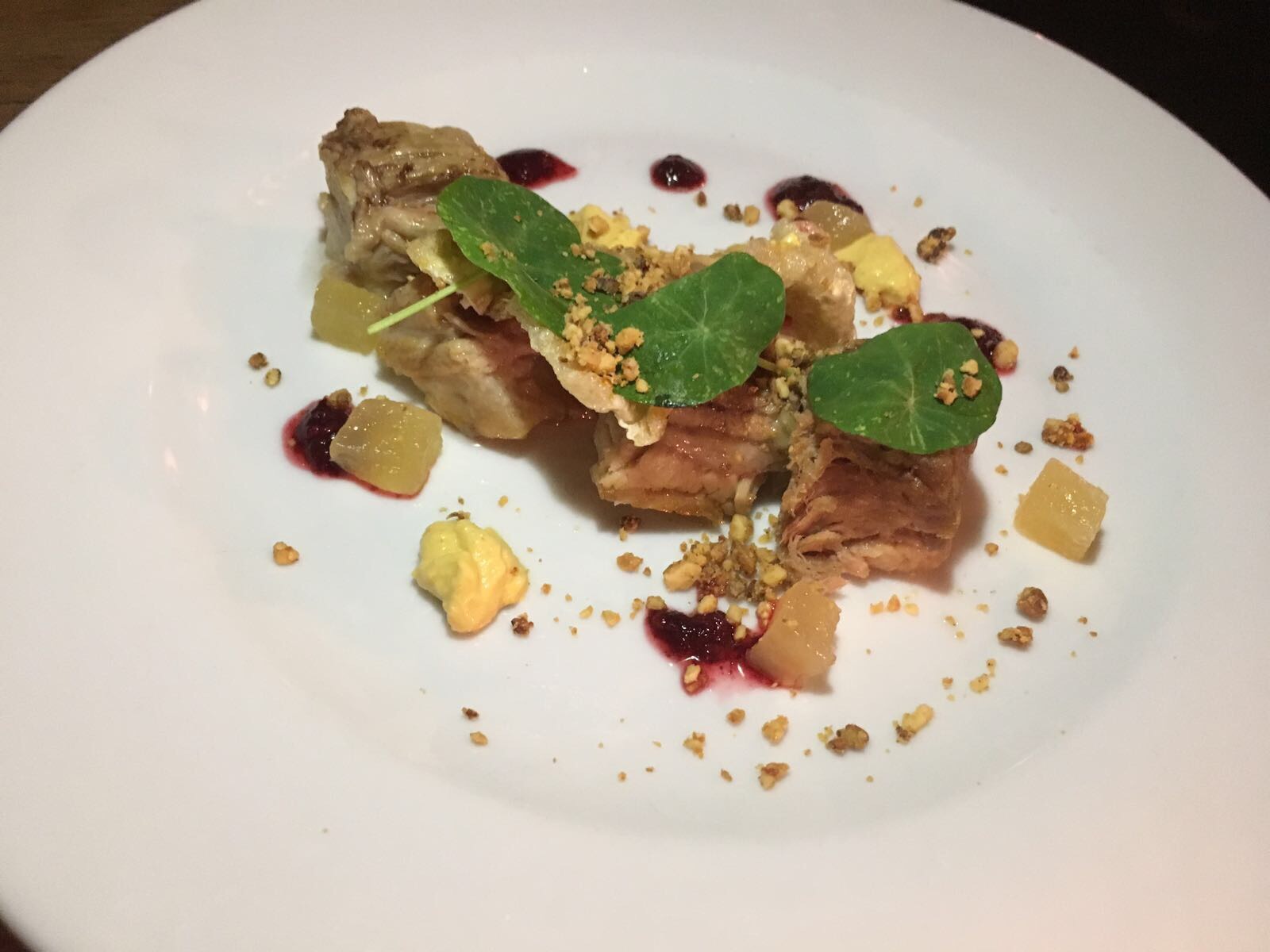 Next I took on their double bacon cheese burger with bacon jam. This was fine – just fine. The patty and cheese mix was tasty and the fries were bang on, but the bun was a little crusty for me. At £15, this burger is competing with the likes of Honest Burger and Gourmet Burger Kitchen which are right round the corner and serving better burgers at cheaper prices. They don't have the bar and ambience of The Jam Tree but you can't help but compare. Knock £1.50 off and they'd be on the right track.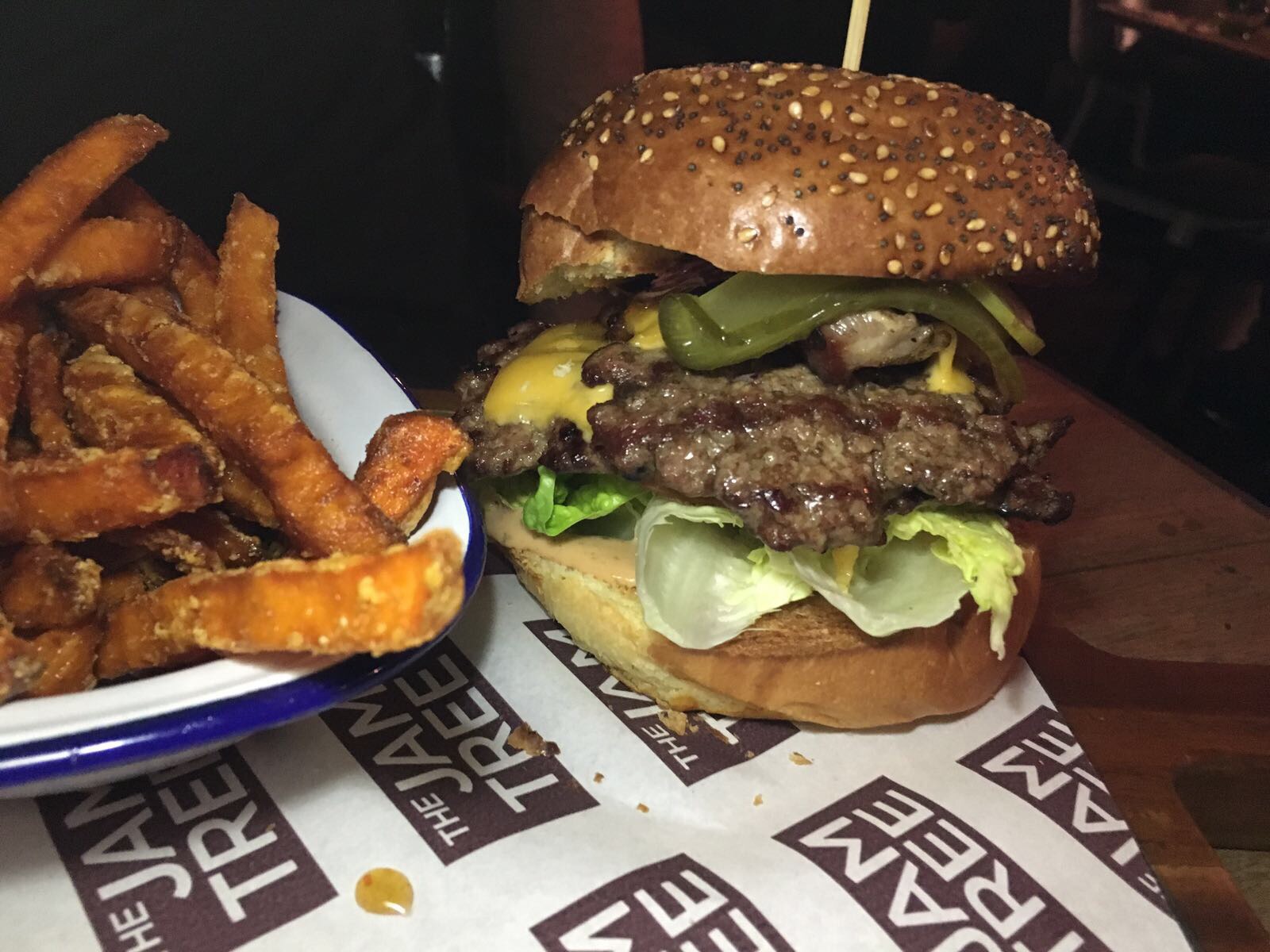 The sirloin steak with peppercorn sauce and the usual trimmings (£20) was good – cooked and seasoned properly with a punchy sauce.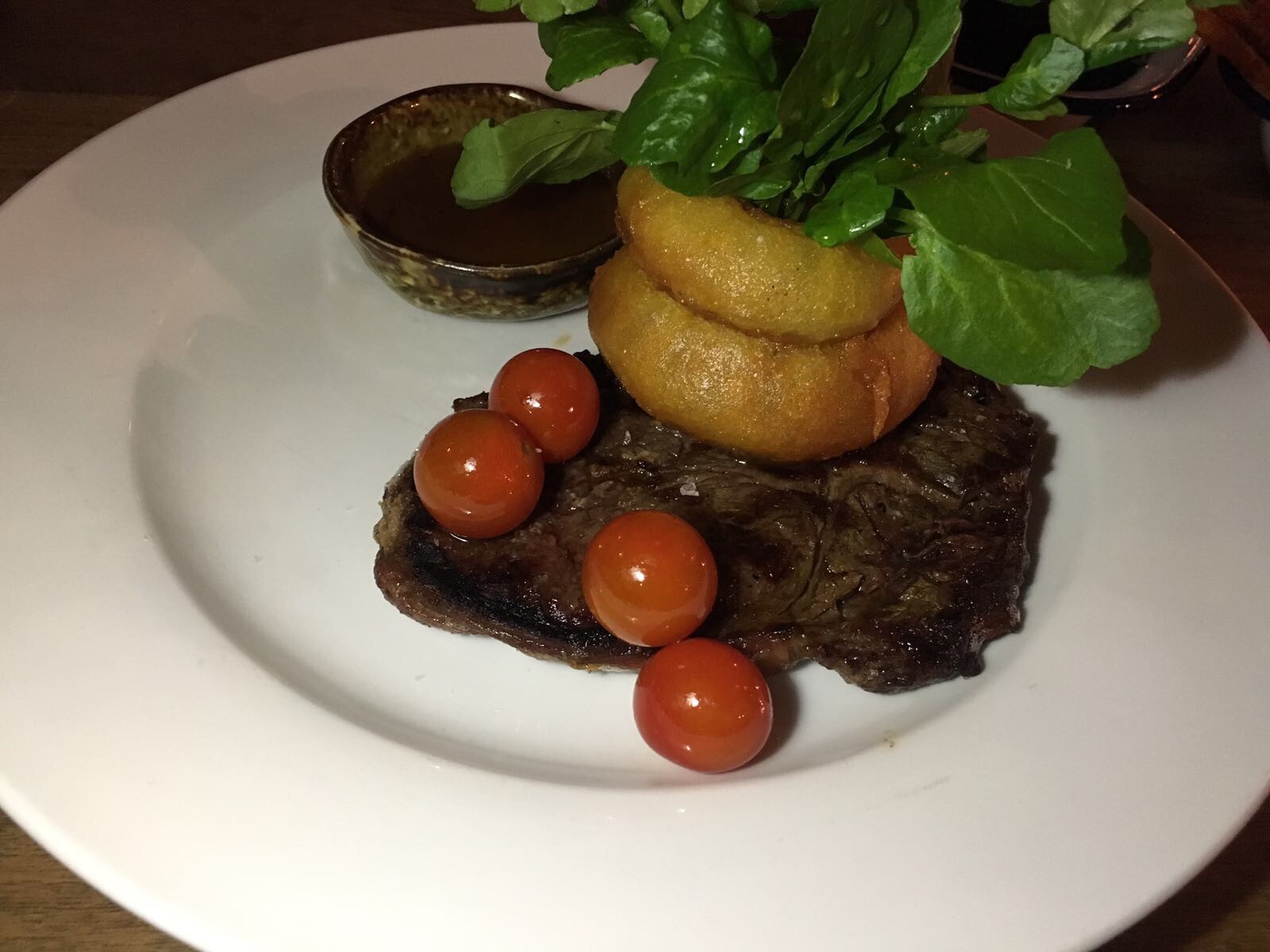 Buffalo wings with blue cheese sauce were tasty enough- the blue cheese sauce was strong and the spicing was right. They could improve by making the wings crispier.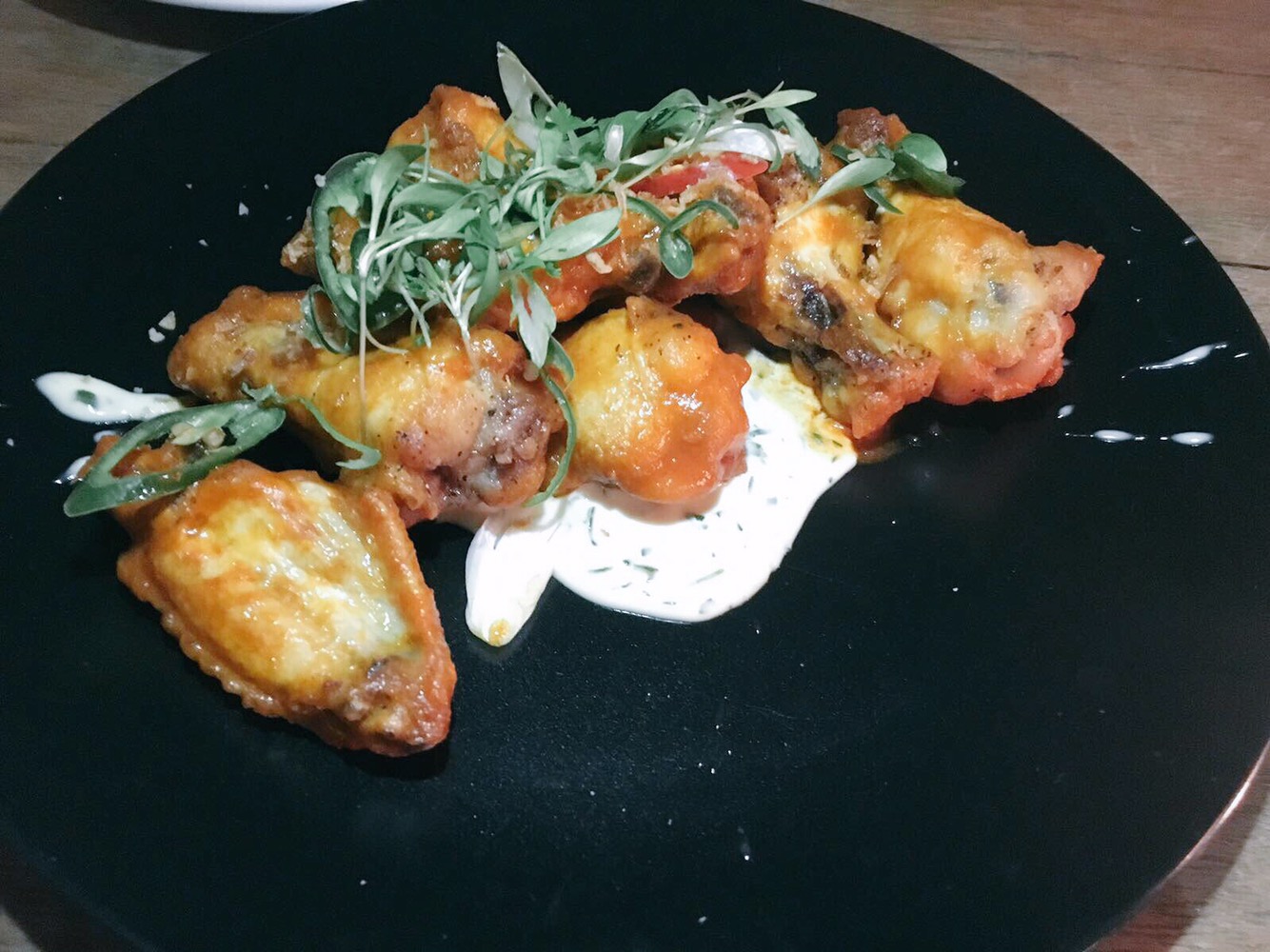 The Jam Tree remains a solid drinking spot and I was happy to spot at least 4 couples on dates whilst I was there. The cocktail list has gotten better if anything since my last visit, and their new gin menu is a great addition. The food was good enough. It won't set the world on fire but most things I ate were good, and 1 great (the squid starter). Good enough for a casual dinner out, and a destination for pre-drinks!
http://www.thejamtree.com/clapham
13-19 Old Town, London SW4 0JT