Cuisson have long held THE rep for high quality pop ups in London town, and bring their latest venture, POPdown, to Cathedral Street by Borough Market. This time it's Asian inspired and has a Japanese bar called Ikigai downstairs too, if you're not in for the full tasting menu experience. I popped along a couple of weeks ago to try it out.
I kicked off with a few drinks at the bar downstairs. The cocktails aren't cheap and honestly, I'd stick with the beers as they have a good selection including some by Innis & Gunn who they've partnered with to offer a cool VR experience in the bar too.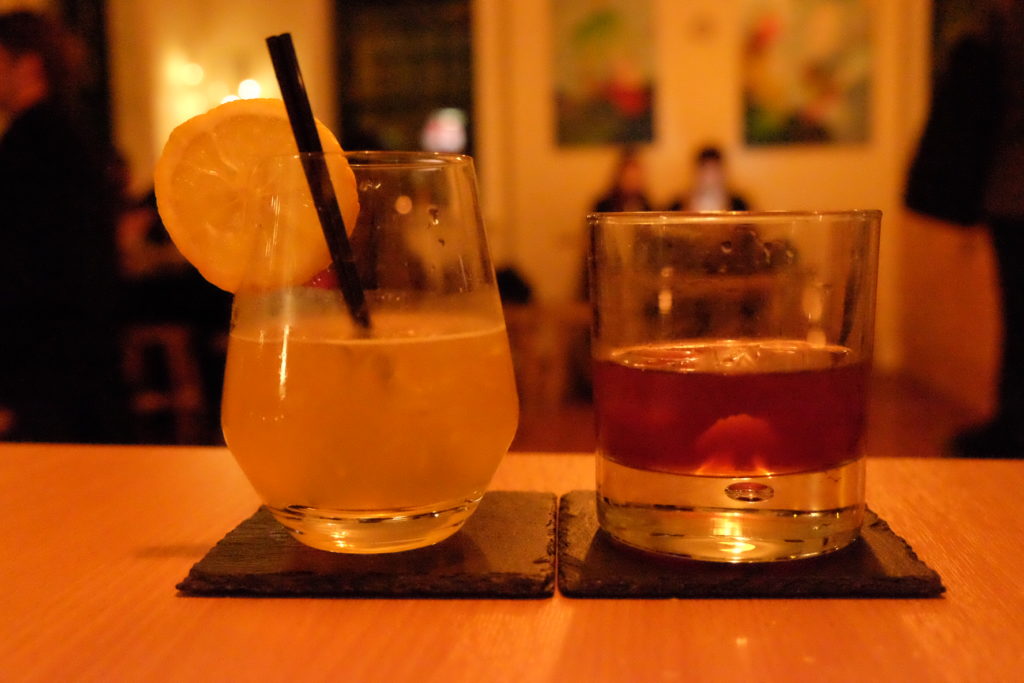 After drinks we headed upstairs to the main dining area for dinner. It's a pop up so expect that vibe rather than a restaurant – communal tables, limited decor and basic tableware. Personally, I like the communal element and you can meet some interesting people if you're open to that – this was no exception and we got on like a house on fire with the couple sitting next to us.
Courses are plated up in the room in front of you, and you get to go up and help the chef plate them, which is a nice touch. We began with Prawn Wanton with lava salt and chilli jam. This was lovely – a big plump prawn with the right amount of bite. This came followed by another pleasing dish of sea bream ceviche with yuzu and soy. All flavours that work together, coming together in a well executed dish that was nice, if not world shattering.
The next course was honey glazed duck with hazelnuts and a side 'salad' of plumb with cucumber and citrus dressing. The duck was well cooked and the honey soy glaze full of moreish, umami yumminess, countered by the fresh salad.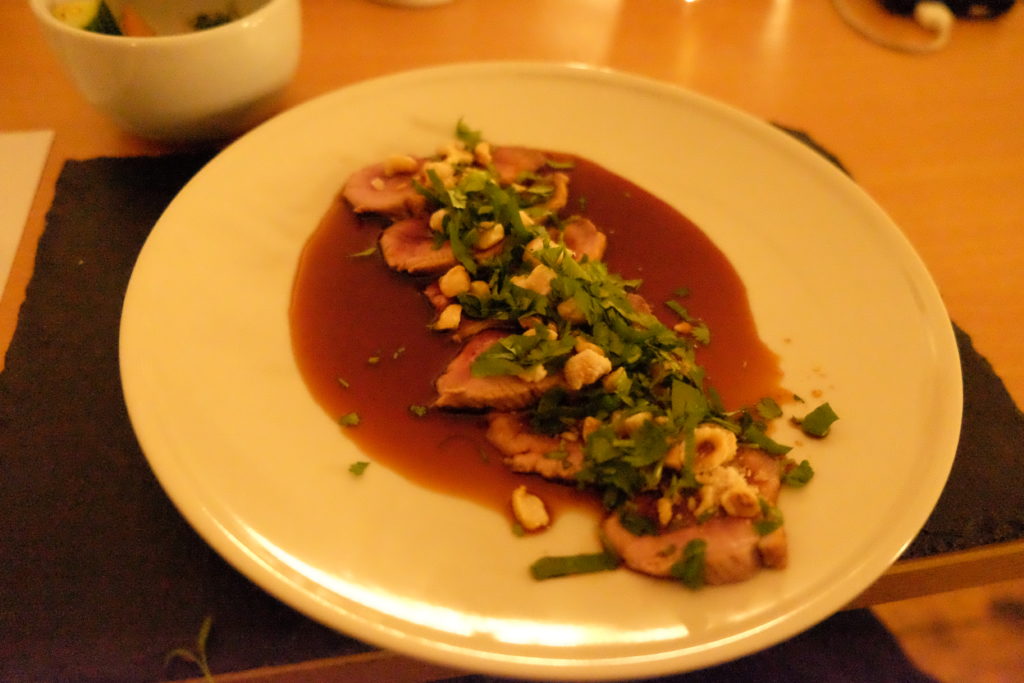 The pork loin that followed was my favourite dish of the evening. It came with onigiri, pickled cabbage and a gorgeous sticky sauce and was breathtakingly tender. Just delicious!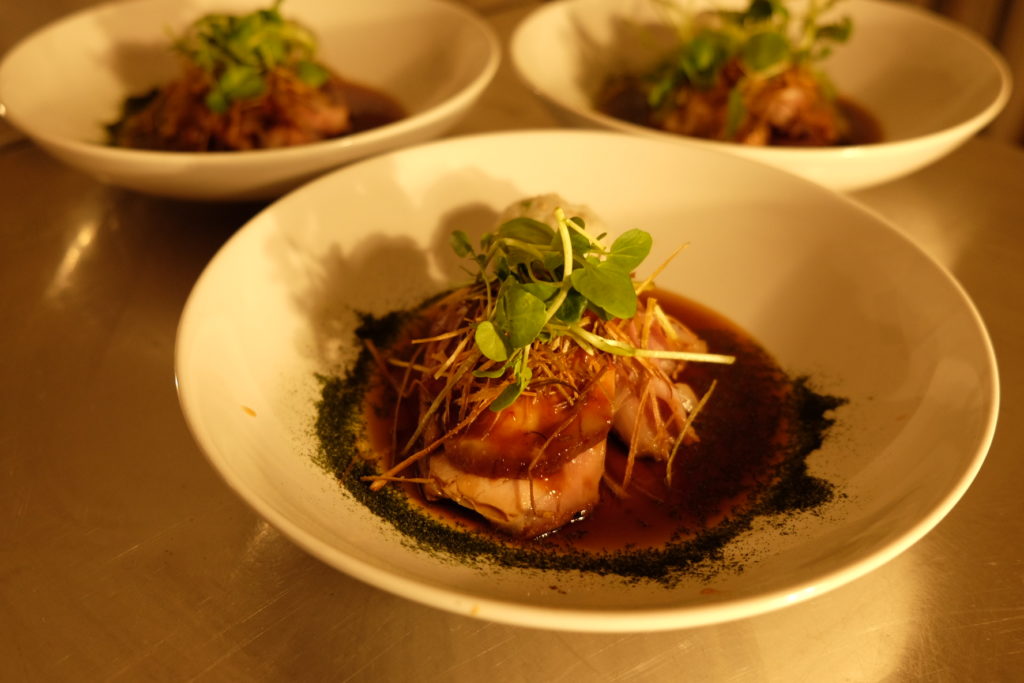 Dessert was fine, although it was one of those desserts which I have a bit of a bug bear about- where everything is plonked in a glass or heaped, torn up, in a pile on a plate. They seem to be trendy at the moment, especially in some of the 'trendier' fine dining restaurants (e.g. The Frog/ The Dairy), but I always think they're just a default for the chef that isn't terribly good at pastry. There's nothing much wrong with them, but I notice the deliberate lack of precision and I know why.
POPdown's was a glass of coconut, kaffir lime and pineapple flavours. Don't ask me in what form because I've forgotten everything except that it was tasty….enough.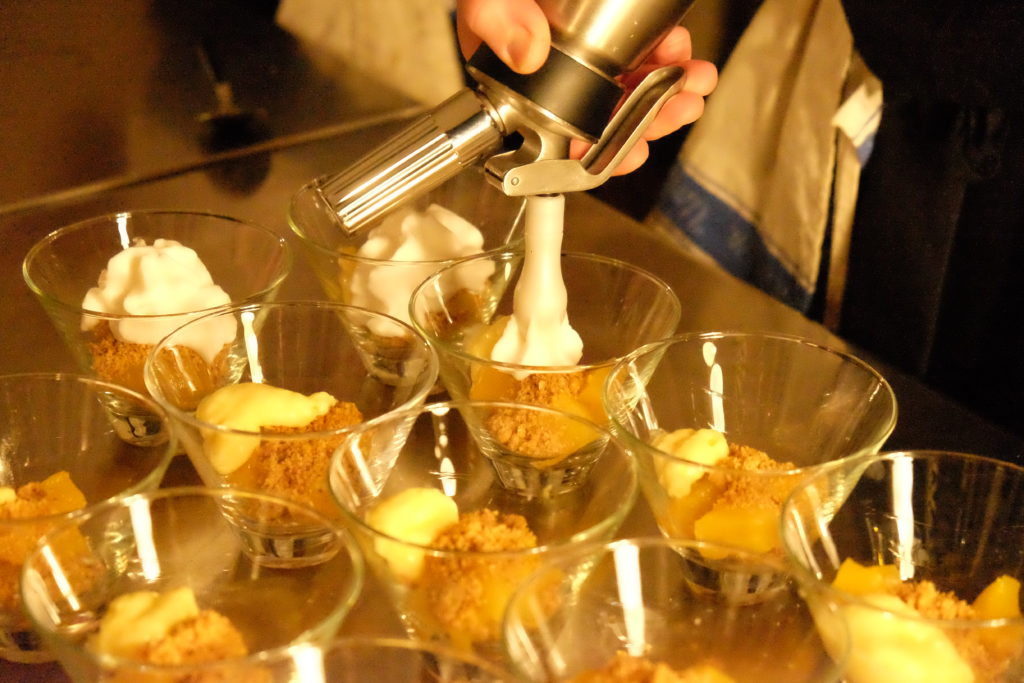 To sum things up: I enjoyed Cuisson's newest venture passably. The food that I tried was a mix of good, great with the pork, and okay with the dessert. They're probably butting up against the pricey mark at £45 for the 5 courses – at that price range they're competing against restaurants and, as a pop up, are naturally limited by the other aspects of the experience such as venue, facilities and service. I do like it though and as pop ups go, they're one of the better ones. Worth a try.
1 Cathedral Street London SE1 9DE