Talk of London Town right now is Chef Adam Handling's latest project: The Frog, off Brick Lane out in East London. After gaining wide acclaim as the British Culinary Federation's Chef of the Year 2014, Scottish Chef of the Year 2015 (I could keep rattling these off) and as a finalist Masterchef Professionals 2013, all eyes have been on young chef Adam ever since. Newly opened The Frog, whilst not his first solo venture (Adam Handling at Caxton was his first), feels like Adam's first chance at having a bit of fun, unrestrained at the pass.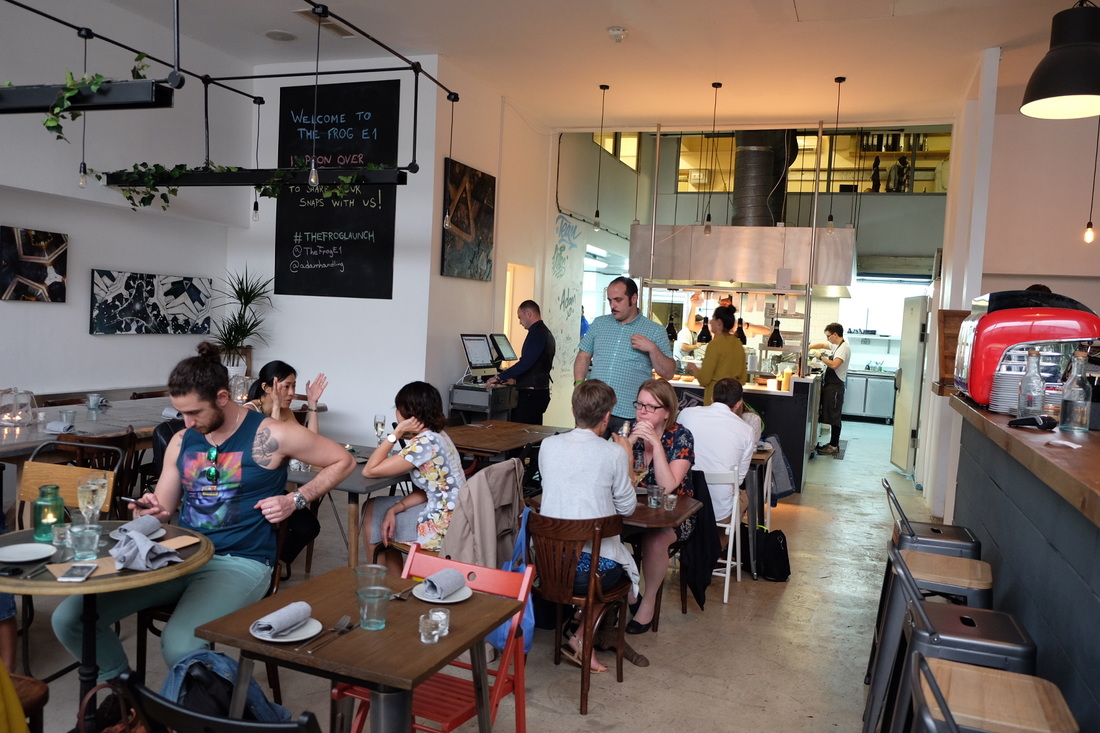 I went down recently to check it out. It's set in a quirky venue round the back of the Truman Brewery off Brick Lane – it looks like a pop up, like it's been force fit into a restaurant space; all poured concrete, graffiti and an exposed kitchen in one half of the room. Service is relaxed, almost rebelliously so, and so is the whole vibe of this place. The clientele are super mixed, from cool tattooey types to young families (the family next to me are amazing – their young kids eat everything served to them including raw beef and yuzu and I'm so impressed).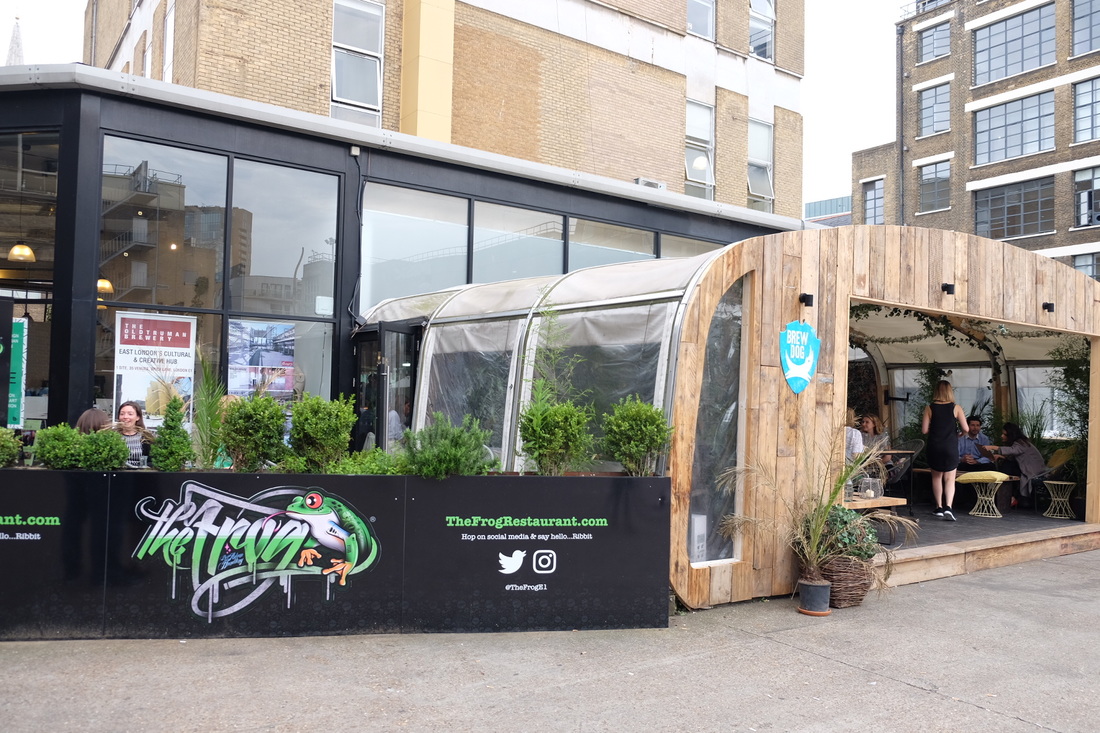 The tasting menu of 9 courses (although 4 of them are 'snacks') is £45, which is an absolute bargain, and can be accompanied by a wine (£35) or beer (£45) beer pairing. I love the fact that there's a beer pairing – it's the first time I've ever seen this on a fine dining menu and I think it's great.
Proceedings begin with croquettes of slow braised pork with crackling and squirts of lovage – moist and flavoursome. It's a good start, closely followed by sugar cylinders of beetroot, filled with beetroot puree and dusted in beetroot dust, good bread with butter whipped with crispy chicken skin and beer 'crackers' with egg yolk and beef tartare.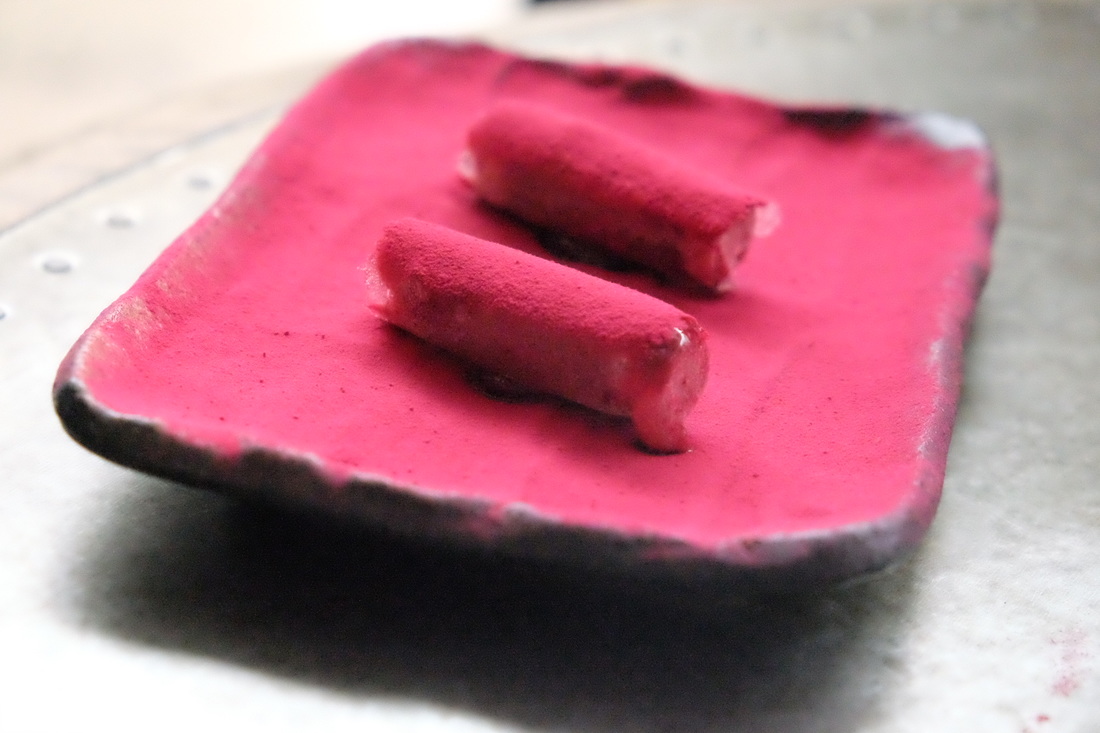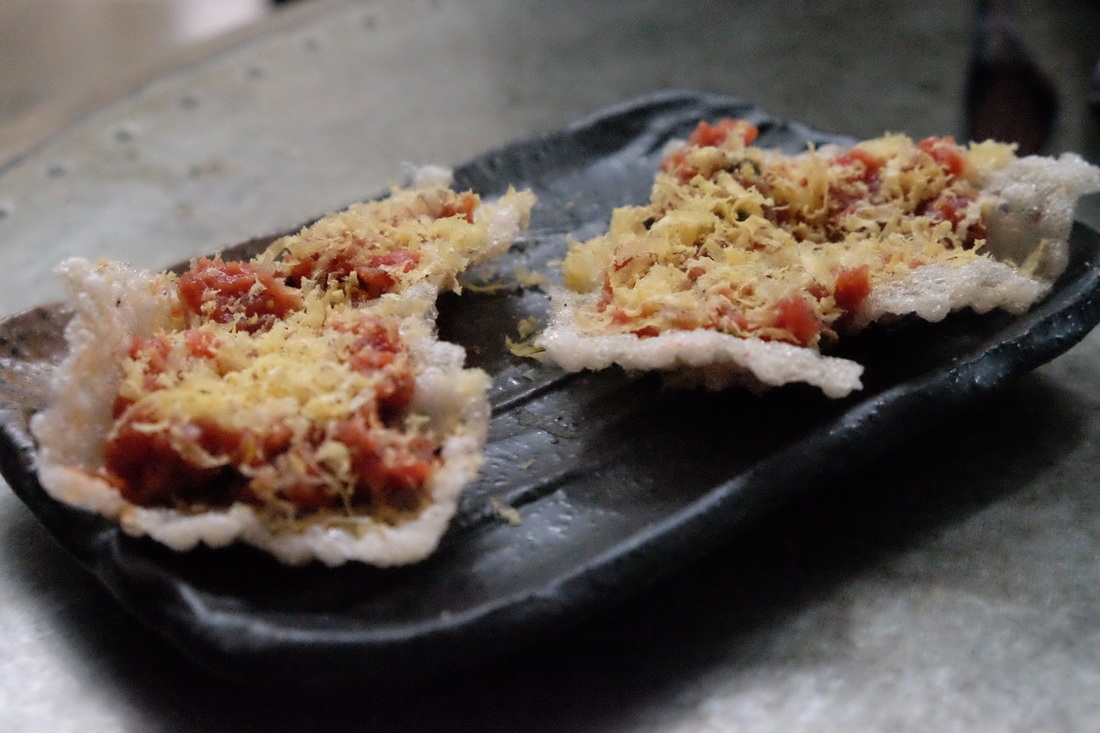 Next comes a fresh dish of crab with apple shavings, avocado mouse and dill and another of hake with limestone potato and tarragon. Both are fine and the potato on the hake dish is memorable, beaten with enough butter to set up its own creamery.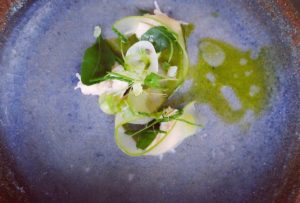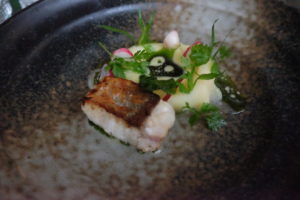 Here the menu gets serious. The meat course is my favourite: beef with artichoke, black garlic and the most stonking rich beef sauce. It clings to delicious rare beef, bringing it together with strong savoury garlic and I adore it.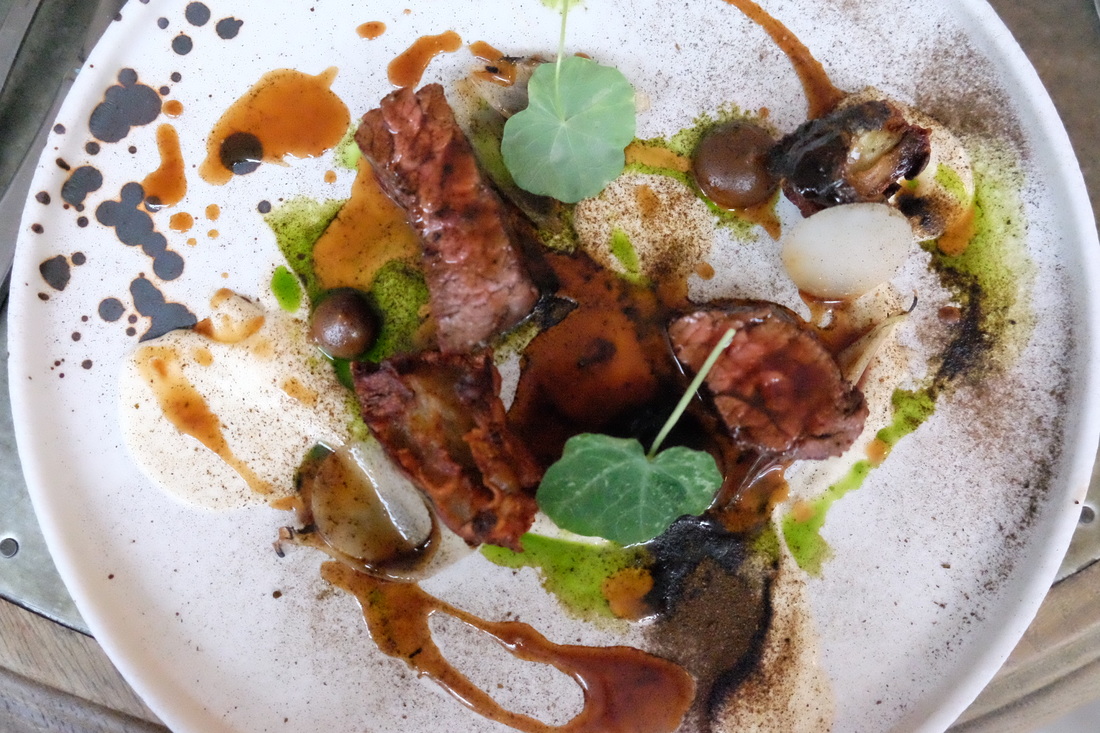 Then follows a cheese course with a difference: cheese doughnuts (yes, doughnuts) stuffed with cheese and grated over with….yet more cheese. These are fabulous puffs of utter, utter sex and have contributed to my dirtiest dreams ever since. It's a cool £4 supplement but do yourself a favour and dig deep – they're great​.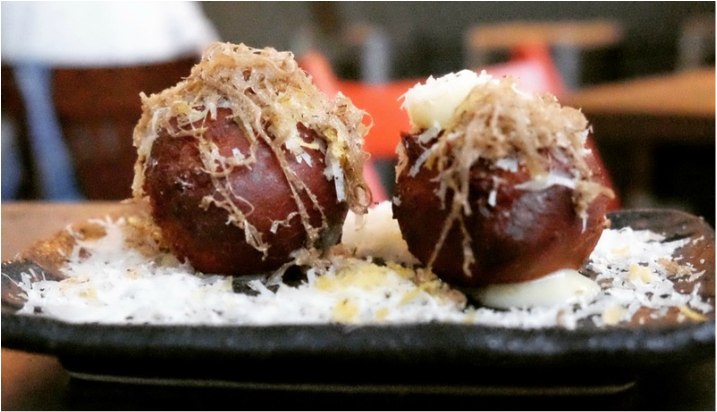 I regret my dessert choice. You get a choice of 3 – Nitro Tiramisu (£5 supplement), Yuzu with white chocolate and milk ice-cream and Burnt Honey with malted ice-cream and lemon – and I opt for the 2 non-supplement ones. Both are lovely but I see others getting the nitro creation. It looks insane, arriving with streams of dry ice smoke.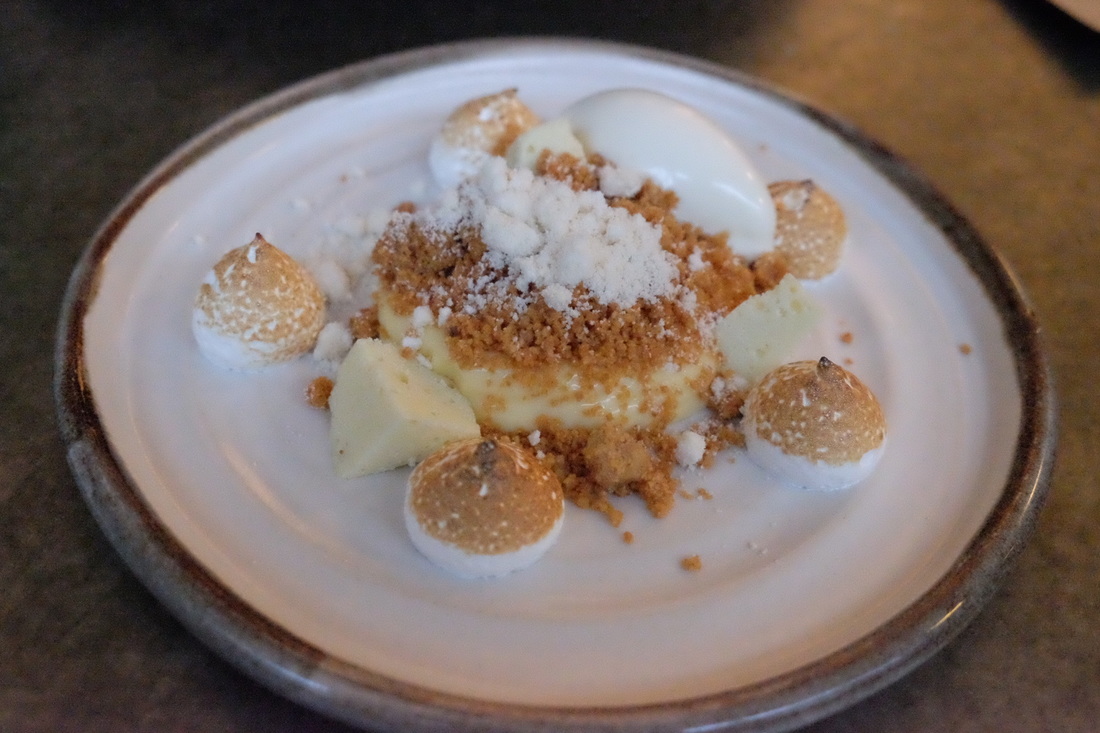 There are things I like very much about The Frog. I like the stripped back vibe, the menu pricing is bang on (although – lose the supplements on the cheese doughnuts….they're the BEST) and some of the dishes, aka the aforementioned, are truly excellent. The fact that there's a beer pairing is the final nail in the coffin. In this restaurant I feel like Adam's let his hair down, had a bit of fun and, boy, it was about time. I'm excited to see more in his next venture (coming soon – ssh). Come and check The Frog out.
www.thefrogrestaurant.com
Ely's Yard, Old Truman Brewery, 2 Hanbury St, London E1 6QR