Piece by Erin Goodall, FG Northern Correspondent
Taking residence in a former Leeds stripclub, Vice and Virtue (the name, presumably, a nod to the building's wicked history) is a hot new spot hosting a cocktail bar and fine dining restaurant. I was intrigued to know that the newly opened restaurant is owned by the same restaurateur behind Dough Bistro's, a spiffing little bistro on Spen Lane towards Lawnswood. I used to dine there regularly many years ago and liked their scrummy food and reasonably priced tasting menus. At V and V the ethos is much the same, with options at 5, 7 or 10 courses at £35, £45 and £55. I went down recently to check it out!
The evening kicked off with a very petit tortilla amuse bouche. The mouthful of gloriously rich chorizo and Spanish omelette was spectacular in its simplicity, giving a good salty punch to get the juices flowing. The first course was gin cured salmon with caviar and cucumber. The Salmon was carefully cured, soft and subtly flavoured with a pleasant hint of juniper rather than an overwhelming smack of gin. The small little grapes provided a lovely sweet balance. I would happily eat plates of this.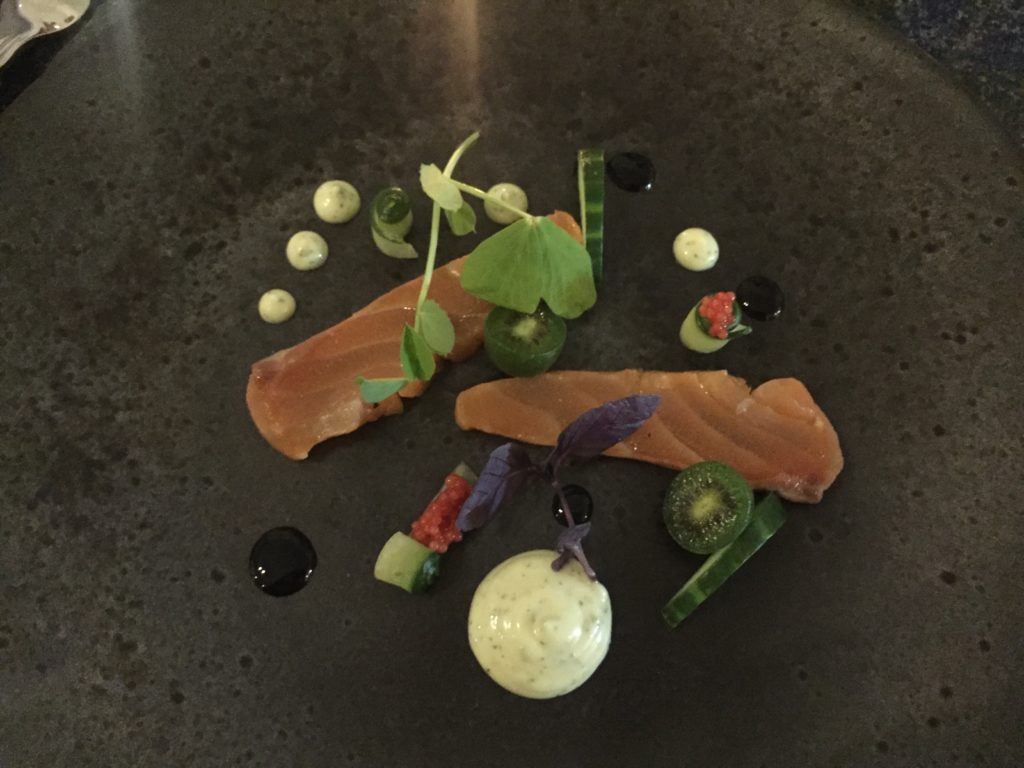 The second dish was golden beets with a yogurt sauce. Of all the dishes, this confused me. The dish came under a glass cloche filled with smoke – nice theatre of course, however the beet itself wasn't smoked and it seemed to be there only for effect rather than flavour. What was left was a half savoury/ half dessert-y dish with an odd sweetness that was not afforded by the beet but some other mysterious ingredient. I ate it on the basis that I was determined to understand why and what I was eating but by the end was none the wiser. Not unpleasant, just perplexing.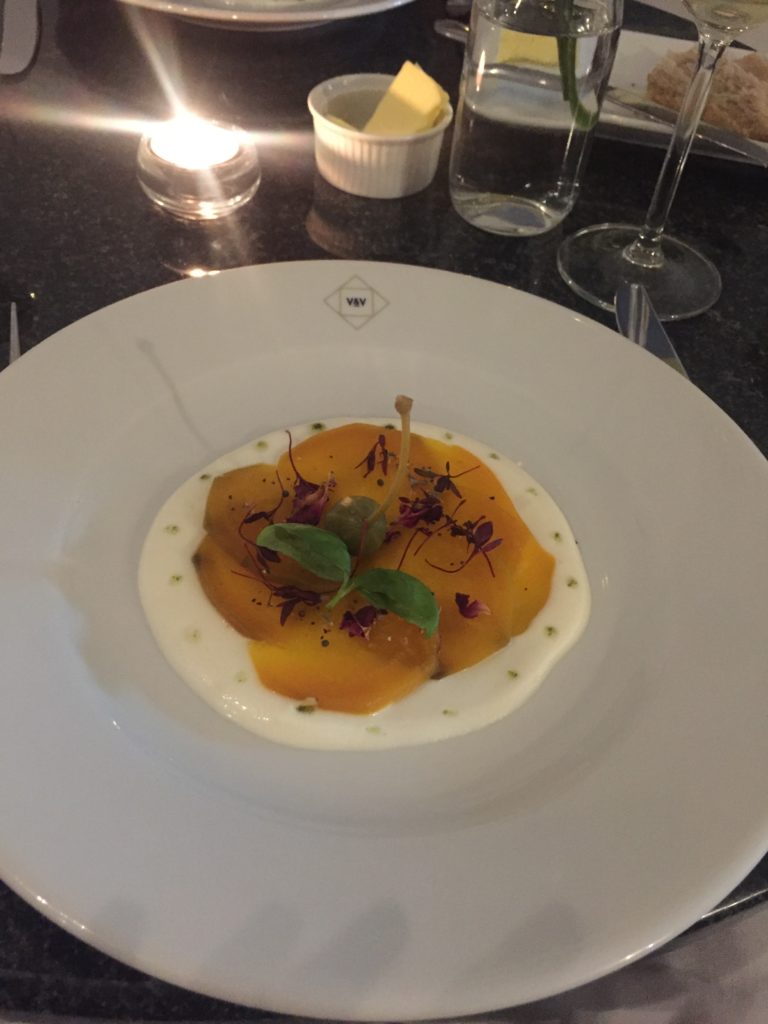 Things thankfully took a turn for the better with the next course: belly pork, black pudding, scallop with an oyster mayo and winter veg. This plate of winter warming joy was the star of the night. The pork was cooked almost perfectly and was good quality, but missed that final bit of crispness on the crackling that we all love. Portion wise, the little piggy in me would really have loved this to be double the size but alas….at least there was some room for pud, of which there were two.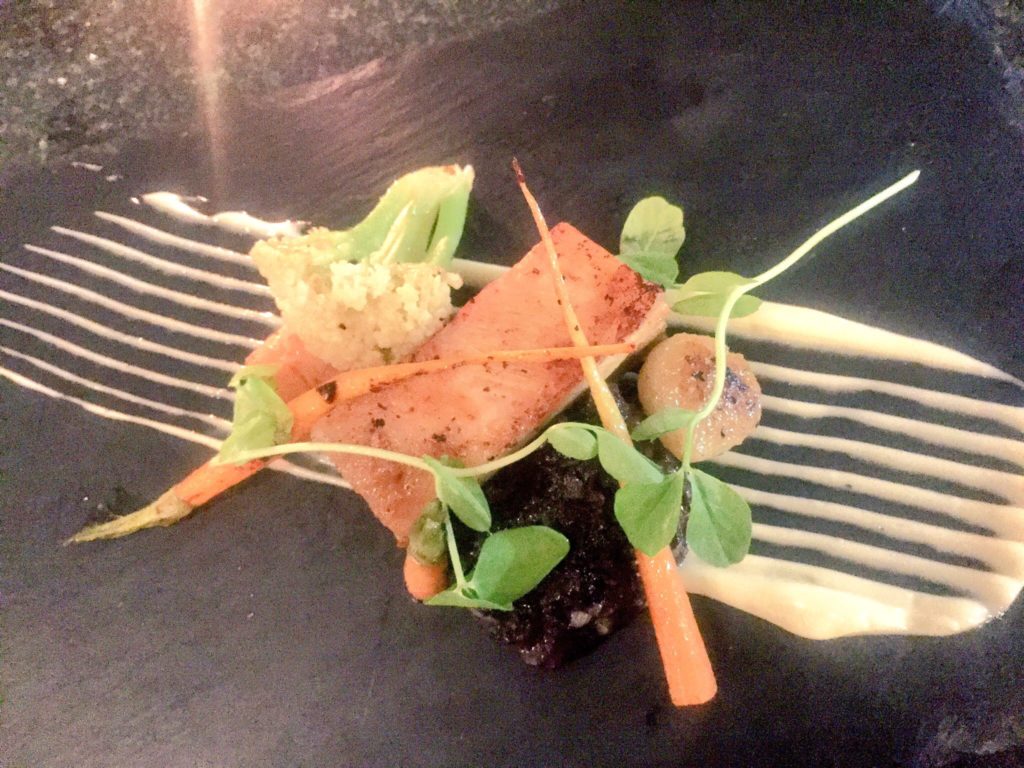 First came a lavender panna cotta with blueberry sorbet and small touches of basil. Whilst my companion devoured hers (and in the end mine), I couldn't quite get on board with this dish. The cream was overset with too much gelatin giving it the spring of an overinflated bouncy castle – sounds more fun than the reality. With a little less, this would have made an interesting and refreshing primo pud.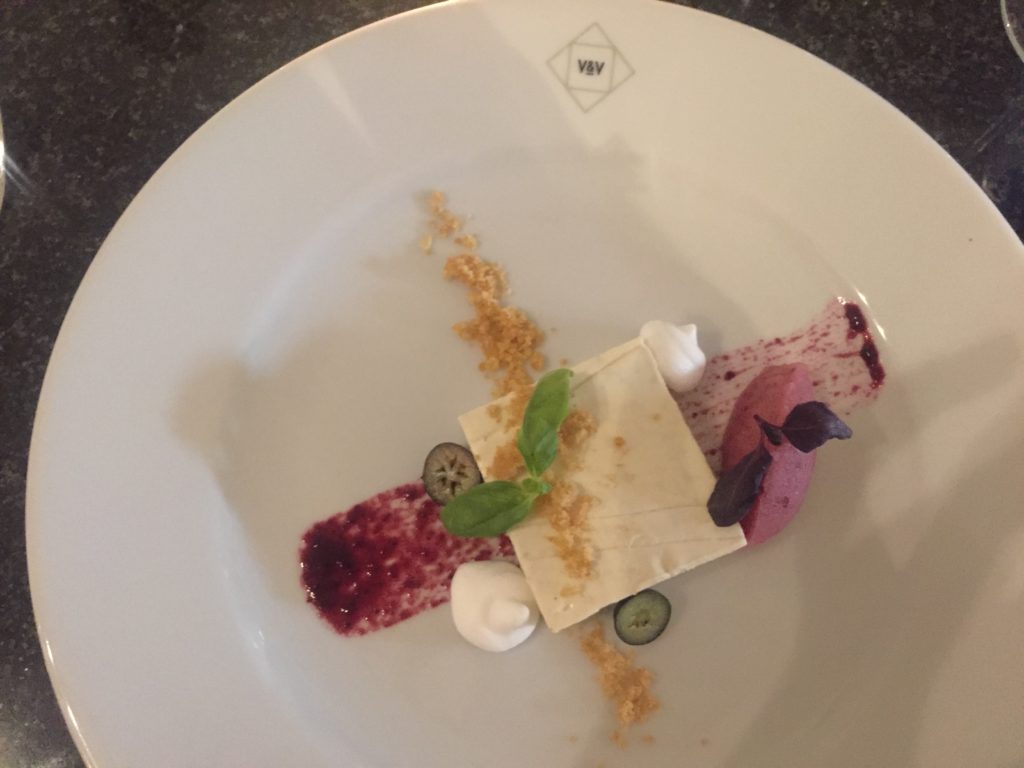 Finally, what should have been the daddy of all puds –toffee pudding with ice cream. Alas once more!! I felt like someone was watching my weight for me. The toffee cake was totally fine as was the ice cream, but nowhere could I see my beloved toffee sauce. If there was ever something not made for deconstruction, it is a sticky toffee pudding. There was a distinct lack of vice from the last course, which overall; I really felt the menu needed.
All in all, it was a lovely evening with but a couple of dips. The cocktails from the downstairs bar are wonderful, 2/5 dishes were excellent, 2/5 needed just a little polishing and 1/5 still has me confused. Having said that, it is good value for money and the small, intimate and staggered service (I mean that in a good way) allow diners to relax. It is a fun quirky menu and you would be really hard pushed to find somewhere as reasonably priced with as much creative thought and skill. I would recommend booking for one of the smaller tasting menus just to get a feel for the place.
72, 68 New Briggate, Leeds LS1 6NU
Piece by Erin Goodall, FG Northern Correspondent