A very dear friend gave me this recipe while I was at University and throwing events with the Food Society I was involved in where we had to pump out hundreds and hundreds of canapes on the spot multiple
multiple
times a year for 4 years. As I think I expressed a few posts back, this has left me with a deep rooted reluctance for all things canapeY. However, despite this cynicism, this is one of the only canapes that can drag me out of my stupor, into the kitchen and into an appetite. If I needed more reasons to adore this girl, this just put the proverbial cherry on the cake. Or Clafoutis. Mmm.
Flaky, cheesey, buttery pastry
flavoured with salt and rosemary – oh god – topped with salty salty feta cheese, juicy sun dried tomato and olive – oh god, oh god, just too good.
Trust me, make these – you'll never ask for another canape recipe again. And so easy too; simple to make both for small numbers and immense. Pretty too, people will marvel. Give it a go.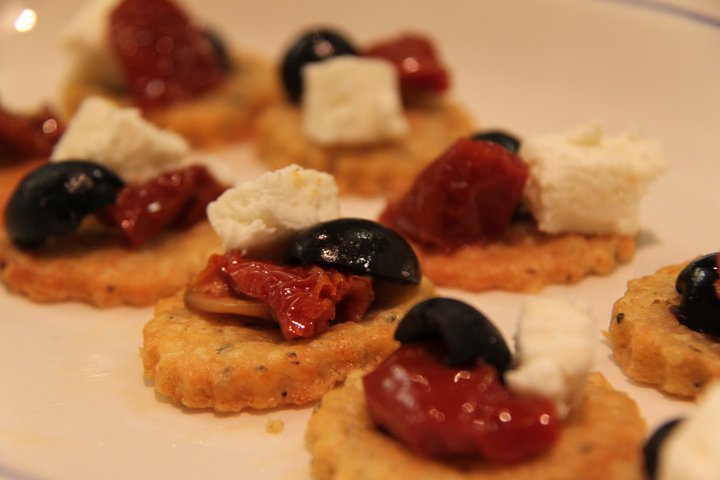 Recipe
Ingredients (makes 20):
For the shortbreads:
50g plain flour, sifted
Salt
Pinch cayenne pepper
50g cold butter
50g parmesan cheese, grated
1tsp rosemary leaves, finely chopped
For the topping:
10 semi dried tomatoes
Salt and black pepper
110g feta cheese, diced
10 Black olives, halved
Method:
1.      Preheat the oven to 200Place the flour, a pinch of cayenne pepper and salt, butter, parmesan and the rosemary in a bowl and rub together to form a smooth dough. Alternatively you can pulse the ingredients in a food processor. This is a dry dough.
2.      Roll out the dough on a floured surface to about 0.6 cm thickness. Using a 2cm fluted pastry cutter cut out circles. Place the dough on baking sheets lined with baking paper and refrigerate for 30 minutes.
3.      Bake until golden brown, 7-8 minutes. Place on a wire rack and allow to cool.
4.      Top the shortbreads with tomatoes and feta. Garnish with olives and serve at room temperature.