For the last 4 years I have been on a mission to spread the word of offal. Delicious, iron rich, melting offal. I tried to sneak as many offal dishes as my colleagues would allow into my cookery classes and considered it a personal triumph to have tricked several people into tasting, and enjoying, kidneys!
See, I told you it's good!
Offal is cheap, readily available, hugely versatile and, most importantly, delicious! Liver is my absolute favourite and especially chicken or any sort of poultry/game bird, calf or beef, but hell, I'll take it all. Kidneys need handling carefully but can elevate the eater into foodie heaven. Heart; fantastic when braised or very quickly pan fried. Sweetbreads; meaty, soft, succulent little clouds of dreams.  Other, less common, forms of offal are great too in context; eat lambs intestine in traditional Italian
trattorie
, sometimes served in richly herbed pasta, indistinguishable from the penne surrounding it, eat head cheese whenever you can, a kind of meaty terrine made from the brain of a calf or a pig.
I personally
dislike tripe, the stomach lining of a cow or sheep; I've given it several chances, served in several different manners and it has consistently defeated me. But maybe you'll like it. Avoid placenta. Please, we're not animals.
The recipe tha
t follows is for one of my favourite ways of serving offal. It is entirely user friendly – suitable for an offal first timer, perhaps already acclimatised to retro chicken liver pate. Chicken livers, simply sauteed with garlic, rosemary and butter. Soft and rare on the inside, melting on your tongue, browned and flavoured on the outside. Salt, iron, garlic, butter. MM MMM. Served on soft slices of garlic butter brioche fried in the fat the chicken livers were prepared in. Enjoy.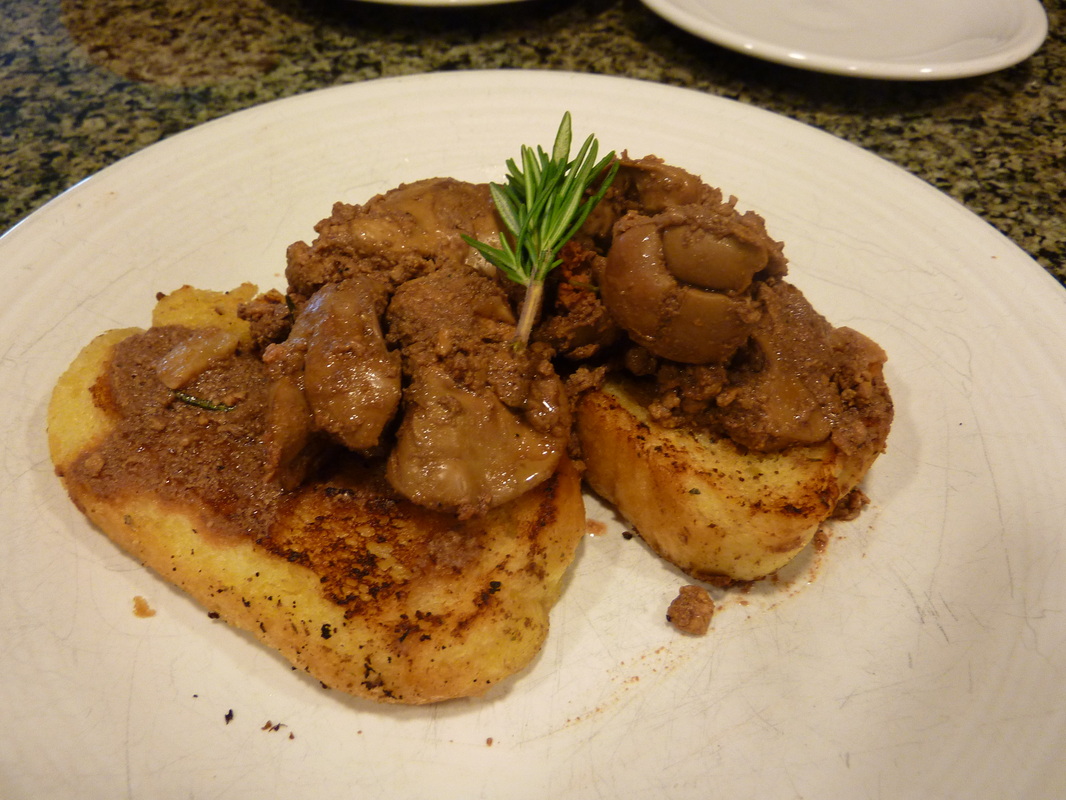 Recipe
Ingredients (Serves 4):
1 lb
chicken livers (free range), trimmed of fat and sinew and patted dry
4 cloves garlic
, minced
1 rosemary spear
3 tablespoons butter, unsalted
glug vegetable oil
salt and pepper
For the brioche:
loaf of good quality brioche, cut in
to 1 inch thick slabs
2 cloves garlic
, minced
4 tablespoons unsalted butter
salt and pepper.
Method:
1. Heat a saute pan with 2 tablespoons of the butter and oil in it over medium-high heat.
2. Add the
garlic and rosemary and saute until the garlic is soft and just starting to brown.
3. Increase the heat to high, add the chicken livers. Season with salt and pepper, generously.  Saute for around 4-5 minutes until the
chicken livers are brown on the outside but are still very pink and juicy on the inside. Remove from the heat and the pan and rest, covered.
4.
Mix the garlic and the butter into a paste. Season with salt and pepper.
5. Smear the brioche with the garlic butter mix.
6.
Return the empty pan to the heat.
Add the remaining (1 tbsp) butter and a small splash of oil and heat.
7. Place the slices of brioche in the pan. Brown for 2 minutes on each side, or until golden brown and toasted. Remove from the heat and pat the surface oil off with a paper towel.
8. Serve the rested chicken livers on top of the brioche, spooning all the juices from the livers on top
.