An absolutely classic dish which never fails to please on any table! Beautifully rare, tender slivers of sweet beef in a pungent mustard, pepper crust on top of peppery rocket, salty parmesan with a simple, fresh and zesty dressing. A lot of summer and a lot of elegence on a plate.
This is a pretty good dressing, I think – adapt it to any salad recipe you like! It works with this recipe because of its simplicity. Something more robust would mask the delicate flavour of the raw beef – this one is just fresh and sharp, it works perfectly.

NB-
Buy good quality beef – it really makes a difference. The fillet is a good cut for this – it isn't the most flavoursome cut in the world but it is certainly the most tender. Try and get one that is well aged – it will help urge along some flavour! Serve as a starter or as a light main course.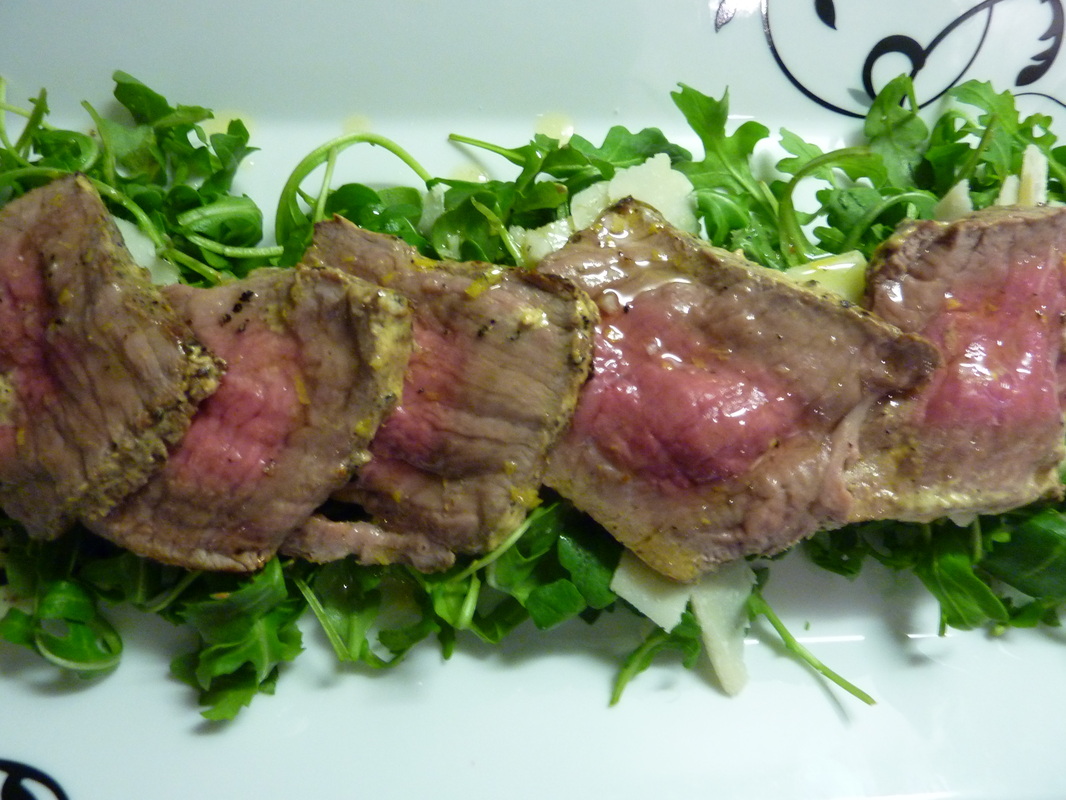 Method

Ingredients (Serves 4):

500g good quality beef fillet
200g fresh rocket leaves
5 tablespoons dijon mustard
salt and fresh cracked black pepper
vegetable oil
100g parmesan, peeled with a vegetable peeler or sliced very thinly in shards

Dressing:
3 cloves garlic, minced
olive oil, a good glug
equal quantity of white wine vinegar
lemon, zest and juice
salt and pepper

Method:

1. Heat the vegetable oil in a frying pan until smoking hot. Heat a tray in the oven to 220 celsius.
2. Very generously season the beef fillet with salt and lots and lots of black pepper. . Place in the pan and sear on all sides until it forms a nice brown crust on the outside, though is essentially raw on the inside.
3. Smear the fillet with the dijon mustard and season generously again.
4. Place on the tray and put in the oven for 2 minutes. Remove, cover with tin foil and leave to rest for about 15 minutes. During resting all of the blood that would leak out of the beef if it were served now is released and mostly reabsorbed. After resting none should leach out. It also helps tenderise the beef flesh itself.
5. For the dressing: in a jam jar or cup place all of the dressing ingredients and whisk until evenly combined. Taste to check seasoning. Add more salt/pepper/lemon juice/vinegar as needed.
6. Toss the rocket leaves in the dressing until evenly coated but leave a little of the dressing spare.
7. Once the beef is rested, take a very sharp knife and cut even slices of the beef – as thin as possible.
8. To plate; lay the leaves in a long rectangle on a plate, scatter some parmesan over the top, about half. Lie the beef on top of the leaves, slices overlapping each other. Scatter some more parmesan over the top, drizzle the remaining dressing over the beef and grind some more black pepper and sea salt. Serve!