Global Vegetarian Week is coming up and I've set myself the challenge of offering some less meaty recipes to the readers of this blog. There are some truly marvellous things that can be cooked up without the need for meat or fish and certainly with some cuisines, the addition of either would be to zero advantage. But to ease myself into it, for my first recipe I'll be using a core ingredient that normally comes in the meatiest of forms: the Scottish Haggis.

Nowadays however our Scottish cousins have become more sensitive to Vegetarians and have begun producing vegetarian Haggises. I'm using one made by Macsweens of Edinburgh made from a tasty blend of lentils, vegetables, pumpkin seeds and spices and, to be honest, I've never sampled a better one.

I'll be using this to make a vegetarian haggis lasagne, with grana padano and butternut squash. The squash adds a delicious earthy sweetness to the lasagne, coupled with the saltiness of the cheese and creamy sauce. I've jazzed up the sauce a bit to give it a bit more flavour and used some stock instead of just all milk – this makes it a hybrid of a french bechamel and a veloute!
Served with some garlic bread or a simple salad, it's a delicious recipe that, I promise, will be enjoyed by all.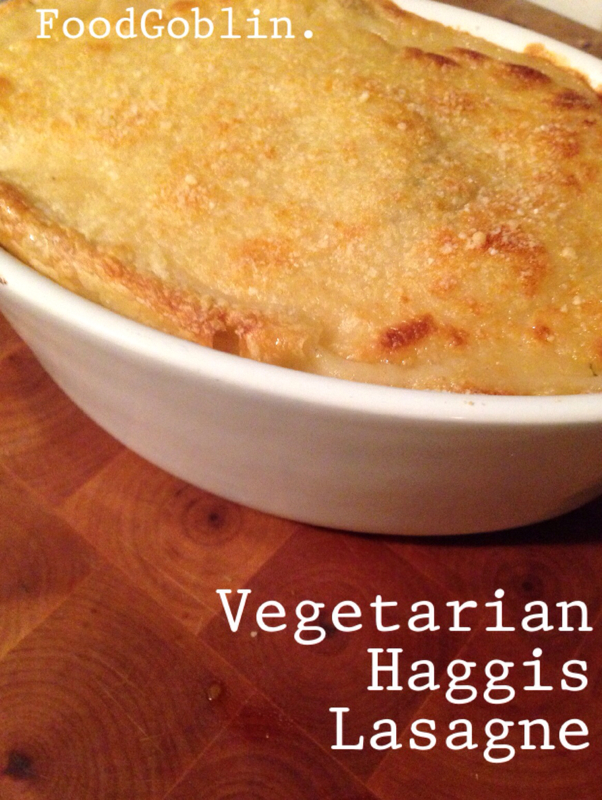 Recipe (Serves 4)
Ingredients:
1 500g vegetarian Macsween's haggis 
Half a small butternut squash, peeled
Lasagne Sheets
2 handfuls -grated Grana Padano 

For the sauce:
30g plain flour
40g butter
200ml milk
20ml vegetable stock

Sea salt and pepper

Method:

1. Pre-heat an oven to 180C. Slice the butternut squash into 1/2 inch thick rings – it's easiest if you use the neck half of the squash so you don't have to bother scooping the seeds out! Place on a baking tray, drizzle with olive oil and season. Bake for around 30-40 minutes until soft and cooked through. Cool slightly and remove the skins. 
2. Remove the case from the haggis, slice into chunks, place in a bowl and cover. Microwave for 8 minutes on medium until cooked.
3. Bring a pan of slightly salted water to boiling. Simmer the lasagne sheets until partially cooked. 
4. To make the sauce: melt the butter in a sauce pan over medium heat. Once melted stir in the flour and beat until combined. Continue stirring over the heat for around a minute until it comes together. Gradually add in the milk and stock, whisking as you go to stop any lumps forming. Once all whisked in continue to stir until it forms a thick creamy sauce. Tip in a handful of grana padano and season with pepper, and salt to taste. 
5. To assemble: take a small 2 person baking dish, or separate lasagne pie tins and spread a layer of haggis in the bottom. Next layer on the butternut squash, and top that with a lasagne sheet. You may have to pull one into two to patch up any gaps. Tip over some wonderful white sauce. Continue to layer like this until you reach the top and make sure you finish with a layer of the sauce. Spinkle over a handful of grana padano and bake in middle shelf of the oven at 180C for around 30 minutes, until the top is golden brown. 
Serve piping hot.