I recently took part in a Charity Come Dine With Me competition in aid of PHAB, a youth centre in Hounslow that helps supports children in the area. My challenge was to devise a menu that would be fool proof against the unknown (shudder) horror of potentially fussy eaters. The season was Spring, a time which always brings me great joy from the emergence of beautiful, fresh British asparagus. Although our season was a bit iffy this year, due to the horrid frost that lasted unusually late, asparagus eventually emerged and my starter was set.
Steamed green asparagus, a dressing of lemon thyme and young olive oil, shavings of Parmesan and a crispy fried hen's egg to bring a bit of texture and ooze (
click here
for the egg recipe alone). What could be more delicious on a warm evening? And again, fool proof, so I hoped.
I think; delicious. Light and achingly fresh. Enjoy.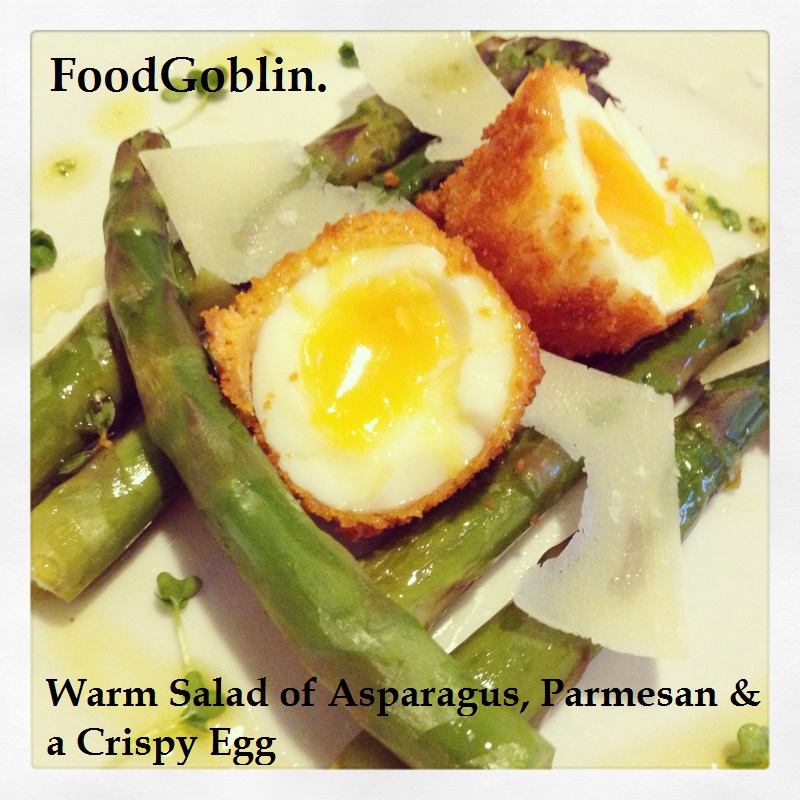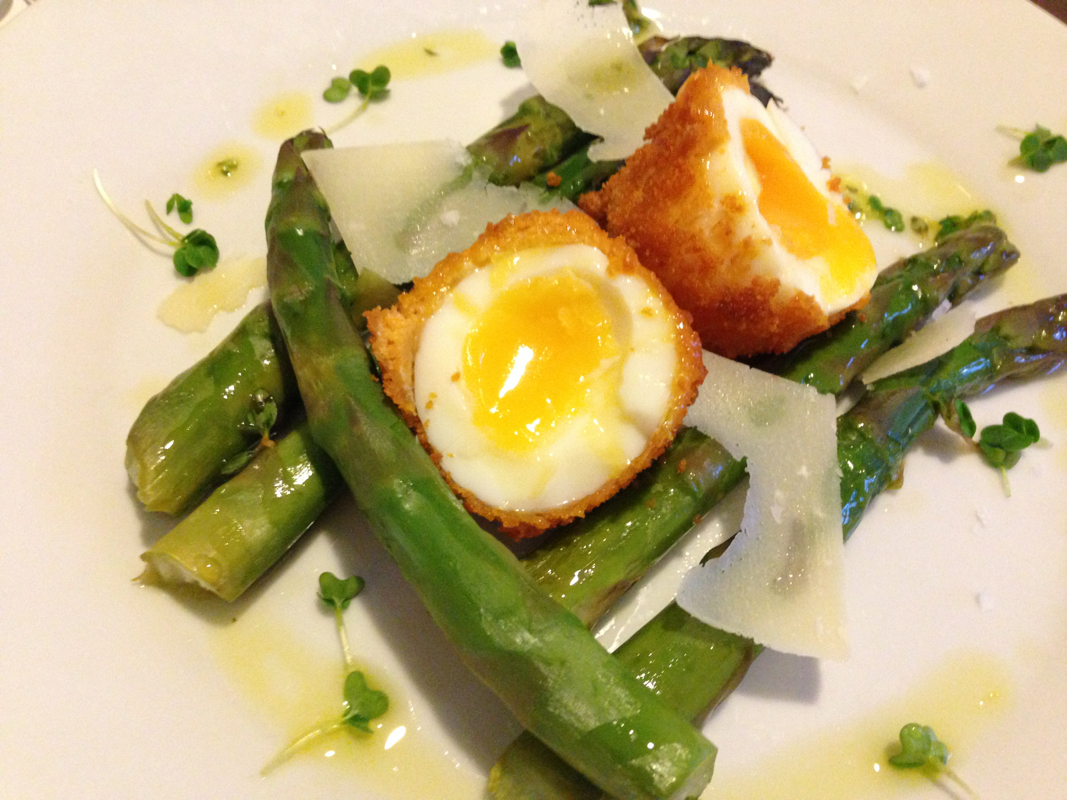 Recipe

Ingredients (Serves 4):

2 bunches of British asparagus (about 5 pieces each)
Olive Oil – buy good quality stuff; with a dish as simple as this it makes a difference. Chat to your local deli, get something peppery. About 1/2 cup, give or take.
Lemon thyme, approx. 1 tablespoons, woody bits removed and chopped into so that it is finely diced
Lemon zest, 1 teaspoon
Lemon juice, 2 tablespoons
Parmesan, shaved (do chunky shavings, not finely grated dust)
Salt & Pepper

For the egg:
4 large chicken eggs
breadcrumbs, 1 cup
splash of milk
plain flour
salt and pepper
vegetable oil – 1 bottle

Garnish – fresh cress

  Method:

1.For the eggs: Boil a pan of water over medium heat. When boiling drop in 2 eggs and cook for 3 minutes. Remove from the water and immediately plunge into ice water to stop the eggs cooking.
2. Carefully remove the shells from the eggs. Be gentle – they're molten inside and are fairly easily burst.
3. Heat a pan with about 3 inches of vegetable oil in until it is very hot – to test when it is ready drop a breadcrumb in it – when it sizzles it is ready. Be careful not to get it too hot – it should never be smoking – the next stage on from that is it bursting into fire!!
4. Season about 4 tablespoons of plain flour with salt, pepper and cayenne. Whisk the spare egg and add a splash of milk. Roll your shelled eggs in the flour, dip in the egg and  then roll it in the breadcrumbs.
5. Gently lower into the hot oil and deep fry, turning half way way and cooking until it is golden brown and crisp.
6. Remove from the heat, blot the grease away with kitchen towel and season with a bit of salt. When ready to serve, slice in half.
7.Prep the asparagus by removing the woody, tough ends. The best way to do this is to just hold it and bend it until it snaps. It should break exactly at the right point to remove the woody bit and keep the tender stems. Steam the asparagus for 3-4 minutes. Steaming the asparagus is better than boiling it, like with all veg. It keeps more of the natural nutrients in it and maintains more of the body too.
8. Make your dressing by stirring the zest, lemon juice and lemon thyme into about half a cup of the olive oil. Season with some salt. Taste for balance – adjust if needed with more olive oil, lemon juice or salt, as needed. Toss the asparagus in a couple of spoons of the dressing to season. 
9. Plate by laying the asparagus on the plate and sprinkling some parmesan around. Place the half crispy eggs on top, and drizzle around the plate with the dressing. Add a few sprigs of cress to garnish. Serve immediately.