As much as I love hot weather holidays, January-March are all about getting away for some time in the snow. Winter holidays are amazing fun and offer a lot to anyone who is up for strapping on a pair of skis or a snowboard and getting out on the slopes. I've been skiing since I was a kid, although with about a 10-year gap in the middle, and can't get enough of it! Luckily Europe has tonnes of great places to ski and there is no shortage of choices for ski resorts, however my all time favourite has got to be the Three Valleys in the French Alps.
Why?
The Three Valleys is the largest ski area in the world spanning (you guessed it) three separate valleys and various different ski resorts, the largest of which is Val Thorens. If you stay in any of the Three Valley resorts you get access to all three ski areas meaning that you have a massive choice of areas to ski in. If you're able to ski blues and reds, you could ski a different area every day in a week's holiday and still have not discovered everything! There are plenty of options for those still on greens too, meaning it's suitable for all levels.
It's also super high and on a glacier meaning that you're guaranteed skiing between November and May. If you're new to skiing, this is almost unheard of! I skied there in late April this year and while all the other ski towns were totally bare, Val Thorens had great snow coverage on all its pistes. They're so confident in this that they have a Snow Guarantee between November and May, so if you lose a day due to no snow, you get your money back.
It's also one of the more established and developed areas, with a highly vibrant nightlife and many restaurants and shops, meaning that if you're not 'all about the ski', there's still enough to do.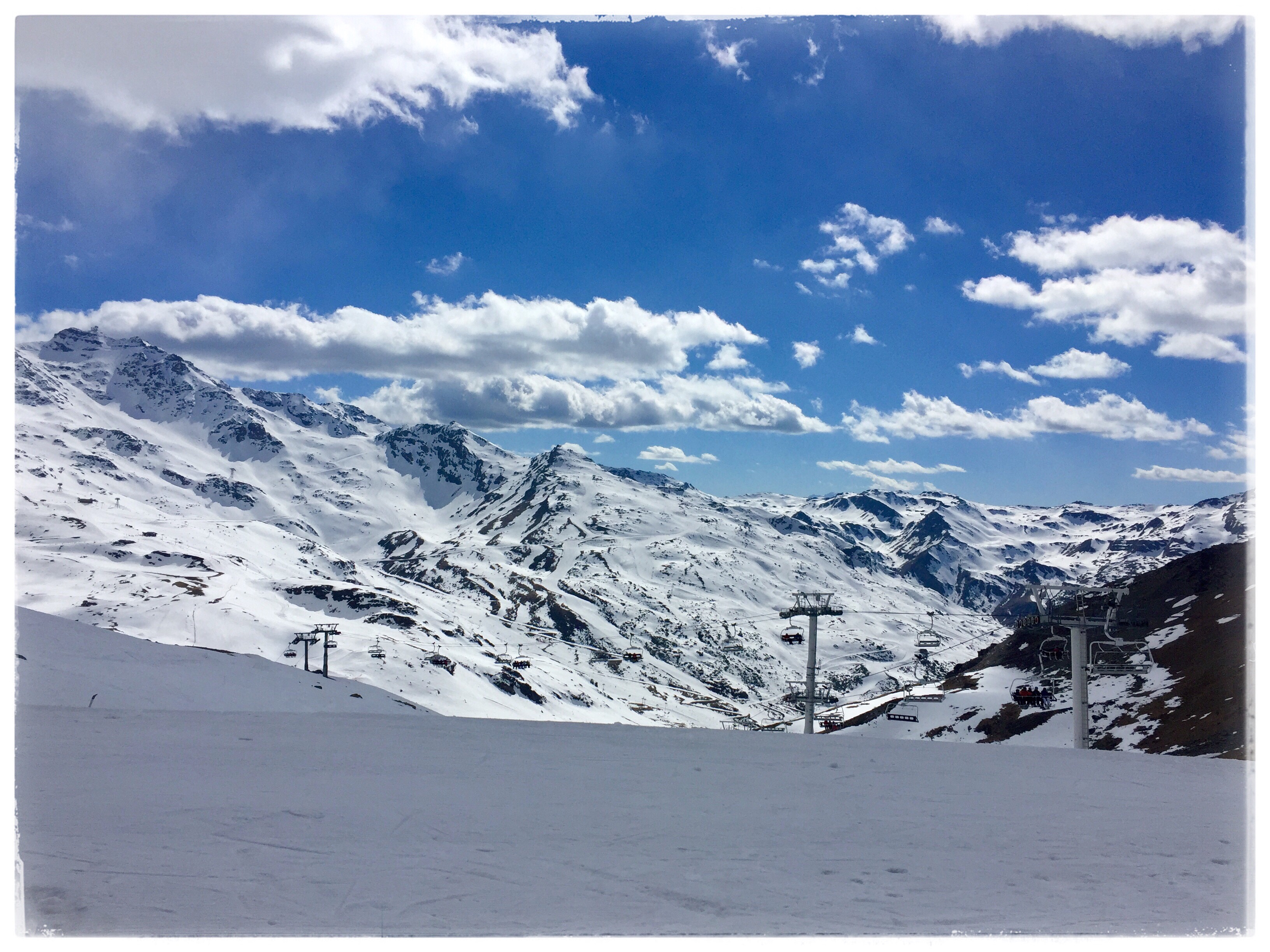 Here's a handy guide of where to go and what you need to think about when you go!
When to go?
The snow is always best between February and March. Whilst you'll always have snow outside of these times, the powder is best then and so I'd recommend going in this period. On the other hand, this is peak season so expect busier slopes and higher pricing on travel and accommodation. If you go in April, expect bare slopes further down the mountain and off the pistes, so it's not so scenic.
How to get there?
You have a few choices of airports to go into but I always go into Geneva and get a coach or private transfer from there which takes around 3.5 hours. Geneva is the largest nearby airport and has the most frequent transfers compared to Chambery or Grenoble.
For coach transfers, Ben's Bus is the largest company for Brits and costs around £85 for a return. Without sounding a total grandma, it's a bit studenty and slack but it's economic and if you're not the type to get frustrated with a relaxed timetable, multiple stops and a coach load of gap year types, you'll be fine. https://www.bensbus.co.uk/
For private transfers, it's usually around £700 for a return which works out the same as a coach if there is enough of you. It's usually quicker and more comfortable. There are a number of companies doing this and shop around as prices change. In the past, I've used https://swiss-taxi.com.
One final tip, on your way back book your transfer at least 7 hours before your flight leaves. The road down the mountain gets incredibly clogged with traffic on saturdays, which are the normal transfer days, and can take upwards of 4 hours on bad days. I've been on transfers where we've gotten stuck in traffic and really had to run at the end to avoid missing our flights.
Tour Companies?
I often use a tour operator or package company to go with. The advantage of using one of these is they often have preferential rates on accommodation and deal in English which helps when finding and booking somewhere to stay. They all offer help with booking your travel, ski passes, ski rental and entertainment too (and at preferential rates) which can make your life easier.
There are a bunch of choices when choosing your operator. Nuco is popular for student (or more…lively/ youthful) trips and offer large entertainment packages and good group discounts, vs. Powder White who are probably more upscale. Look for price and accommodation choice when selecting, and be open with them about your needs so they can propose appropriate places.
Where to stay?
If you're going with an operator, which I recommend, they will shepherd you through this, but if you're not using Booking.Com or similar to find a chalet. Think about whether you want to be catered or not. Self-catered options are always cheaper, but you'll have to worry about shopping and cooking in the evenings when you're tired.
Tips:
Find somewhere close to the centre of town in Val Thorens so you don't have to mission it around to shop or go out.
Ski In Ski Out places are a huge plus. Nothing is worse than having to carry your kit across down after a long day on the slopes. Ski in Ski Out places avoid this and you can literally ski up to the door.
Be wary of cabin rooms in the floor plans, number of bedrooms and quality of accommodation. Venues always include pull out sofa bed spaces in the number of occupants and bunk beds or cabin rooms (which are little cubby holes with a curtain or pull out door across) are very common.
Spend a bit more if you want quality. You really get what you pay for in Val Thorens and I've been seduced by a cheap chalet only to be disappointed before.
Lessons
If you're a beginner, lessons are a must!!!! You simply cannot ski or snowboard without them and it would be dangerous to yourself and others to attempt it. Don't. I'm medium level and I still do lessons every now and then when I go to top up my technique or get some guidance on things I'm rusty on.
If you're looking to accelerate your learning, private lessons are good call. Group lessons are cheaper but you get less tailored attention meaning you're likely to learn slower. If there's a few of you at your level, you can book a private class which can often be economic.
The instructors are usually French and, whilst most are lovely, are utterly uncompromising and ruthless when teaching Brits. They were practically born on skis and to them, we ski like cows on sticks, so expect little sympathy. Be prepared to see European children whizzing past you on the slopes like pros, as you fumble around on your arse.
I recommend morning lessons. The snow is usually better and it means you can meet up with the rest of your group for lunch and then hit the slopes together for the rest of the day until you're ready for apres ski drinks!!
A couple of recommended companies for skiing and snowboarding lessons:
Equipment Rental
If you don't have your own kit, you'll be renting your skis, boots, poles and helmet and snowboards there. Shops are all over town so there are plenty of options, or get your ski operator to sort your kit at discount. For me, no one shop is better than another so no tips there from me.
You'll get a choice of grades of equipment to rent, depending on ability. Insurance is an optional bolt on and it's up to you if you go for it. Lost or stolen ski gear is the most common reason to have it (if you've broken your ski kit, you have bigger issues) and you'll get really stung without it. Either be really careful and not leave your kit around in the town centre (you're fine up the slopes normally), or take it out for piece of mind.
Try to pick up your kit and drop it off as early as possible on your first and last days. The shops get really busy between 5-8pm and you'll likely have to queue for a long time and face harrassed staff with little time or appetite to really help you out.
Most importantly: for skiers, properly fitting boots are the single most important thing (apart from snow on the slopes!) for you to enjoy your trip. If you have ill fitting boots your holiday will be miserable as you will hurt your shins and be unable to ski. So…
Take ski socks with you when you go to get your boots – this is what you'll wear when you ski so try your boots on with these! Common sense!
Insist on getting proper guidance on what they should feel like from the shop. You will have to insist on this as the store helpers are always very busy and often unwilling to help, but make a pest of yourself until they spend quality time helping you. In short though: your toes when standing normally should just touch the front but when you lean forward they should slip back slightly. Fasten your boots as tight as possible at the top – this stops your calves moving around in the boots and getting bruised.
Try on as many boots as you like until you find a pair that fits properly. Don't be afraid to take your time and do not feel pressurized to leave until you do!
Look for wear and tear on the inside of the boots. If they're looking threadbare, send them back and try on a new pair – you need proper cushioning to stop getting bruised.
Make sure you rent a helmet. You will see people without them on the slopes but these are either total morons or very advanced. Even advanced skiers and snowboarders should be wearing a helmet though because it's not just about your own ability, it's about that of everyone else on the mountain who might plough into you at 60mph. Remember, if you get hit in the head with a pair of skis at speed or take a bad fall without a helmet, death is a very real outcome. Be safe.
What to take?
Here's my handy list of 'must have' things to pack!
4 pairs at least of ski socks – these get gross so you want fresh pairs daily!
Quality underlayers – merino wool are the best – which wick away moisture. These are what will keep you warm and dry as you ski so make sure you have plenty of good layers.
Glove liners
Ski gloves or mittens
Salopettes or snow trousers – obviously, make sure they are waterproof and go to a quality retailer to be sure of quality and cold protection. Snowboarders; get baggy ones or you'll look like a goon. Skiers; you know the drill.
Snow jacket – as above on the quality and waterproofing. Look for one with air vents – this helps when you get hot on the slopes (which does happen!), a snow skirt, an arm pocket for your ski pass and plenty of pockets.
Sun cream and lip sun cream – you will get burnt!!
Snow goggles
Hat/head warmer – I like wearing one of these under my helmet to keep my head and ears warm. Most bobble hats are too big for under a helmet so bring a thin one too.
Chap stick – your breath tends to freeze and chap your lips so this helps.
A neck warmer – helps the above!
Ibuprofein for the muscle ache
Sun glasses – good when you're having your apres ski and don't want to wear your goggles!
Tea – the french shops are useless at stocking tea, so if you're like me and can't survive without a proper brew, take your own.
Apres Ski??
Apres ski is one of my favourite things in a ski holiday!! For those of you wondering what that is….it's hitting the slope bars after skiing and getting a few drinks in you! The best apres ski bar in Val Thorens is Folie Douce without a shadow of a doubt. From 4pm daily they have live music and the biggest party in town. In peak season, the slopes around it are packed and the vibe is like nowhere else. Everyone dances on the tables and being squirted in the face with champagne by the DJ is a regular occurrence. If it's not your thing, head down the mountain into town for more chilled bars.
A must visit! https://www.lafoliedouce.com/en/
Others: 360 bar.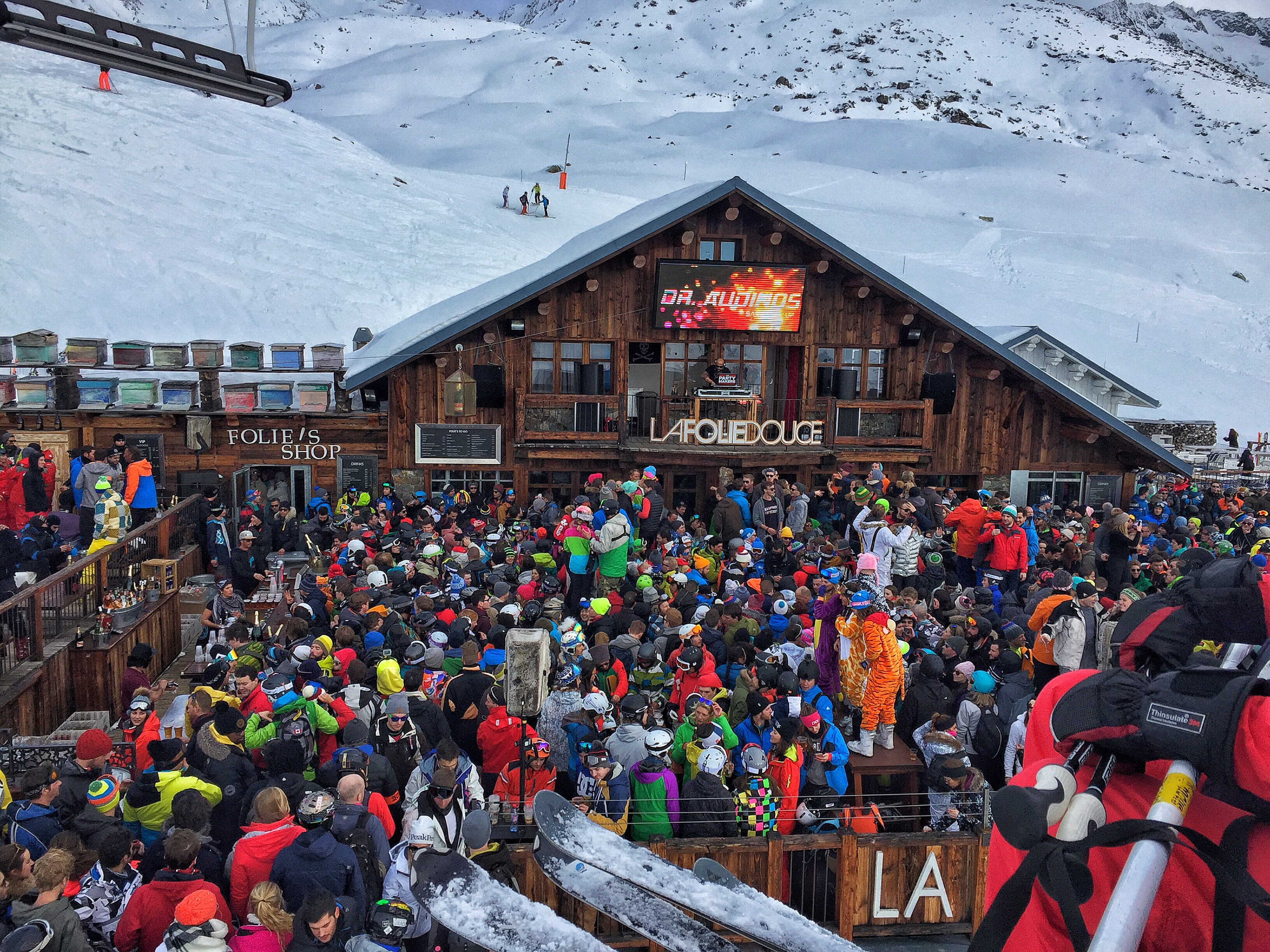 Food?
Another stand out thing for a winter holiday! You're burning so many calories on the slopes that pigging out is guilt free (or so I like to think). Alpine food is amazing if you're into cheese (which I am). Make sure you try: Fondue, Tartiflette and raclette for oozing, cheesy goodness.
Another must try on breaks from the slopes are the hot chocolates. These come towering with an optional hit of rum and are perfect for refueling. I drink these every day! Interchangeable with vin chaud!
I tend to take picnic lunches for days on the slopes. There are plenty of slope side restaurants however none are cheap and this can really add up over the course of the holiday. I buy baguettes and make sandwiches with cured meats and plenty of local dijon mayonnaise. Most places are fine for you to eat these in their outdoor seating areas as long as you order drinks too.
My Favourite Runs!
Lory (Blue) – this is one of the highest runs in Val Thorens and offers spectacular panoramic views over the mountains. It's narrow and requires you to let yourself go straight down in parts without turning, so not for total beginners, but is really not a challenging run so if you are new but have confidence, it's a must try.
Falaise (Red) – Falaise is a lovely wide red that is great for intermediate skiers, or people just moving up from blues to reds. Lovely views and enough width to allow lots of turning if you're nervous!
Moraine (Blue) – a great wide blue that is relatively high. This one is perfect for new skiers as it is unchallenging and wide with lovely views, or is a fun run for intermediate/advanced skiers who want to plummet their whole way down! It goes right into town so is a good one for just before lunch!
Christine (Red) – fabulous wide red with great bits where you can go fast.
That's it for my guide to skiing in Val Thorens. I'd recommend it to anybody looking to try their first skiing/snowboarding holiday, or for those who already ski and haven't visited before. It's truly a magical place and has the best variety of slopes that I know of anywhere in the world. Enjoy and let me know your thoughts!