This is a recipe inspired from a glorious summer lunch my mother and I shared on a shopping trip in Kent a couple of years ago.  I adapted the recipe to teach in one of my cookery classes in 2011 on 'Gourmet Fast Food'. It was a great class; we took bog standard fast food classics and attempted to elevate them into more delicious, healthier and less guilt-evoking dishes.
This recipe is a particular favourite – the three stages involved in cooking the fries really makes a difference to the end result. You end up with fries that have a perfect crunch around the outside, but are floury and fluffy within. A great blend between the firm and the sog.
Add parmesan and truffle oil….and really, how could this be anything but great.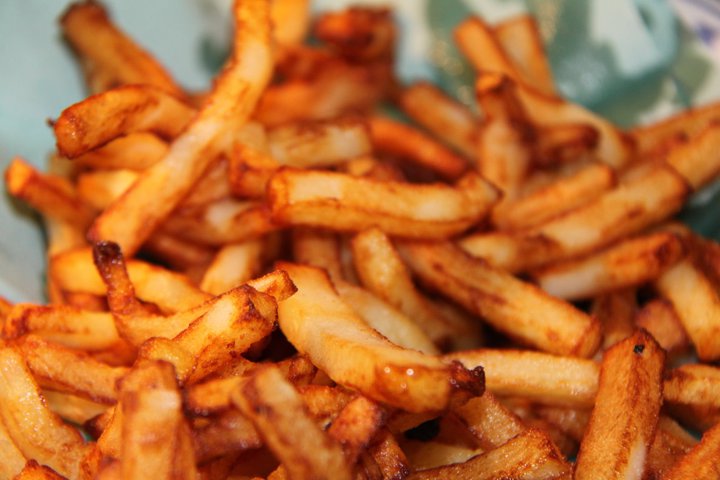 Ingredients: Serves 4
4 large russet or kinnebec potatoes, peeled and cut into 1/4 by 1/4-inch batons (fry shaped!)
2 quarts vegetable oil
Pepper
Parmesan Cheese, grated
Truffle Oil*
Method:
1.       Rinse cut potatoes in a large bowl with lots of cold running water until water becomes clear. This removes some of the starch from the potato which will help it become fluffy later. Cover with water by 1-inch and cover with ice. Refrigerate at least 30 minutes and up to 2 days.
2.       In a 5-quart pot fitted with a sugar/oil thermometer (or in an electric deep fryer), heat oil over medium-low heat until the thermometer registers 325 degrees F. Make sure that you have at least 3 inches of space between the top of the oil and the top of the pan, as fries will bubble up when they are added.
3.       Drain ice water from cut fries and wrap potato pieces in a clean dishcloth or t-towel and thoroughly pat dry.
4.       Increase the heat to medium-high and add fries, a handful at a time, to the hot oil. Fry, stirring occasionally, until potatoes are soft and limp and begin to turn a blond colour, about 6 to 8 minutes. Remove fries from the oil and set aside to drain on paper towels. Let rest for at least 10 minutes or up to 2 hours. This (in my woolly, non-scientific manner of explanation) allows the starch in the potato, which is now cooked, to settle and, again, makes them become fluffy later on in the process.
5.       When ready to serve the fries, reheat the oil to 350 degrees F. Transfer the blanched potatoes to the hot oil and fry again, stirring frequently, until golden brown and puffed, about 1 minute. This final stage puts the final 'crisp' onto the fry, surrounding the moist, fluffy centre. Transfer to paper lined platter and pat dry.
6.       Sprinkle GENEROUSLY with truffle oil and lots of grated parmesan. Season with pepper – you shouldn't need salt because the parmesan is salty enough.
7.       Eat with great great joy.
* A quick note on Truffle Oil. DO make the effort to get yourself a good quality truffle oil. It should be (usually) a high quality olive oil, infused with

white

truffle. Don't buy an oil that is from extract (unless you're really roughing it, in which case…why are you buying truffle oil in the first place!) and have a good peer into the bottle before you buy it – the really good stuff should still have chunks of truffle floating around in the bottom of it, keeping it fragrant and fresh.  Try to have a sniff or a taste before purchasing it too –
you shouldn't have to search hard for the truffle flavouring in it…it should waft up and smack you in the face. If not, put it back on the shelf and bide your time; trust me, its worth it.