You may be surprised to learn that at University my degree was nothing to do with food, nor even journalism. Indeed I spent a very happy four years studying Ancient Greek and Latin at the University of St Andrews. Now that my façade of 'coolness' has officially been burst, I'll move to the point of this revelation. I recently got to make use of my degree in the context of FoodGoblin at an
Ancient Greek cookery class
held at
The Real Greek
restaurant in Soho by
Tonia Buxton
, Greek food TV presenter and author of '
Eat Greek for a Week'
. It also happened to be my birthday. You can imagine my excitement.
I hadn't been to The Real Greek before. They have a few around across London (Windsor, Covent Garden, Westfield, Spitalfields etc.) and I love Greek food, but it had escaped me to this point. They have a pretty large menu of Greek classics, various mezes, grills and souvlaki, alongside an extensive wine list including a number of Greek offerings. I'll admit, initially the thought of Greek wine set my hackles raising – I've had some utterly ghastly ones whilst in Greece, more akin to sipping paint stripper than a lovely vino- but was pleasantly surprised by what the sommelier brought to us. It's never going to rival French or even some of the better New World's but is, in its context, fine.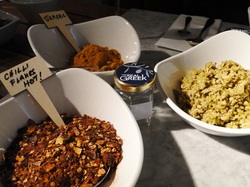 The Ancient Greek class began in earnest. Tonia took us through a number of dishes, explaining their historic origins, who wrote about them and demonstrating their preparation. She also explained some of the health benefits in many of Greek food's staple ingredients. Normally I am sceptical of these things but looking at Tonia, I can believe it – I guessed her age at at least 15 years under! First up; olive relish (or tapenade). This has its origins in 6th century BC Greece and is mentioned in several ancient texts. Made simply from grinding up black and green olives with spices such as cumin (also mentioned in ancient texts), coriander and mint, this makes an absolutely delicious accompaniment to grilled meats or fish, or yummy spread!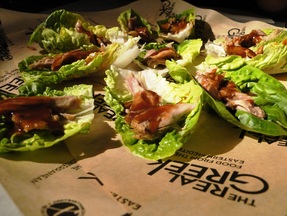 Next, honey and milk roasted goat served in lettuce cups, succulent prawn skewers and dolmades. This latter dish is vine leaves, rolled around a filling of pine kernels, herbs and berries. Making these was a bit of a laugh; we got to roll our own and my initial efforts came out decidedly wonky. There is definitely technique required here.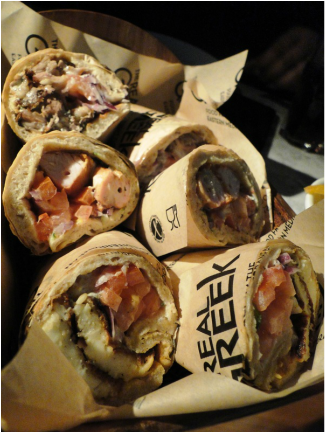 The class was followed by dinner at The Real Greek. I tried their grilled octopus with olive oil, garlic and 'Greek mountain' oregano. I've thought about this dish frequently since. It was a tad on the tough side, perhaps because it was thick cut which I am fine with but, Jesus, the taste. Meaty, deep flavoured and with lovely little pings of garlic and herbs. I loved it and have been plotting a return visit just for this. Next, I shared the mixed souvlaki with the delightful
Kavey Eats
. Souvlaki are sort of like Greek sandwiches – they are flatbread wraps, stuffed with various meats or halloumi, salad and tzatziki. Good stuff.
The Real Greek run all sorts of events like this as well as regular live music nights– keep your eyes on the website to keep posted on them. In the meantime, go get your Greek on and consider, as you munch away on luscious, slow roasted lamb, tender skewers and salty tapenade, the many thousands of people across many thousands of Greek years who have done just the same. Sure brings a new element to enjoying a moussaka!
www.therealgreek.com

50 Berwick Street, London W1F 8SJ
020 7287 6805