Brunch in London is big business. We yuppies (yes, we) love our eggs and avocado, plus as Brits any excuse to drink early on in the day without being labelled as lushes will always be seized with both hands and run with. It has become huge. So when I was invited to try out a new take on one, and one devoid of the classic Antipodean eggs spin, I leapt at it.
Camino is a popular Spanish 'mini-chain' of restaurants in London – they have about 5 sites across London doing all things Espanol! Tapas, cava, churros…they are well-recognised. Their newly opened site on Bankside has now launched itself into the world of brunches, serving a bottomless cava, 3 course one for £30.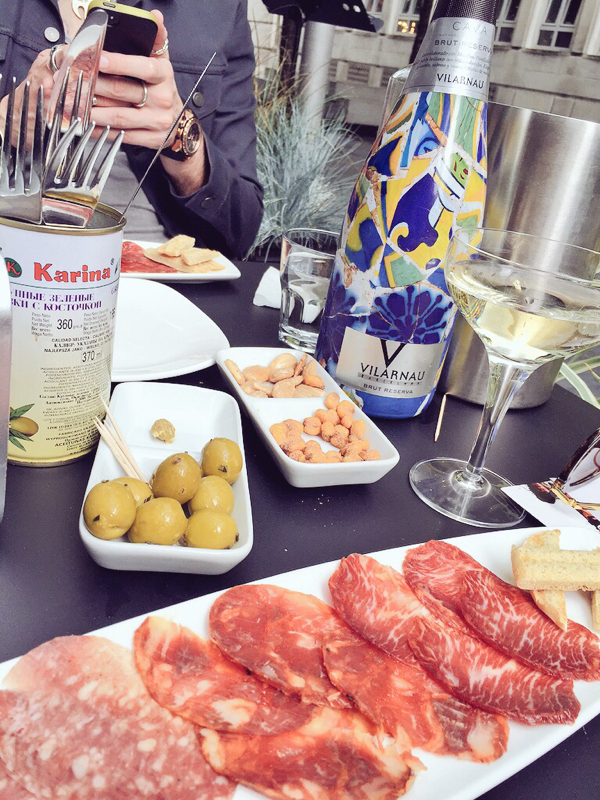 The location is a little off the beaten track, about a ten minute walk from London bridge and off the main road. You'd have to plan to end up here and I imagine they'll struggle with footfall. Its outside terrace is very pretty though and it was here that I perched to peruse the menu. Drinks wise you can have bottomless Vilarnau Cava or Cava Mimosas. If you order the mimosas, I don't understand you (as nice as I'm sure they are). Food wise, there are multiple choices for the 1st and 2nd courses including vegetarian options. We ordered everything meaty. First up, a board of good quality charcuterie. The waiter explained them all from left to right and a cheeky leg slice, deep plum red in cure and richly marbled, was a highlight.
The main courses got serious with a 'full Spanish' of olive oil fried eggs, plump sausages of Navarra chorizo, bacon, morcilla (Spanish black pudding with rice in it), roasted piquillo peppers and toasted bread. This is good – the helpings are large and the quality of ingredients is top notch. Their huevos con jamon (more fried eggs with potatoes and jamon Iberico de Cebo) was also excellent – the ham was deliciously moreish; salty and deep.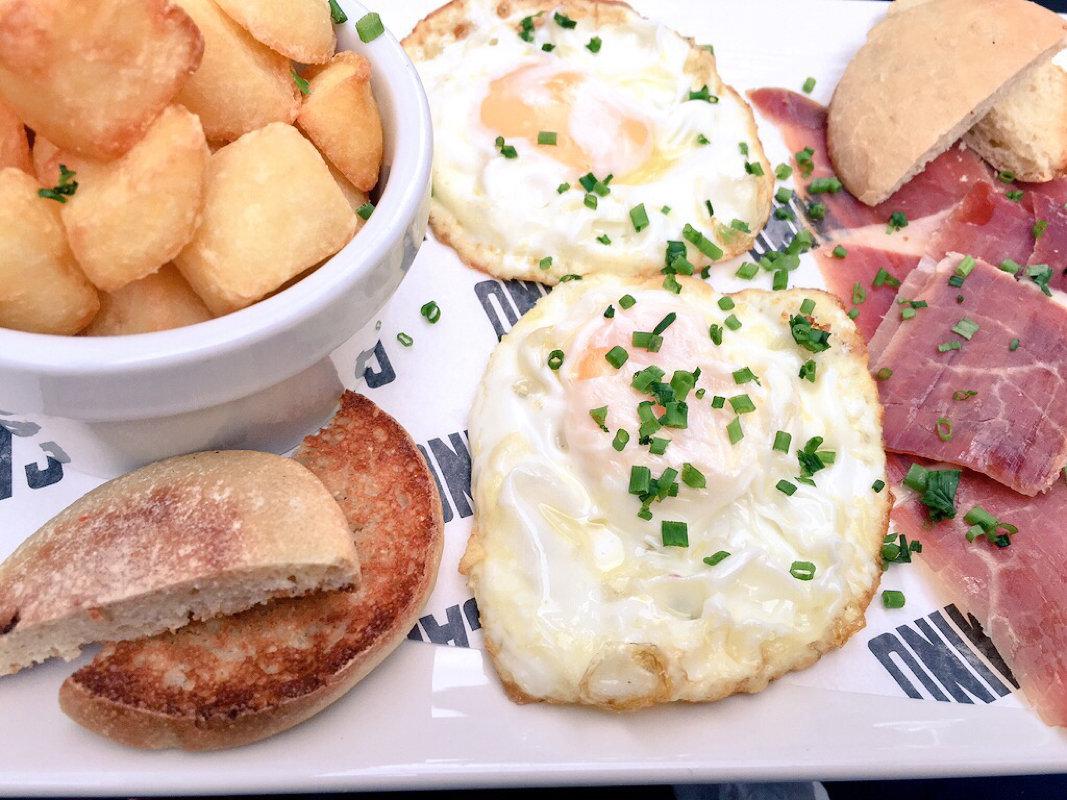 Dessert is Camino's classic churros with chocolate sauce. We were pretty stuffed to the brim by this point but….well, it would have been rude not to so we forced them down, sugary, butter-laden bite at a time. How else could this meal have finished?
In short, Camino Bankside have put forward a really competitive brunch offering here. Anywhere that is offering £30 bottomless cava would have (especially when the cava sells for £12 a bottle on Ocado and the average restaurant wine mark-up is between 200-300%!!), and the food stands up to the plate too. Good quality, plentiful food, lots of cava but a bit of a walk from London Bridge…it's firmly on my girls' Brunch rotation list!
7.5/10
5 Canvey Street
London, SE1 9AN
020 3617 3169
http://www.camino.uk.com/restaurants/bankside/

Weekend Brunch: http://www.camino.uk.com/restaurants/bankside/menus/weekend-brunch/