The Great British bistro is a marvellous thing. Long gone are the days where our marvellous dining rooms bow in deference to the French, quivering in the culinary shadow of the tarte tatin, souffle and flamiche. We stand proud with our pies and pork belly, grill seared Aberdeen Angus and fresh water fishes. British cuisine is a fine, fine thing and I get invariably excited when I find a place that dishes it up with the aptitude it deserves.
As such, it was with great anticipation that I dined at the
Holborn Dining Room
. I've followed their chef Calum Franklin for a while on social media and always been impressed at the photos of the food he's dishing up there. Top this with a recent crowning of 'Best Scotch Egg 2015' and I was pretty hyped for my table reservation.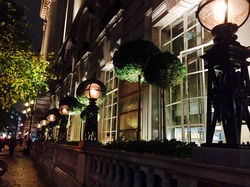 Holborn Dining Room is set in the grounds of the
Rosewood London
, a group whose culinary credentials I've learned to trust over the last few months (check out my last few posts on their Slow Brunch & Scarfes Bar). It's a vision of red leather and tweed booths, brass rails and dim, candlelit, murmuring ambience. The bar is grand and copper, reclaimed oak adorns the walls and a cute little deli sits in the corner, serving up charcuterie, coffees and pastries. All and all, its an attractive space and just feels…homely, but with a zing of the contemporary.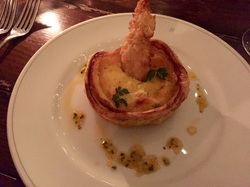 The menu is broad, made up of pretty much every menu grouping possible: snacks, seafood counter, cold counter, starters, mains, roast and grills, sides and desserts. Pardon me – there wasn't a canapés menu (wait for my next piece on the Rosewoods woodland menu at the Mirror Room for that!).
A Lobster Thermidor Tart on the starters menu lured me in and arrived with aplomb, topped with a big old parmesan, lobster spear. This was a lush, rich mouthful of luxurious, lobster laden joy. The pastry was crisp and salty, the filling oozing and deep with cream, all laced with a wonderful undercurrent of lobster. I adored it.
Filling as it was, nothing could have held me back from the mains that came next. A pot roast lamb breast with a fresh celeriac remoulade laced with plenty of mayonaise, and a vibrant green sauce to cut through the fatty lamb. I say fatty in the best way. Lamb breast is excellent in that it has a nice high fat content (I imagine my breast would too if you pot roast it) and you know what they say…fat is flavour. This was delicious – rolled into a lovely cylinder of soft, melting inner meat and crisp outside. Wrapped in a flavoursome lamb sauce, I enjoyed this plate of food immensely.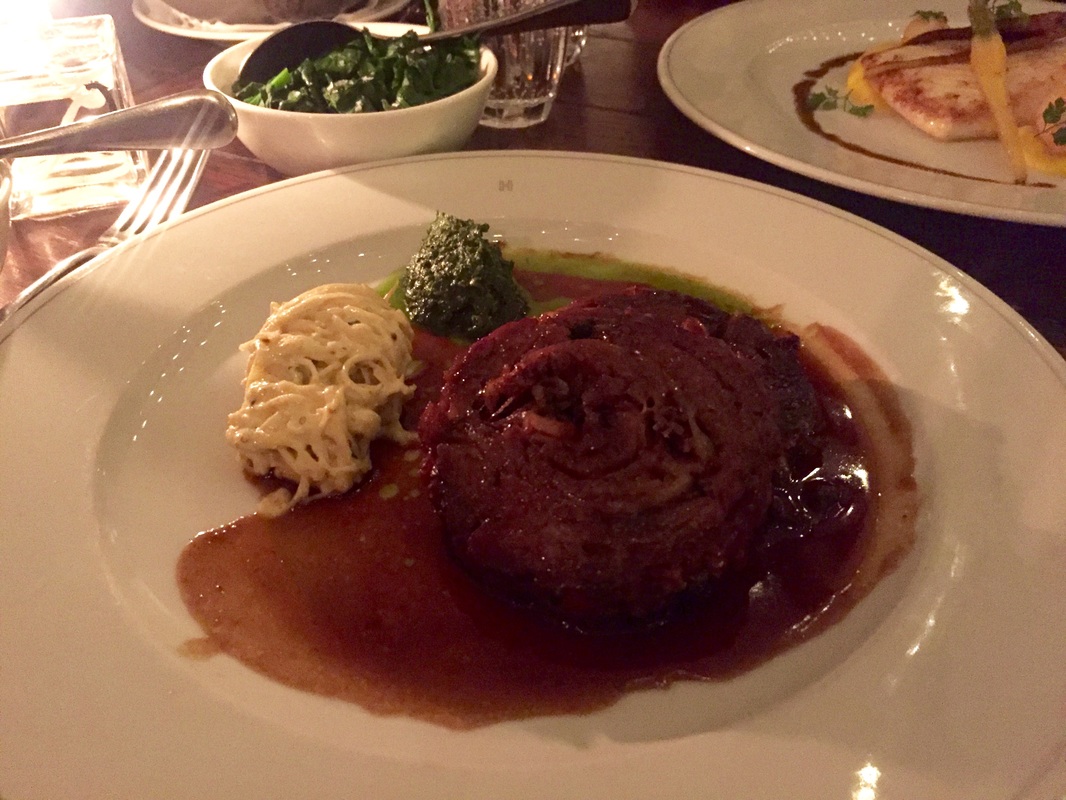 Things got serious as we entered the dessert course. I was eating with a group of food writers (Symmetry Breakfast and Felicity Spector) and our greedy little pig eyes immediately began to glint upon perusing the pudding menu. I'm not the least bit embarrassed to admit that gluttony overcame and we ordered the entire dessert menu. Yes. The entire one.
The onslaught that followed was bloody. If bloody means custard drenched and toffee sodden. I loved a
hazelnut and caramel coffee coupe
– a chocolate 'cup' filled with luscious caramel and coffee ice cream – and the
spiced pineapple upside down cake
. The
sticky toffee pudding
I was snobby with. My dining companions raved about it and it was good but I'm from Yorkshire and I make the best one in the world. Sorry, Calum
Holborn Dining Room is as good a British bistro as I've had the pleasure at dining at in a long time. Things aren't complex, things aren't michelin'ed up, they are simply, scrummily delicious. Visit.
8.5/10
252 High Holborn, London WC1V 7EN
020 3747 8633
www.holborndiningroom.com/