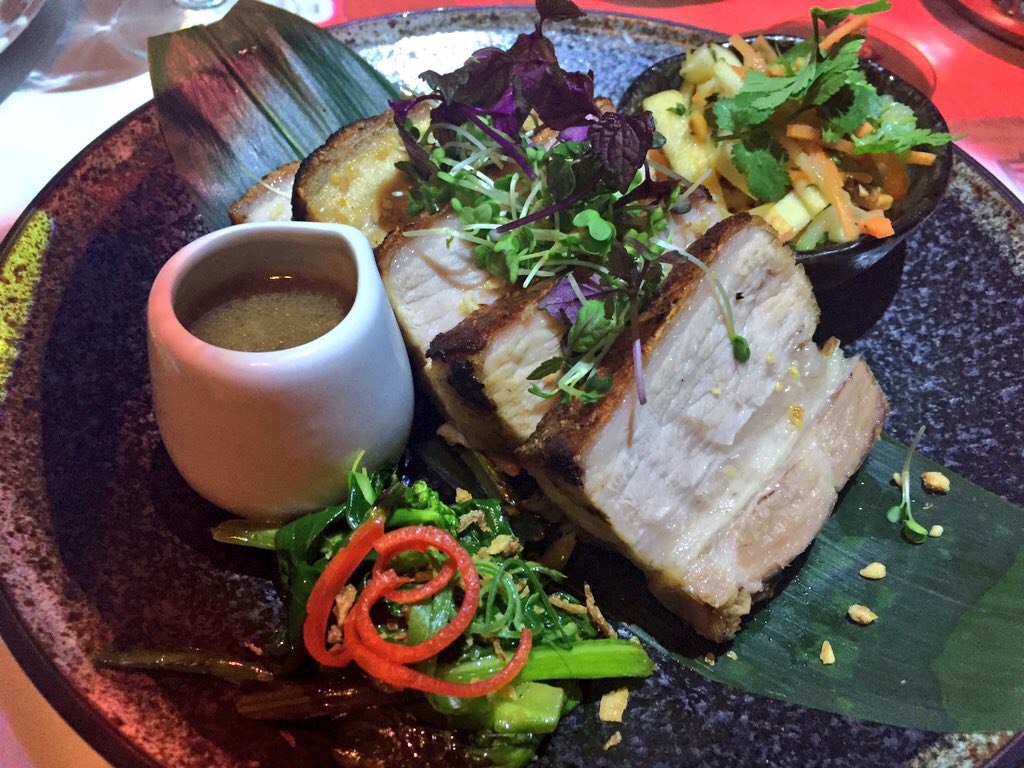 As I announced recently on here, I've been partnering with the new Inamo pan-Asian restaurant in Covent Garden and a dish of my own invention is featuring this month (February 2016) on their menu. It's a super exciting collaboration and I really love my dish: Spiced Pork Belly (with killer crackling…obviously) with a Pork and Honey Sauce, Asian Pear Slaw and Chinese Kale.
I headed down to the launch the other week (prior to my skiing holiday adventures) and I want to share with you how I got on!
The restaurant is just around the corner from Covent Garden tube station. It spans three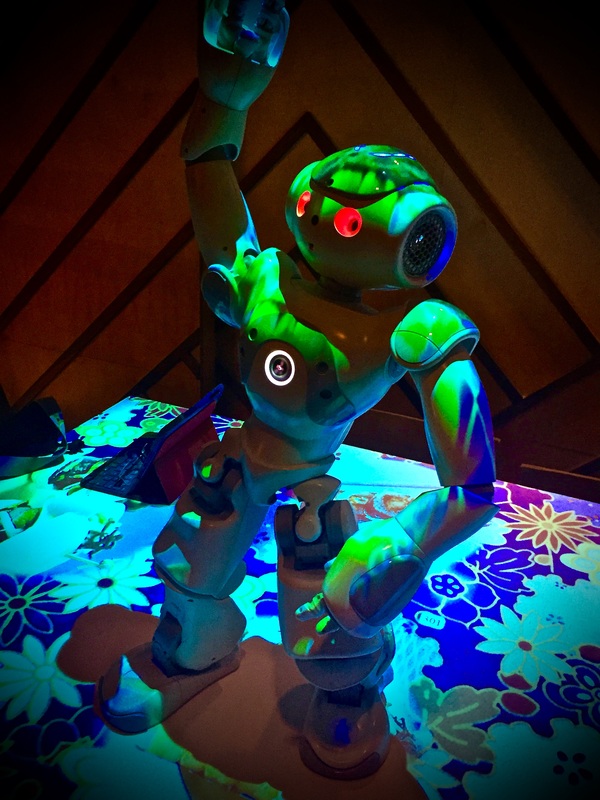 swanky floors, with a trendy bar and sushi station downstairs and dining areas across the other two. Inamo's 'USP' is in its interactive menu system. Each table has a high-tech projector suspended above it, projecting an interactive light screen down onto your table which you can use to play games and even displays a live web cam into the kitchen so you can see the chefs cooking your dinner. Menu ordering is done via electronic tablets which show photography and descriptions of all the dishes (including MINE!). It's pretty cool. The launch was even cooler – they had a talking robot and a magician doing the rounds, plus numerous drinks, canapés, and even had a sushi making class where we learnt salmon teriyaki rolls.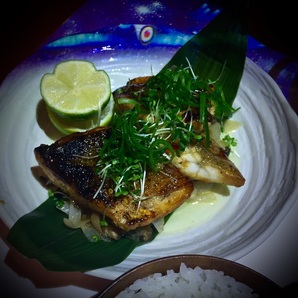 But what about the food? I wanted to try dishes other than my own – after several rounds of recipe testing I still wasn't sick of it yet but I wouldn't be much of a reviewer if I limited myself to just one dish.
The sushi here is as good as its previous Soho site. The sushi chefs are excellent and there's a wide selection of sashimi, nigiri and maki rolls, priced between £5.50 and £8.95 (about standard for London).
Alongside my own dish I tried their Sweet and Sour Sea Bass, Malayan Chicken and Rib Eye cooked on a hot stone. The sea bass here was the stand out – the sauce was tangy and moreish, coating perfectly cooked fish. I enjoyed it a lot.
As for my Pork Belly, I left it in good hands. The crackling was salty and crisp as it should be, and they'd upped my quantities of pork belly, so you're getting an absolutely whopping portion for the CRAZY £14.50 cost price.