Guest post by Lissa Evans
You know when you see a restaurant, or an event, that is absolutely perfect for you? Well that's what happened to me when I saw 'A night in a Jager's world' – an Easter special collaboration between Berlin Brunch and Jagermeister. I have Austrian roots and love a bit of German food and Jager so I jumped at the chance to stand in for Food Goblin at the event!
For two nights only Berlin Brunch took over the event space above Palm 2 deli in Clapton, East London. It's a lovely, airy room with a rustic feel – the perfect setting for a German Hunters Feast! The room was nicely set up, with berries, leaf sprays and mini bottles of Jagermeister adorning the tables where we'd be sharing the food family style.
The brunch comprised of five courses and a Jagermeister cocktail flight. Each cocktail was created by Jagermeisters UK Brand Ambassador, Florian Beuren, to compliment the course it was served with. I had a lovely chat with Florian, who was really passionate about showing consumers new ways to try the product and to not just to serve it immersed in Red Bull! I think that goal was definitely achieved
We were greeted with popcorn and a welcome cocktail – the Root56 (Jagermeister, ginger beer, lime and cucumber). Served long, it was delicious, really refreshing. I'd never tried ginger beer with my Jager before, but after trying the combination it's a new favourite!
And this wasn't ordinary popcorn – it was JagerPopcorn. Yep, Jagermeister flavoured popcorn. It was interesting. I actually really liked it, some others didn't. An acquired taste, I guess. If I had to describe it, I'd say it tasted like Christmas; there were definite cinnamon flavours coming through!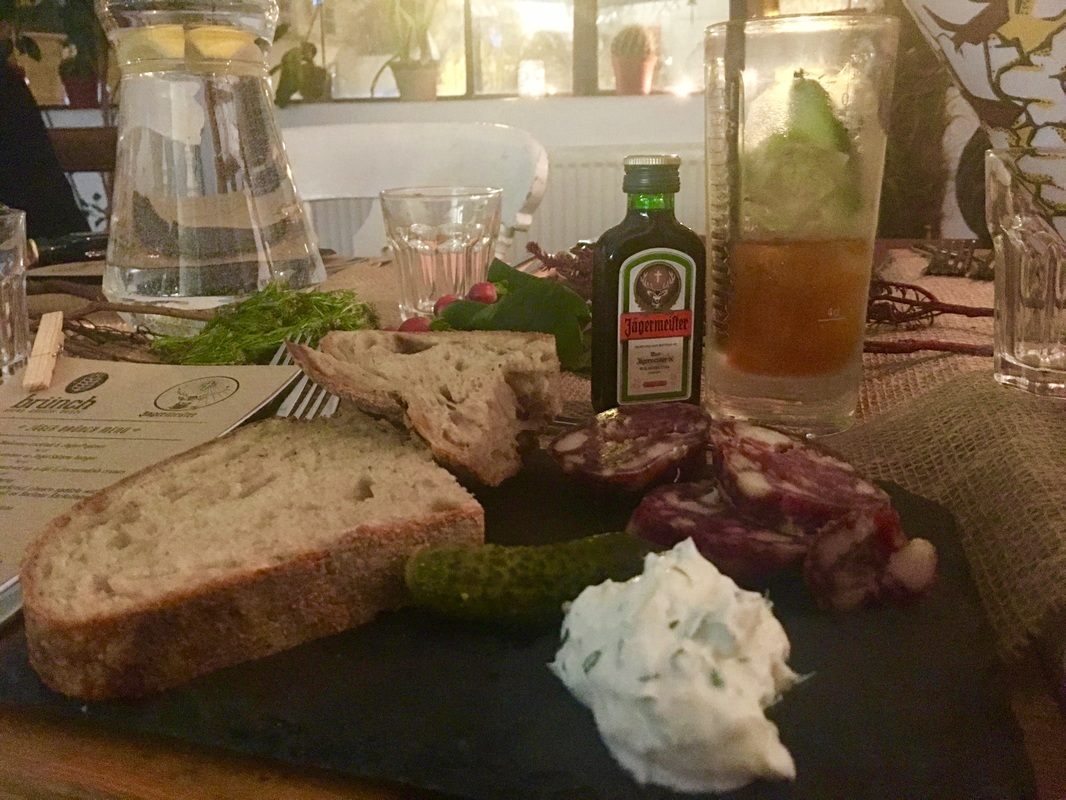 We helped ourselves to the first course from a bread and salami station which featured my most anticipated dish of the night – the JagerSalami, as well as delicious sourdough, pickles, mustards and herb quark.
One thing that really stands out for me about Berlin Brunch is that, although the dishes are obviously of a German persuasion, the produce is very much locally sourced. The, very authentically German tasting I should add, bread was from an East London artisan bakery, E5 Bakehouse, and the JagerSalami was home-cured by Hackney Wick charcuterie Blackhand Food.
Next to the constantly topped up table was a large cage with Jagersalami hanging from cages to demonstrate the curing process. Not only decorative, but educational! The salami itself was fantastic. Coarse and flavourful, with a bit of a herby kick, thick slabs of it with the bread brought back memories of jausen platters from my childhood.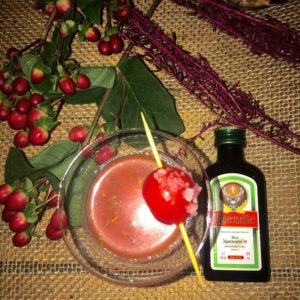 Accompanying the first course was a Bloody Hunter Jagermeister (Jagermeister, tomato, lemon, spices and chilli) – a Jagermeister version of a Bloody Mary! I have to say I'm not the biggest fan of anything with tomato juice, but this wasn't bad and the mini cocktail glass it came in (as well as being cute!) allowed for the perfect taster.
The second course was served in individual portions – carefully presented plates of smoked mackerel with pickled beetroot, garnished with dill and horseradish cream. Mackerel isn't a fish I'm used to but I really enjoyed it – and the different flavours all complimented each other really well.
Accompanying the mackerel was my favourite of the cocktails, the Naughty German (Jagermeister, cassi, lemon and sugar). I could drink this one all night, it was one of those drinks that contains a lot more alcohol than you can taste – dangerous! I would never have thought to combine Jager with fruity flavours- I'm now inspired to experiment!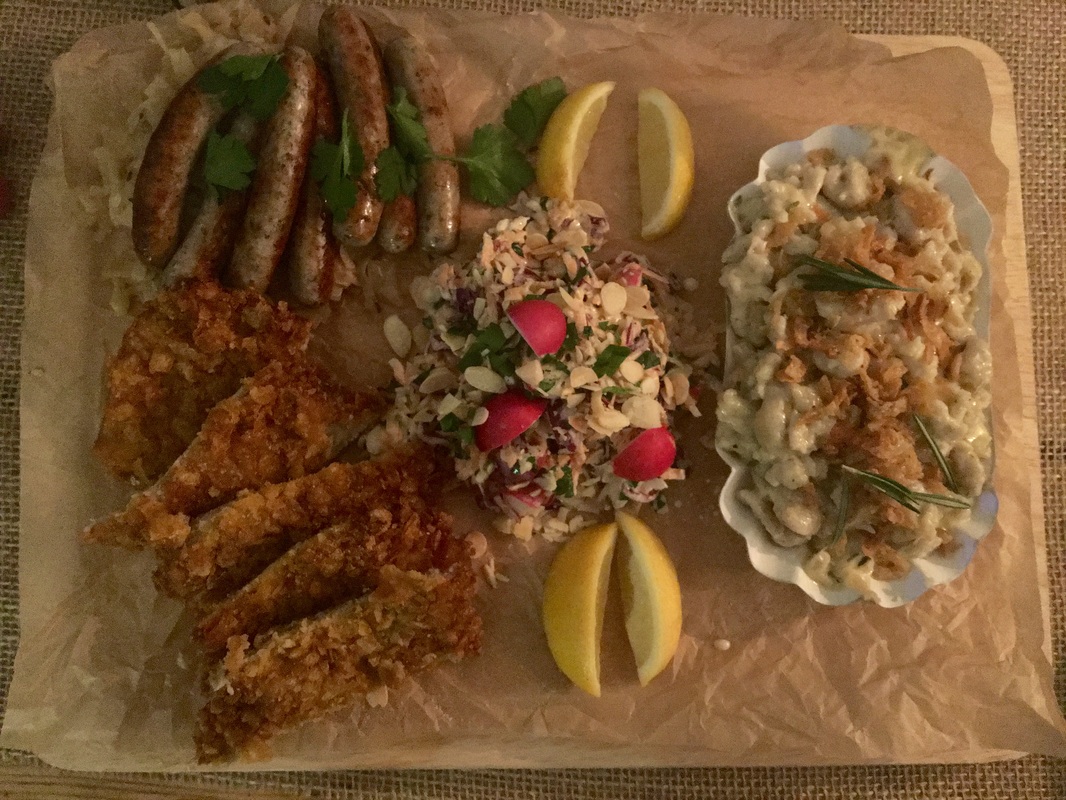 Once our plates had been cleared it was time for the main event. Servers brought out giant platters of veal schnitzels, bratwurst, carrot and almond slaw, homemade sauerkraut, red cabbage and cheese spätzle with truffle oil, as well as bowls filled with more Berliner Kartoffelsalat than we could eat! No worries about going hungry at this event!
I was happy that there was a lot to go around because I really could not get enough of the schnitzel. I was pleased it was the traditional veal, as you often find it substituted for pork or chicken, and the breading was really something. I believe it featured cornflakes? Or something like that rather than just simple breadcrumbs. It really gave a bite to the schnitzel and is definitely something I want to try at home! I really like how Berlin Brunch kept things authentic yet added a little twist now and again to make the food really stand out.
A popular dish amongst everyone was the cheese spätzle – thick egg noodles, imagine macaroni cheese with macaroni substituted for strips of pancake and you're pretty close. It was decadent and a real treat.
With the main course came the Jagermeister version of my favourite cocktail, a whisky sour – just simply Jagermeister and lemon juice. The twist on the classic whisky cocktails carried on into dessert with an Old Fashioned Jager (Jagermeister, maple syrup and walnut bitters). Both were pretty strong and worked so much better than I thought they would!
Dessert was served in two stages. Home made cocoa dusted marzipans and hot drinks were served while we waited for our German Rote Grutze with vanilla crème. A really simple yet delicious Northern German speciality, the jars of red fruit compote beneath subtly flavoured crème really rounded off the meal well. I think a chocolate dessert would perhaps have been expected, but it would have been too heavy after all that food! The lighter choice was perfect.
I had such a fantastic time at Berlin Brunch – not only was the food delicious, but the company and setting were lovely and the DJ played just the right backing music.
I'd really recommend checking out future Berlin Brunch events – not only do they put on roaming pop ups like this one, but also film nights and I hear they even have a mobile brunch bar! At £48 per head for this event, it isn't cheap but it's a really great price for the amount and quality of the food and the overall experience. I'll definitely be going again.
Thank you so much Food Goblin for giving me the chance to review Berlin Brunch!
Guest post by Lissa Evans
http://www.bruench.com
www.jager.com/
Next Brunch: May 14th – Saturday Berlin brünch + live DJ at Wringer + Mangle in London Fields. Tickets: https://billetto.co.uk/en/events/saturday-berlin-brunch-wringer-mangle