I haven't eaten much in Parsons Green. Mostly because despite being a short hop as the bird flies from Clapham, the public transport links there are absolutely dreadful and I'm an intolerable lay about. There's but a few things that can tempt me onto a 45 minute tube and the promise of great food is one of them. So when I was recommended Koji Japanese restaurant and promised by the reliable prompts of Gary from The Foodaholic, I packed up my kindle and set out on a district line odyssey to this leafy common area.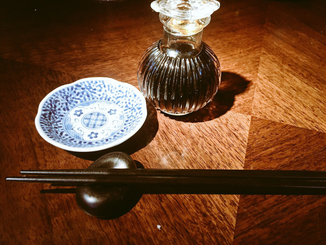 My first thought on entering Koji was 'wow, this was not what I expected'. It was far glitzier and high end than I'd anticipated. The restaurant was sleek, fashionable and very, very cool. Each table has a spot light projecting down onto it (which is just an absolute dream for food photography – food bloggers, regard!). Great house music was playing and the clientele were dressed to the nines. I wouldn't have been in the least surprised to find the cast of Made in Chelsea (or something of that ilk there). Instantly regretting my flats, I tucked into a delightful passion fruit martini and settled into a perusal of the menu.
The food is on the finer scale of Japanese, frankly with prices to match. The chefs behind it Mark Barnett and Nobuhisha Takahasi spring from Mao Tai and Nobu, so again, I should have expected this. We opted to let Pat Barnett, co-owner and our friendly host for the evening, pick for us and sat back to await the onslaught.
I'm going to cut to the chase here and say upfront that I loved Koji. The food is, simply put, excellent as are the cocktails and I'm going to go there regularly.
We began with this beautiful ceviche of langoustine, served on custom ice boxes and with a winking head nodding from the top. This was delicate and just exquisite –I could have eaten 5.
Their tuna tataki was a similar work of art. It was chilled, pink and perfectly fatty, wrapped in a crystalline swath of umami jelly and crowned with salty caviar, edible flowers and gold leaf. Nothing could be prettier, and few things more delicious.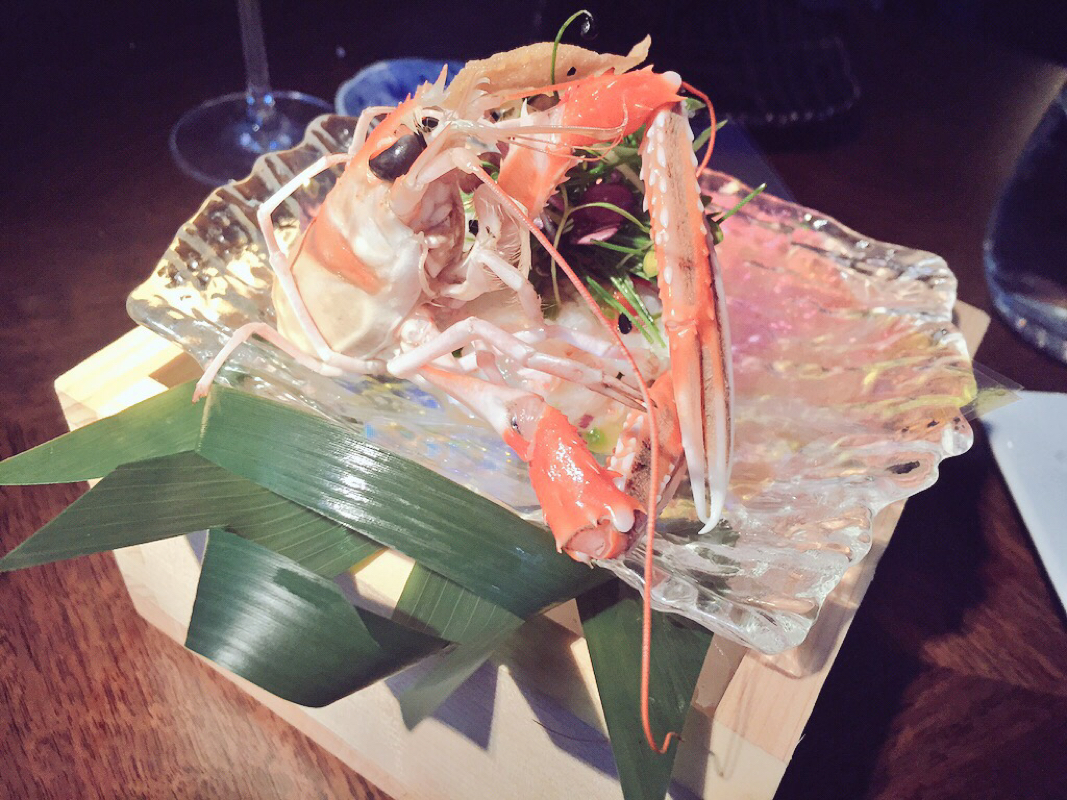 Exciting in a different way was their wild pink prawn tempura coated in this creamy tongarashi sauce (I have no idea what this is – Google tells me a blend of 7 different spices!), served warm. This was an extremely sexy plate. The prawns were large, plump and yielding, the sauce mouth coating and the batter held just enough crispness despite the saucing to make for a fun texture.
Koji did meat justice as well as fish and seafood. First they gave us this insane Iberico pork with an anticucho salsa. The pork had this epic layer of fat coating the top which melted away in oozes of salty, porky deliciousness and was topped with a sweet, slightly blackened glaze. If I had to pick a favourite of the evening, this would be it. I'm a devil for pork.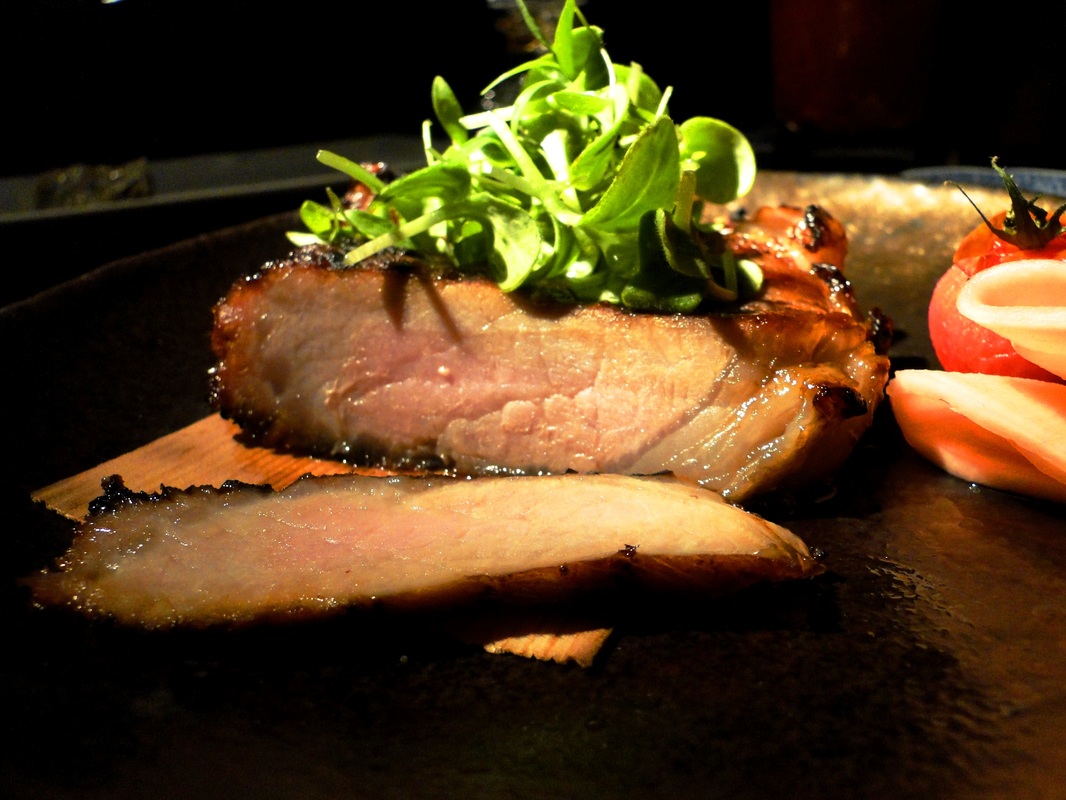 Their Wagyu beef tataki coated in truffle oil came next. What more can I say. It was the best beef in the world served with truffle – obviously, it was great.
Their sushi was always going to be excellent with the ex-Nobu head sushi chef at the helm. I ate a 'plank' of eel and avocado sushi. They were super generous with the avocado and eel filling which I loved– nothing worse than a heavy-handed rice ratio!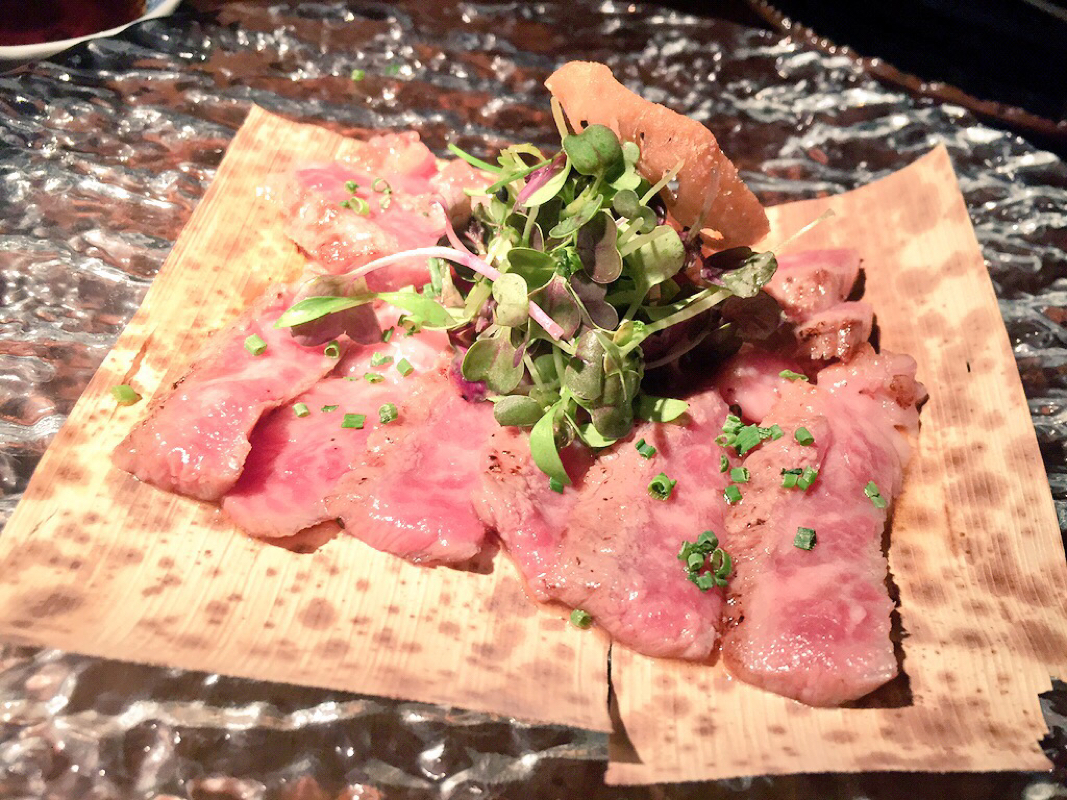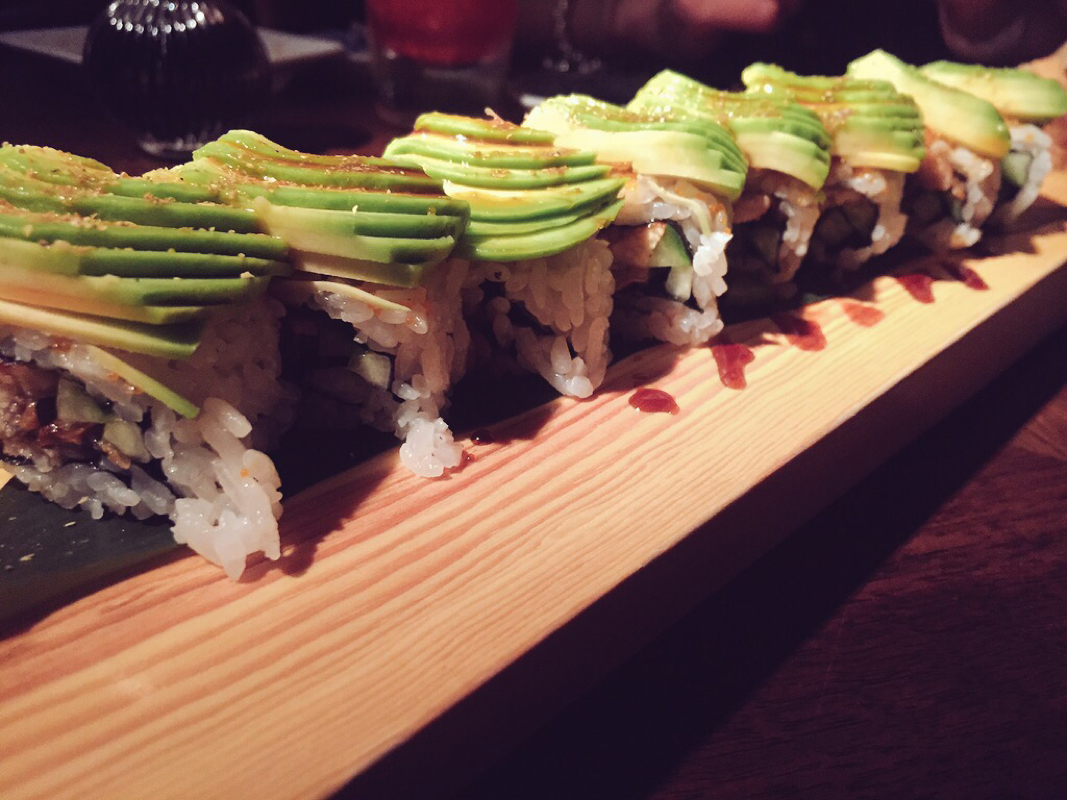 I expected very little from desserts and in truth, their passion fruit crème brulee could never have wowed me as much as their savouries. It was perfectly delicious, don't get me wrong but…again….Wagyu beef in truffle??! Madness. I did find their sakura (cherry blossom) and sake liquid chocolate truffles exciting though- these exploded upon the bite in a most alarming, messy way and were great fun.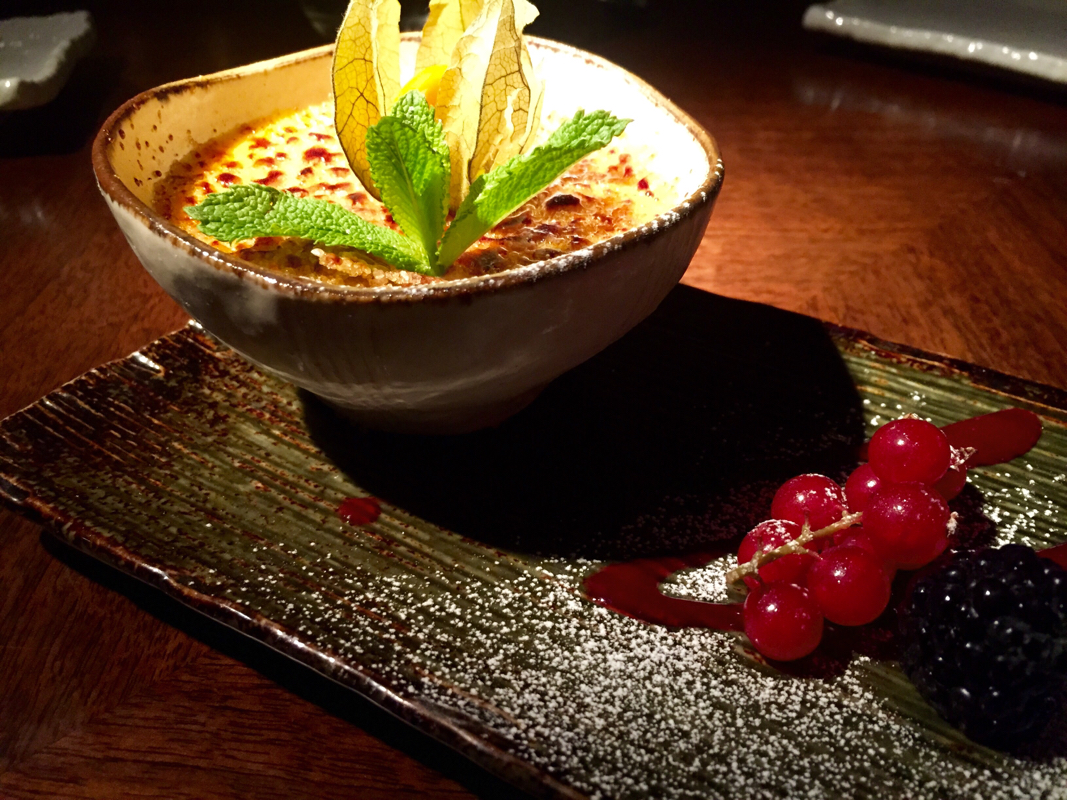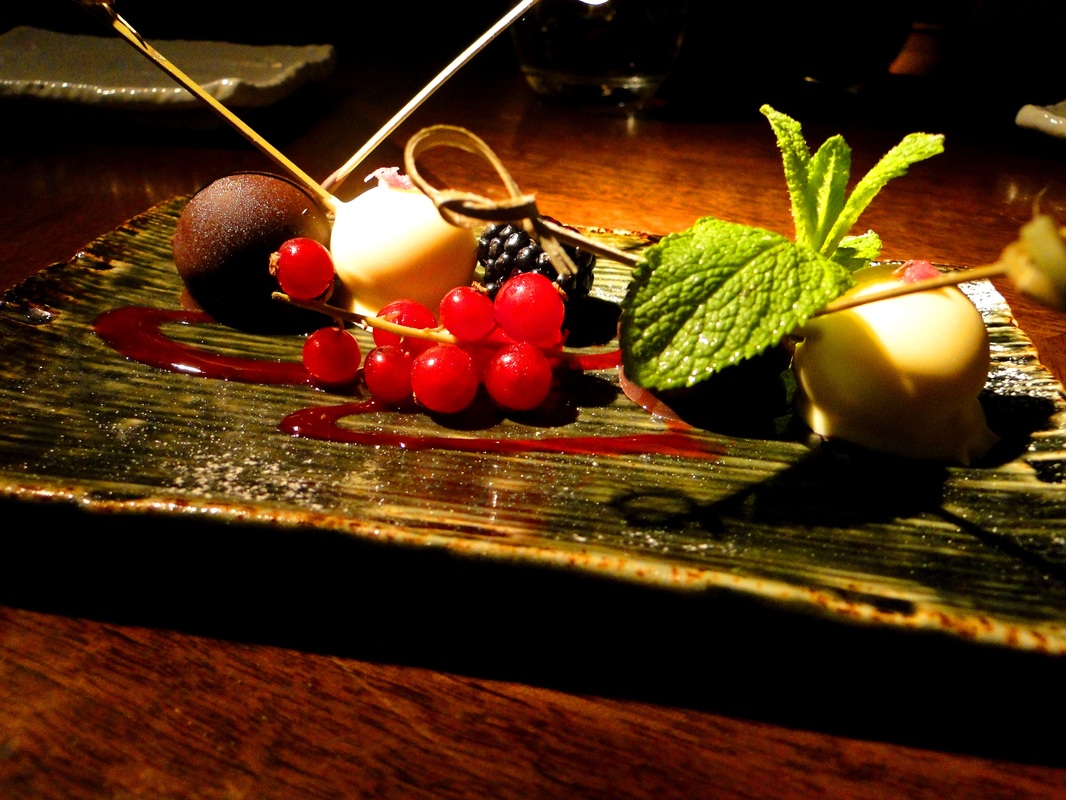 I'm irritated with myself writing this blog piece because I'd love to provide more criticism – but I can't. I really loved this place and find it difficult to fault. It's pricey, it's certainly that (it'll probably cost you £100 a head to really do it justice, with drinks) but you can't knock the quality of the ingredients or the skill in preparing and plating it – the price tag is fair. Moreover, it's just a lovely place to spend an evening. The owners and team are lovely and the atmosphere is buzzing. I'll be back and I'd whole heartedly recommend a visit.