When I heard that Aquum in Clapham had relaunched with a new Greek menu, I felt a curious blend of hunger and bitter regret. Aquum is a spot where I've spent many a twilight hour, drunk many a cocktail, schweffed many a guy (oo err). Sat right on the highstreet, it's a bar and restaurant by day, dancing club by night. After about 10:30 the tables get moved back, the DJ starts pumping and occasionally even a dancing pole is erected! It gave me more than a few 'overly fun' nights out when I was living in Clapham, hence the blend of emotions upon receiving the press release.
Anyway, I sucked it up and headed down – curious and a little skeptical as to whether it could match its nighttime delights with anything even approaching culinary. The place itself is as I remembered – slickly designed with coloured lights, a gleaming bar and ultra modern fixings. There's a generous happy hour from 5-7 and the cocktails are always good, so I got stuck into that as I perused the menu of small plates. Over some snacks of hummus and excellent tahini (£7 for both) I enjoyed my customary old fashioned and then a classic bramble gin cocktail.
The menu is made of dips, hot and cold mezze, grilled dishes and Greek street food – most small plates and ranging from £5.50 to £15. I kicked things off with a grilled pitta topped with slow cooked pork belly on spiced cheese spread with tomatoes. This was gorgeous – the bread was puffed up and lovely, the pork soft and salty. A good start.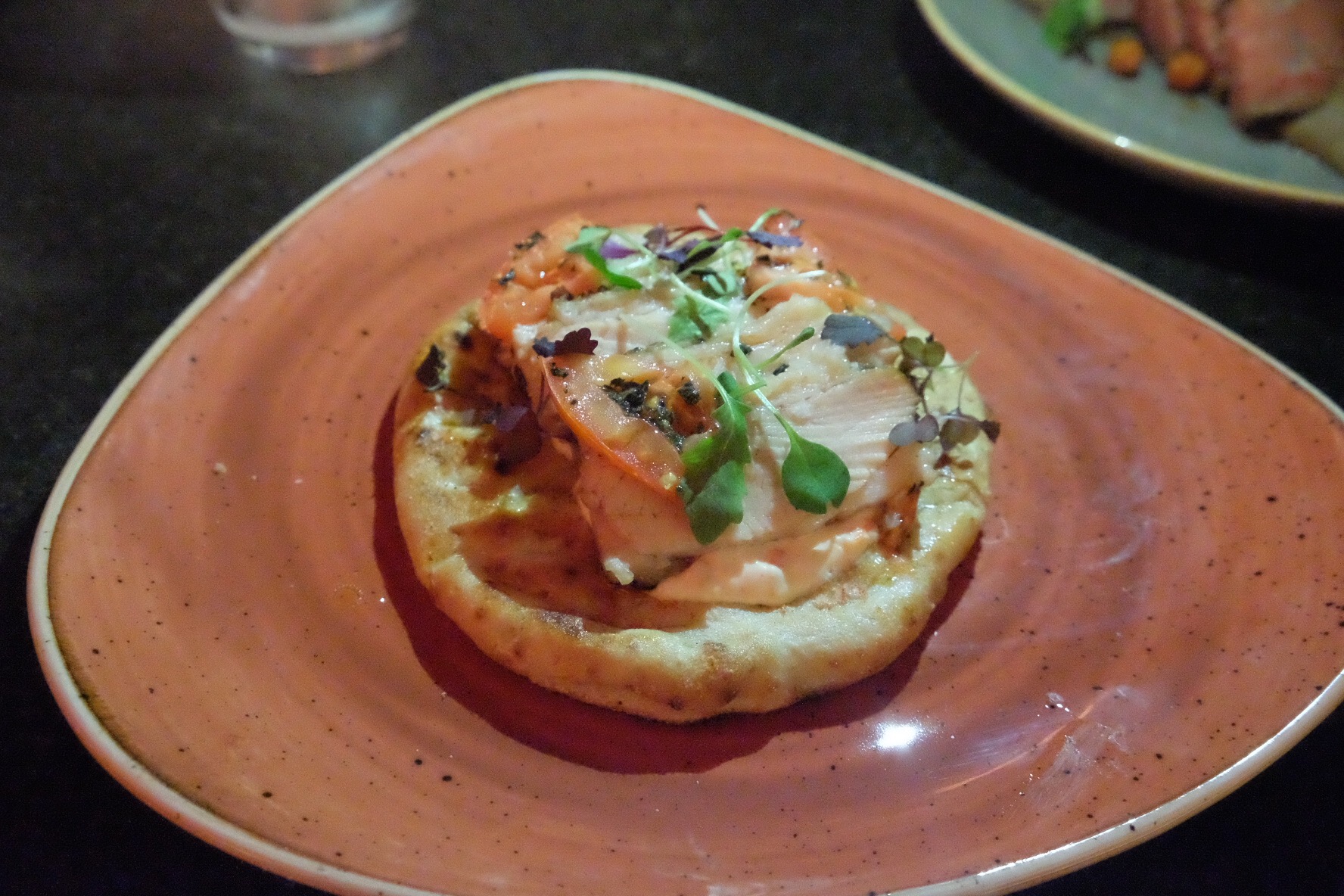 Next was spiced lamb rump on smoked aubergine puree and chicken pea puree. Again, this was good although the smoke in the aubergine was on the harsh side. The lamb was nicely cooked though and the jus was pleasant. A side of fava pea dip was glorious and I'd definitely order it if you visit – smooth and silky in texture, with a nice savoury kick from onion through it. Lovely with their fresh pitta.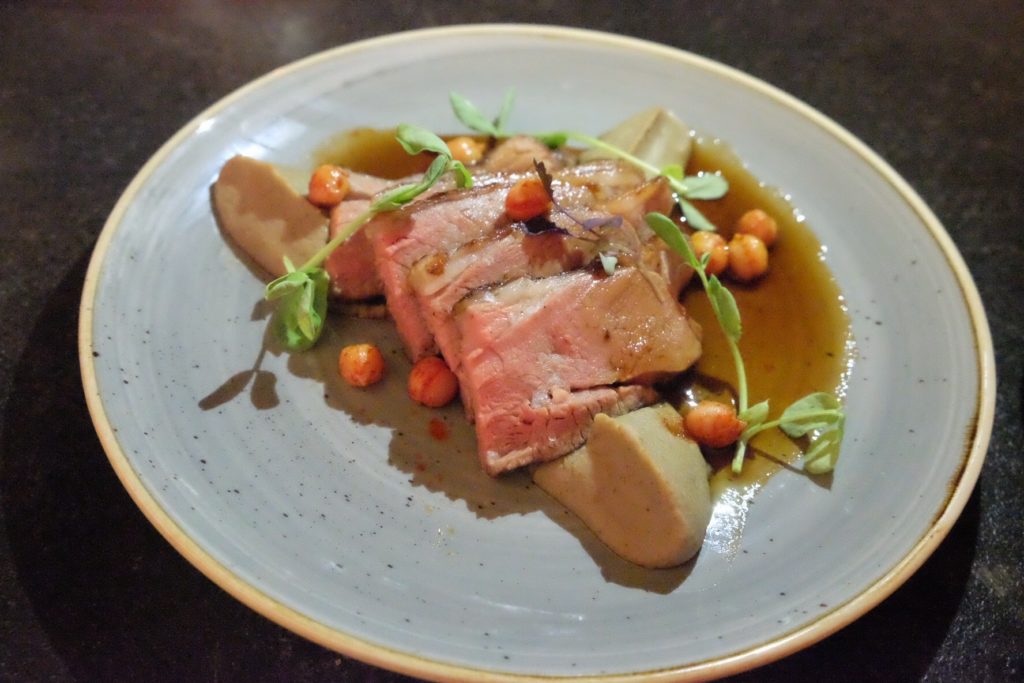 Desserts arrived and were a bit of a mixed bag. I didn't care much for the first one of 'deconstructed' banana cheesecake. This might be because I'm a tremendous spoil sport and don't like anything deconstructed (because it's totally naff) or it might be because it wasn't very good. Who knows. A second dessert of 'Galaktompoureko' (I know) was much better. This is a traditional Greek dessert I'm told and consists of creamy sabayon custard with lots of delicate layers of caramelised pastry shards flavoured with cinnamon. At the bottom of the glass there was a sour cherry compote. The whole thing was gorgeous, and especially the pastry.
All in all, I was surprisingly impressed with the food offering at Aquum. Honestly speaking, I had expected it to be dreadful but it wasn't at all. The dishes were fresh, tasty and wouldn't break the bank. I'd happily come back here for a dinner with friends or a quick bite to eat amidst shopping with my partner, and it would make an epic menu for an event there. Next time you're in Clapham, give it a whirl.
68 – 70 Clapham High Street, London, SW4 7UL
020 7627 2726