It's official, chaps. The Big Easy, iconic US Deep South BBQ joint, has joined the unlimited, boozy brunch game. This is a trend from across the pond in NYC that, for once, I am happy to see (Cronuts, go away – such a let down!) and I bustled down pronto to their Covent Garden branch to check it out.
If you haven't been to their restaurants before they're, simply put, gorgeous. Christ knows how much they spend decking them out, but it must be a lot. They're fully Deep South themed, with gleaming brass bars holding what must be every bottle in the world, industrial drooping lighting, wood floors and newspaper papered walls. Why this comes across as Deep South America, I don't know, but it does and it looks superb.
There are a host of brunchy dishes on the menu, from Breakfast BLT (£7.90), to Shrimp Po'Boys (£10), Frittatas (£9.50) and Smoked Salmon on Rye (£8.90), but the star of the show is the unlimited option. For £29.50 you get free flowing home brew beer, prosecco (obviously) or house wine, and either unlimited BBQ (called 'The Big Pig Gig') or a Lobster Fest. Being the veritable 'big pig' that I am, I tried both.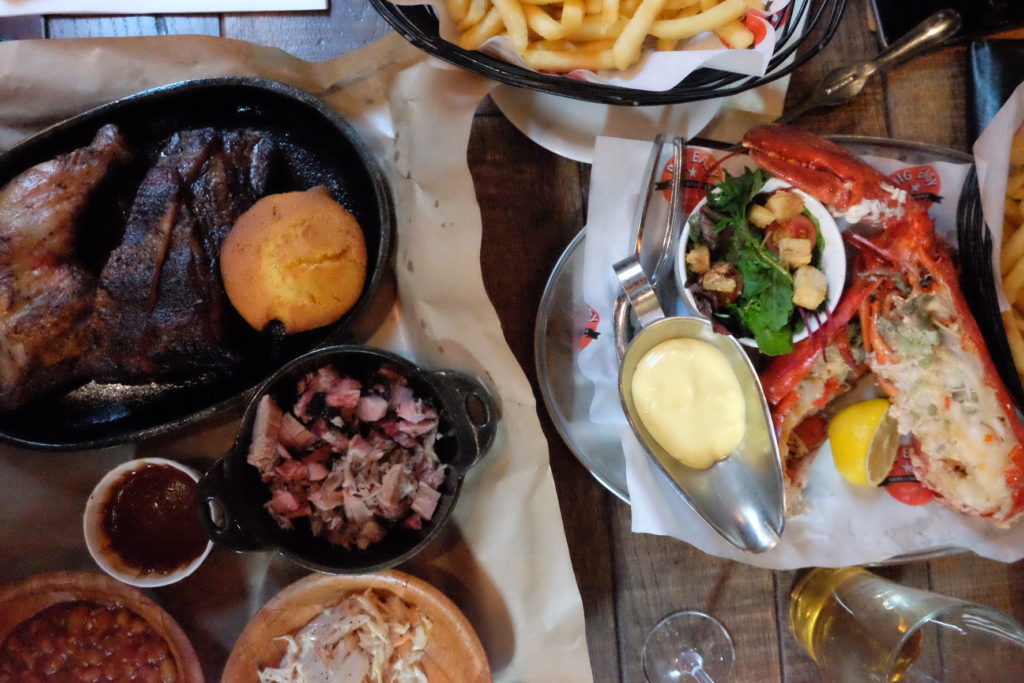 The BBQ plate includes North Carolina Chopped Pork, Pit-Smoked Bar.B.Q Chicken & St Louis Pork Ribs, 'Slaw, Pit-Smoked Beans, Fries & Fresh Baked Cornbread. It is an absolute beast of a plate. Whilst the chopped pork was unexceptional, the chicken was succulent and moist, tasting great, and the ribs were sticky and unctuous. I'm not a corn bread gal (always dry) and so I wasn't bothered about theirs, but the slaw was crisp and a good refresher to the meat feast besides it. God knows who orders more meat than that first dished up – the portions are massive and the limitless offer is somewhat unnecessary.
The Lobster Fest is either The Pounder (a 1lb lobster, which you can up to a 1 3/4lb for £5), a Lobster Roll or Lobster Mac 'n' Cheese Served with fries, House Salad. I went for the plain grilled lobster, which I'd probably recommend most people to. I haven't tried their other lobster offerings but…it just feels more right, ordering a whole lobster, doesn't it? The lobster was juicy and well flavoured, not over cooked, and served with a hollandaise which was good for dunking the (good) frites.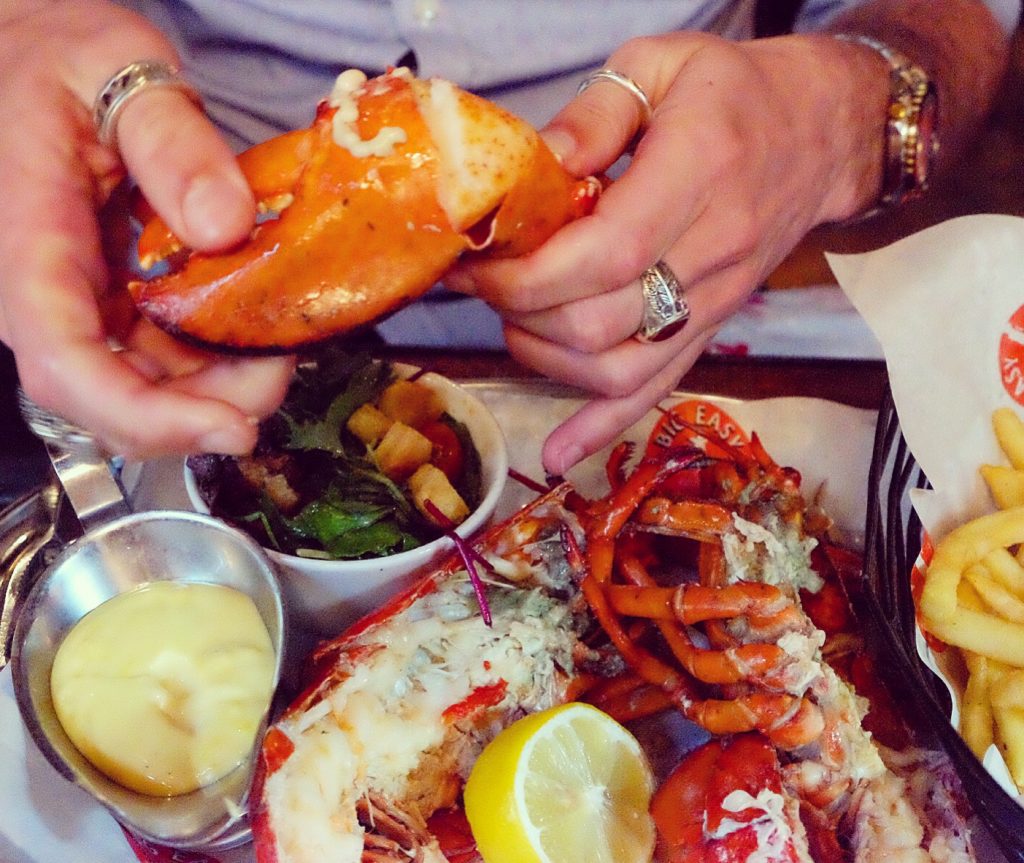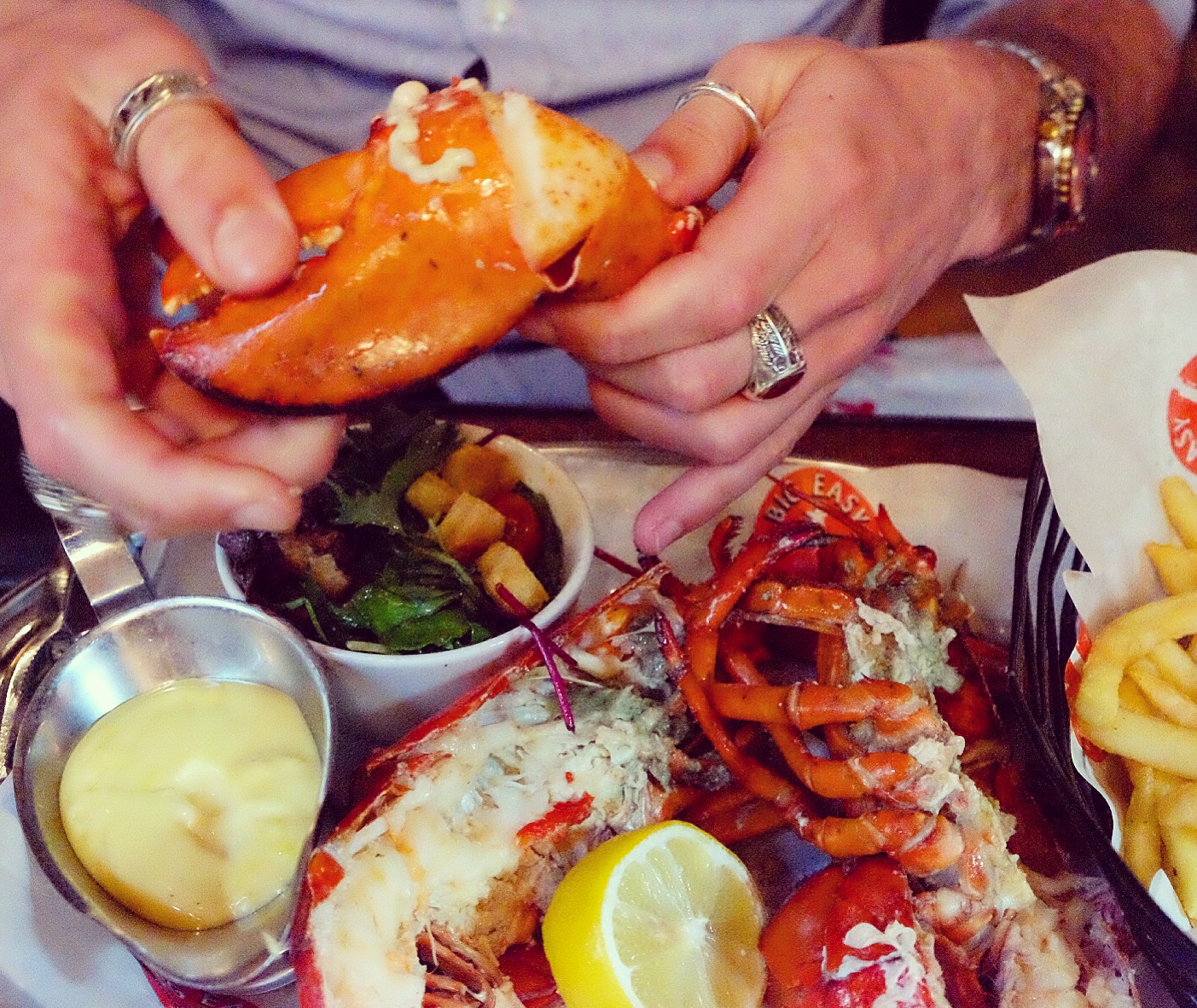 Drinks wise, indeed they are free flowing. Brunch is only served at the weekend, 11am-5pm, which is busy and so the staff are slammed but we had no issue with long waits between drinks. What sets the Big Easy apart though is their inclusion of beer and wine on the free flowing offer – normally it's just prosecco and it was nice to see some other options. My partner, predictably a bloke, especially appreciated the option of beer.
All in all, this is a great addition to the boozy brunch London circuit. It's really well priced (seriously, it's a bargain!), the food is plentiful and good, and the drinks keep on coming. So will I.
Visit!
Covent Garden: 12 Maiden Ln, London WC2E 7NA, 020 3728 4888
Chelsea: 332-334 King's Rd, London SW3 5UR, 020 7352 4071
Canary Wharf: Crossrail Place, London E14, 020 3841 8844