Do you know where your food really comes from? Now, I don't mean Tescos, or Waitrose for those posh nobbies out there. The butcher would be a start, but I mean even before that? Less sure? I thought so. Events like the horse meat scandal and the popularisation of food tv shows such as MasterChef and Great British Menu have definitely put provenance on the map and we're becoming increasingly concerned with the roots of what we choose to put in our mouths. Restaurant menus reflect this trend, often proudly displaying their suppliers – Abernethy Butter, Clarence Court Eggs, Arbroath Smokies….all beautiful things, worthy of recognition.
Following this thread, you should be incredibly excited to hear that there's a new restaurant recently opened in West Sussex which offers the diner a menu reared, grown, sown, butchered and cooked within quite literally yards of your table, and created in harmony by its farmer, butcher and chef. The aptly named Farmer, Butcher, Chef at Goodwood Estate and Home Farm is this unique new restaurant and, for me, offers the pinnacle of provenance dining. It's the brainchild of these 3 colleagues who recognised the potential of the 3,400 acre organic farm and strove to bring their vision of farm to fork to fruition. You may have heard of Goodwood Estate before – it's the ancestral home of the Duke of Richmond and is the location of the world famous Goodwood Festival of Speed so….altogether a pretty fabulous place even without the farm and restaurant!! I visited late last year to see if it lived up to its promises.
The scale of the farm requires a pause. It is, simply put, gigantic. Under farmer Tim Hassell, it produces 21,000 litres of milk a week, used for 3 cheeses, as well as beef, pork, lamb, beer and various planted crops. Indeed, it's one of the largest lowland organic farms in the country and its produce is used at top restaurants such as The Ritz and Sky Garden. As you drive around the farm and estate, almost as far as you can see the land belongs to the estate. It's nuts. I visit the beautiful red Sussex cows and the Gloucester Old Spot and Saddleback piggies. I'm no farmer but they look happy as larry, and it's a joy to get so close to them!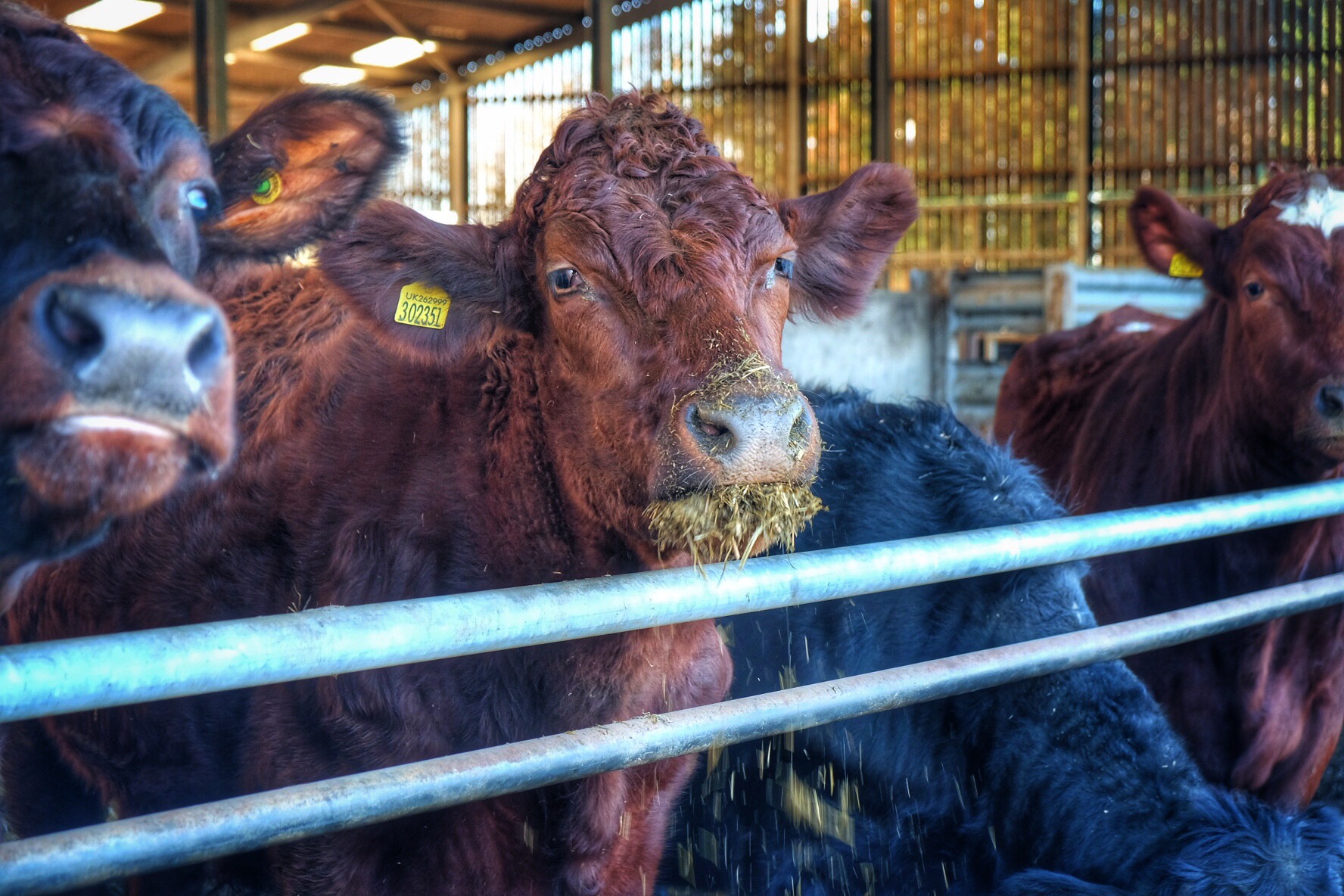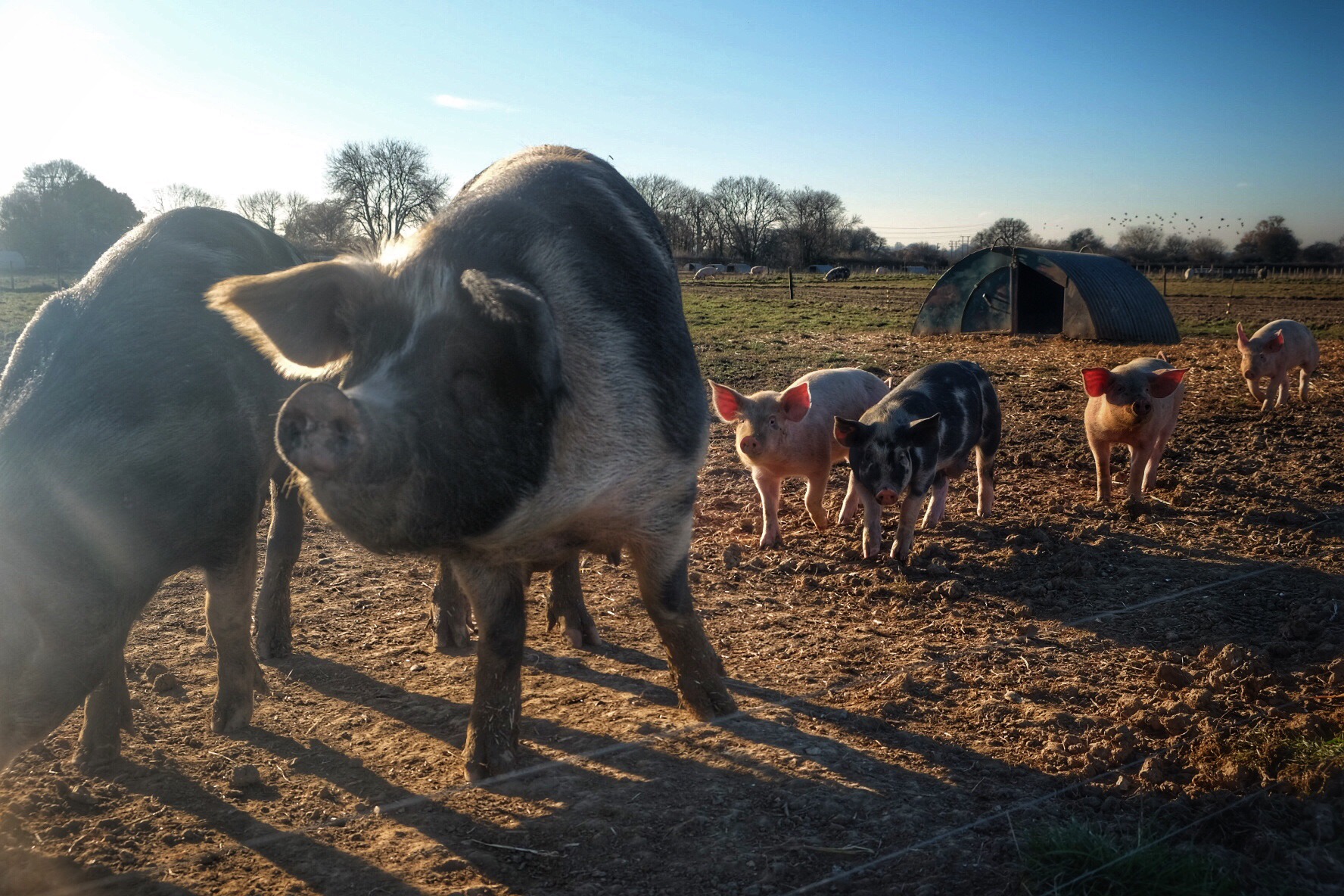 The butchery is just beyond the fields, run by Master Butcher John Hearn. He's a traditional butcher and proponent of some of the lesser known cuts that, sadly, the rise of supermarkets have near eradicated demand for. John gets heavily involved in the menu, designing dishes according to what cuts are available and helping to remove food waste. You can see his hand in the restaurant menu which boldly displays a butcher's diagram of the animals with all the different cuts identified.
The final stop is the restaurant, set in a 1780 coaching inn and decorated warmly with drop lighting and eccentric little touches of steampunk – apparently hand selected by the Duke of Richmond himself! There's a bar next door, The Farmer's Bar, serving spirits infused with herbs from the estate, English Wines and the Estate's own beers!
This is the realm of the final man in the tremendous trio, Executive Chef Darron Bunn, fresh from the passes of some of the country's most illustrious passes: Hilton Park Lane and three michelin starred Chez Nico and Marco Pierre White. The menu reads gloriously in notes of sticky beef shin, offal and cooked rare glory. Starters show creativity across texture and food groups but what leaps out immediately at me are their 'Butchers Boards'. These are tasting sharing boards per annimal offering multiple cuts – both prime and lesser known. Beef waves at me at once.
Starters first, calm down Lucy! I begin with a cool Venison Tartare with sorrel and smoked egg yolk. The venison is served chunky which I like, but is perhaps overseasoned for me with the mustard seeds. It certainly packs a punch but I'd prefer to taste the venison.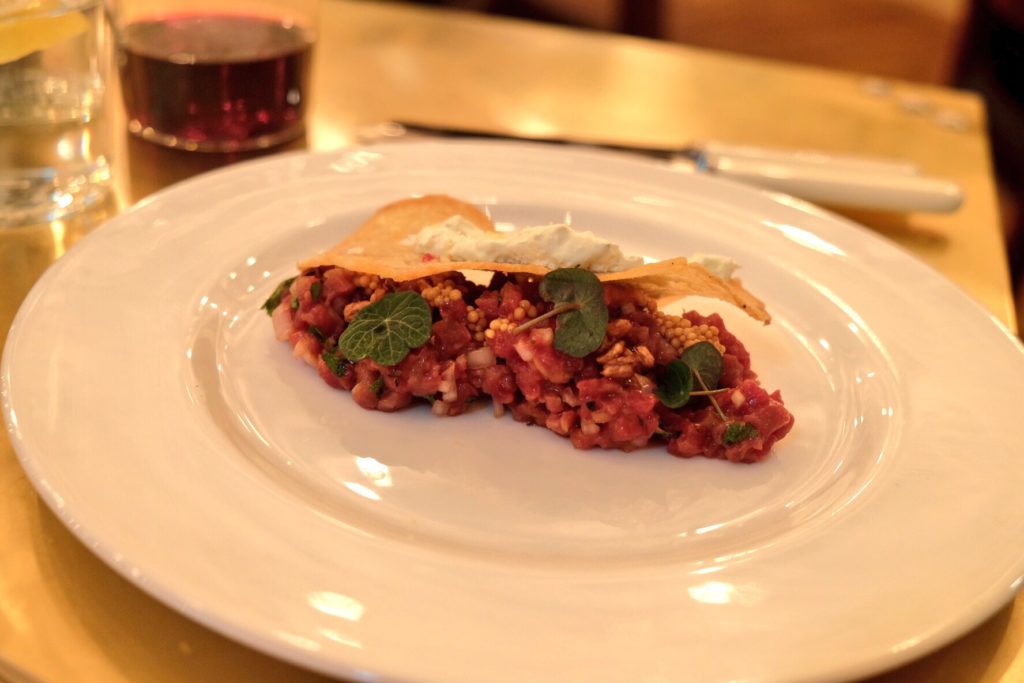 Crispy Oysters hit a better note for me with luscious, creamy oyster melting away against crisp crumbs and iron rich ox heart.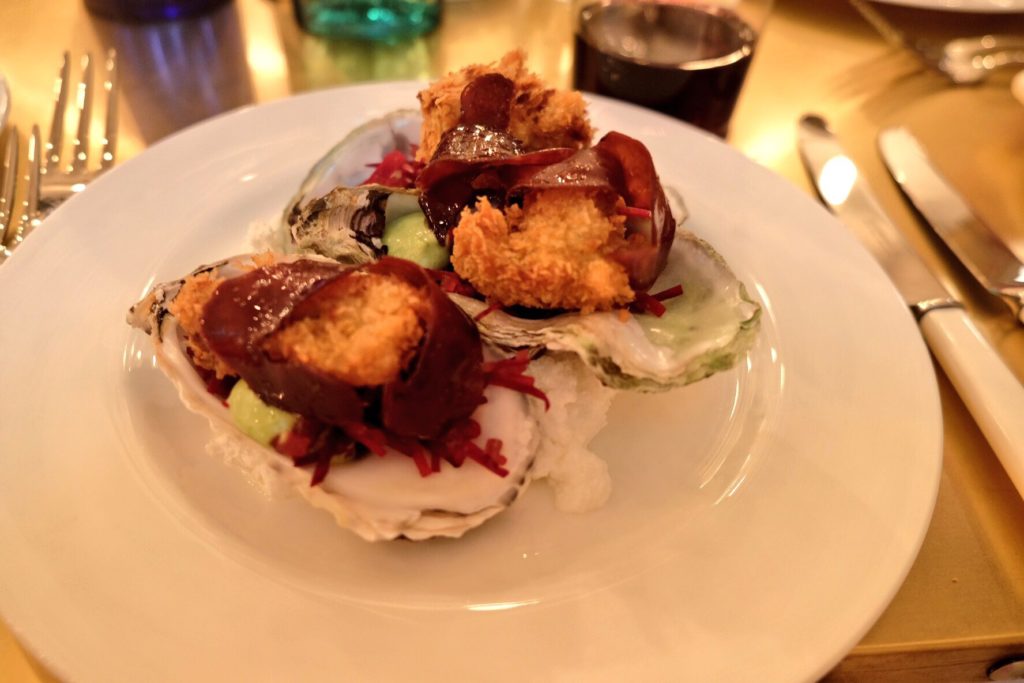 The beef butchers board arrives in a flurry of skirt steak, sticky beef shin, oxtail faggots, crusted beef shin, crispy tongue, served with a twee little gem salad and beef dripping potatoes, ready for the gobbling. The beef shin oozes in dark, sultry glory and the skirt steak is perfectly pink, tasting of well fed cattle and a proper hanging period. The oxtail faggots are bursts of flavour and should adorn way more menus. The potatos, not at all over shadowed, are very naughty indeed. At £20 a head this is a meal of outstanding value and it's not surprising at all that the place is rammed already, having only been open a few weeks.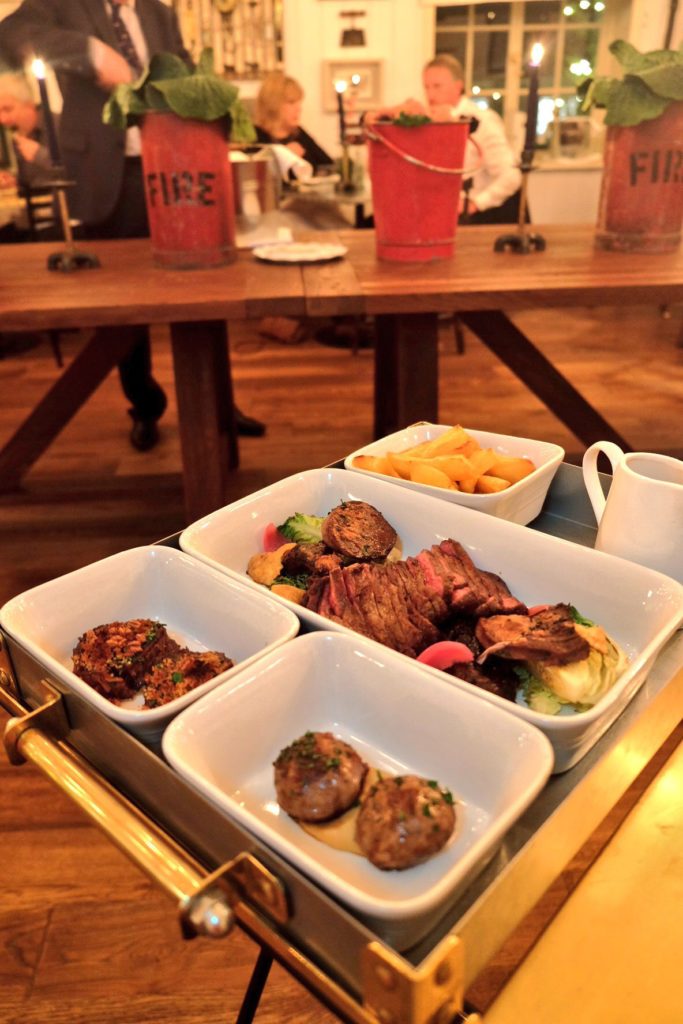 Overwhelmed by such a meaty feast, I retire to my bed at the attached Goodwood hotel with my dessert: a bread and butter pudding with a brulee top, which is molten and wonderful, served with a really quite horrid smoked beer ice cream (please remove this from the menu now!). A tasting plate of the estate's own cheeses may also have joined me in my bed and may also have been devoured completely.
I'm really excited by this new restaurant. I don't know anywhere else in the country that offers such a glorious and tangible testimony to provenance such as this. Farmer, Butcher, Chef has near eliminated its supply chain and you can taste this achievement in every moreish, meaty bite. The only missing link in the chain here is an onsite abattoir, and I'm told that talks are underway for this!
I urge you, visit, and visit fast. It's one of the only restaurants in the UK where you'll have travelled further to get there than its food!
https://www.goodwood.com/estate/farmer-butcher-chef/
The Goodwood Hotel, Chichester, PO18 0QB​