Piece by Vik Chauhan, Food Goblin Central Correspondent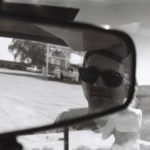 The Gardinier family behind the 2 starred and illustrious Taillevent Paris, bring a taste of Michelin elegance to London with their Les 110 de Taillevent restaurant, Cavendish Square. Aptly named after the hundred and ten wines available by the glass, Les 110 is a 70 seater food and wine matching brasserie tucked behind the bustle of Oxford St, with ambient lighting and relaxed yet refined French dining.
The menu is designed around pairing the dishes beautifully with wines, curated over many years by Pierre Bérot, Director of the Wine Department for Taillevent Paris. Carefully selected, the wines are available in either 125ml or 70ml tasting measures, ideal for those who wish to pair wines per dish, with no less than four wines recommended per dish across a range of prices and styles – you can't say you don't get a good array of choices here! The sommelier on hand is outstanding. Descriptions of wines are provided and whilst some may tend to pair fish with white or meat with red, alternative options are available for those whose preference is not necessarily the tradition.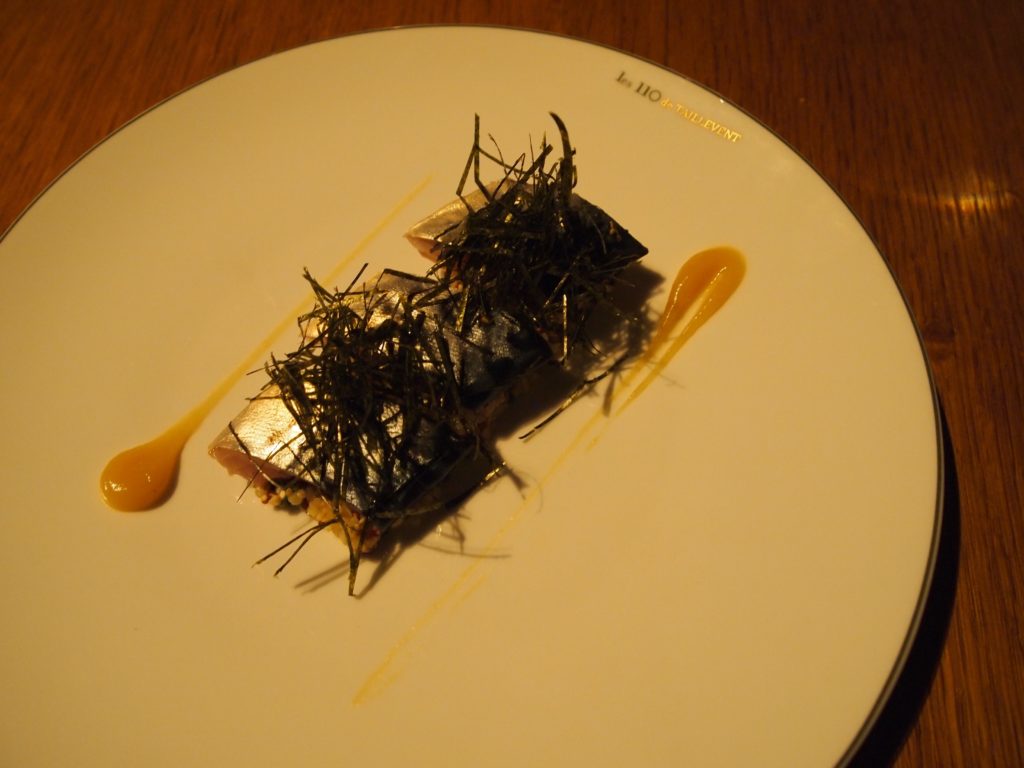 The set menu offers great value, £20 for 2 courses or £25 for 3 for lunch and dinner. Attention to detail is clear, and flavours transcend artfully through most dishes. The mushroom veloute, smooth and creamy, left you wanting more, poured over roasted and shaved mushrooms. The mackerel seemed a 'lighter' option on the menu however was just as flavoursome, texture added by seaweed and quinoa. One item I was please to note was the portion size- breaking with tradition for some fine dining places, portions here were not minuscule in nature. Bread, butter and accompaniments (cheese choux buns) meant that I almost staggered from my table by the end of the meal!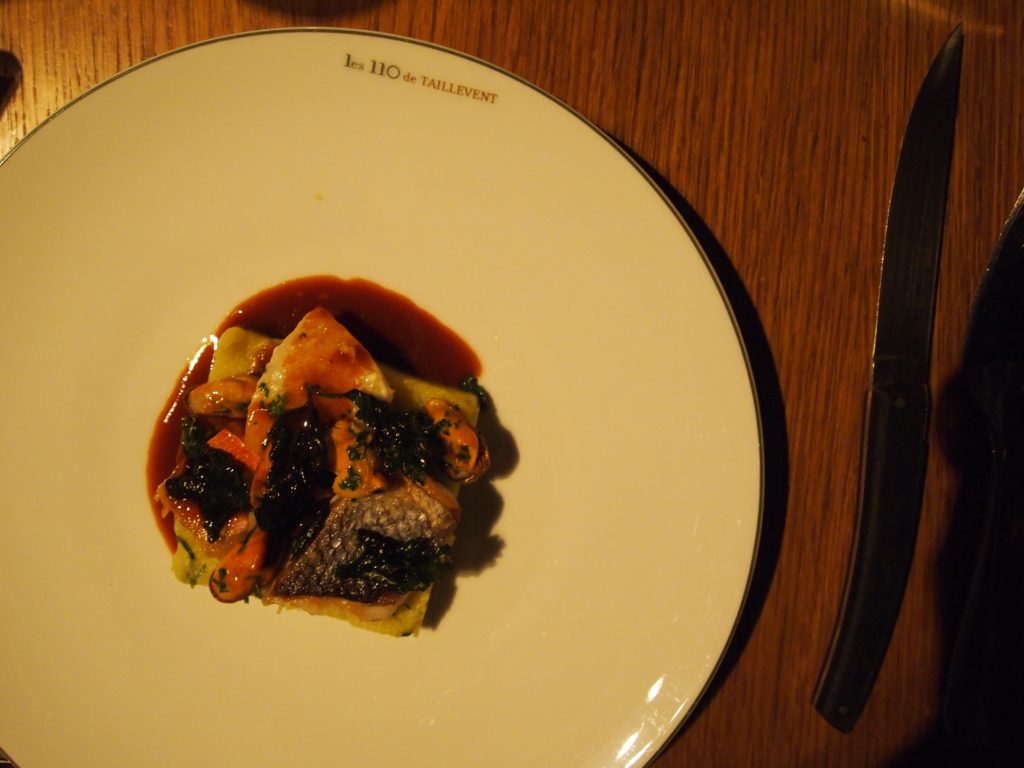 The fish of the day dish, cooked 'a la plancha' (grilled), served with crushed potatoes and a bouillabaisse sauce (a traditional Provençal fish stew), was a tasty main, as was their classic beef onglet, with spinach and red wine sauce, seasoned well and served medium rare.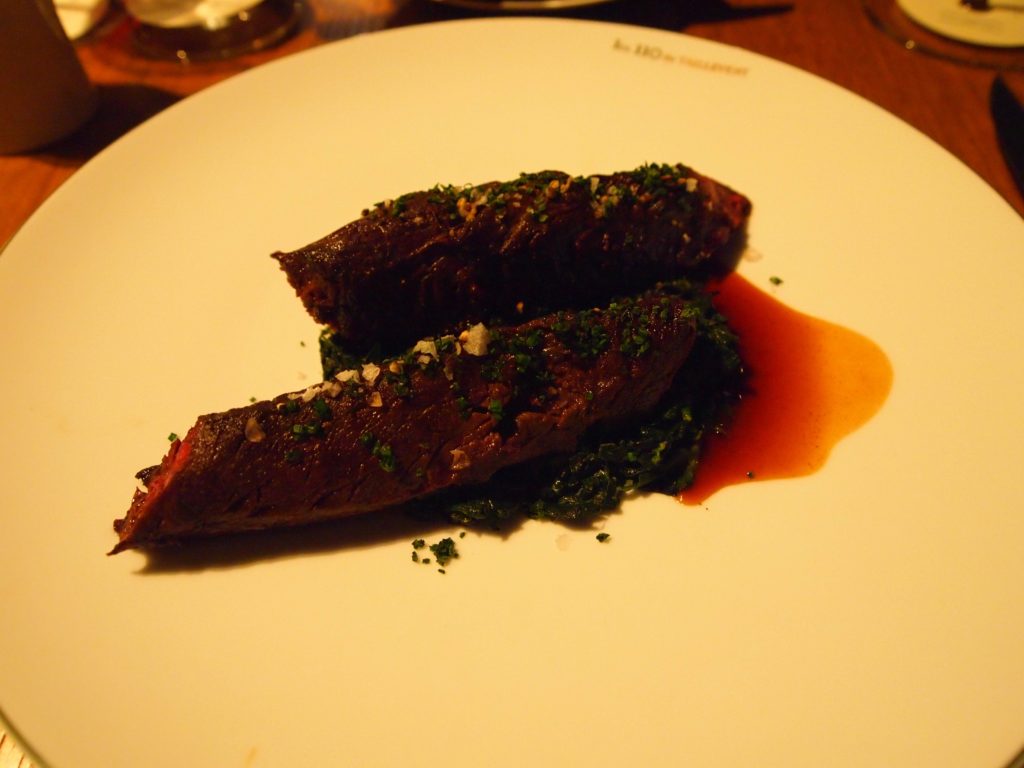 Desserts rounded off what was already a delightful first two courses. The brioche perdu, with caramel and apples was a rich and sweet pudding. The vanilla ice cream cut through the sugar and paired well with the paired dessert wine. The showpiece was the feuille a feuille; 110's take on the mille feuille with caramelia and dark chocolate mousse. Petit fours added the cherry to my evening.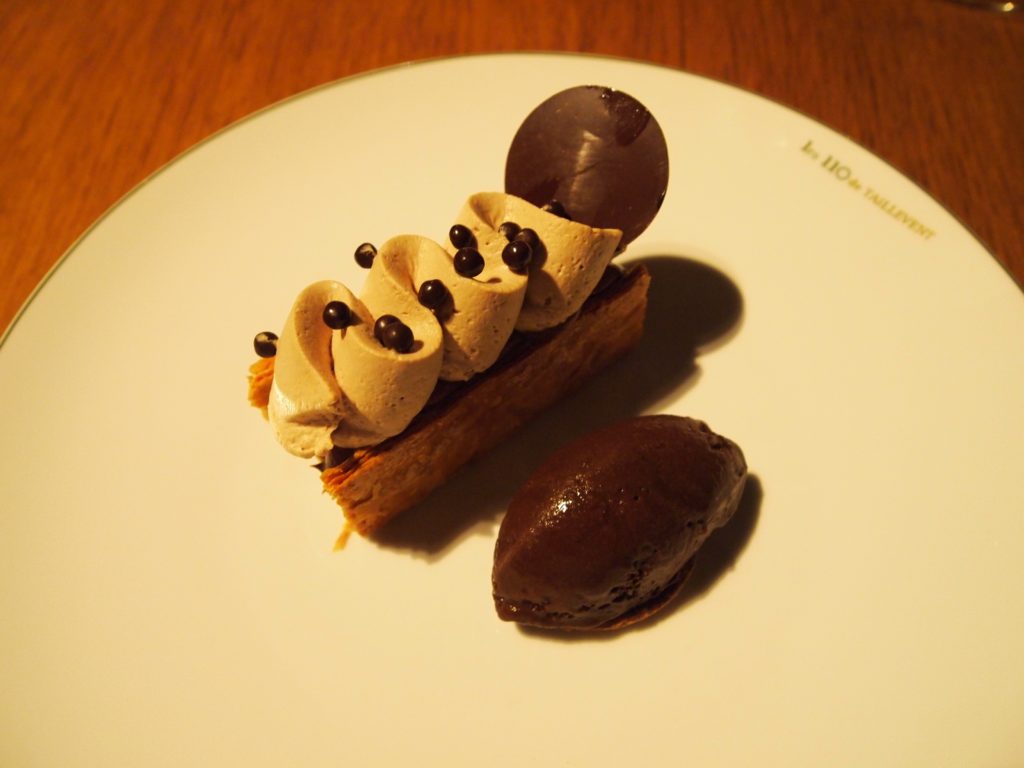 If the restaurant's elegance captured me from the start, the food and drink finished me off. Whilst this restaurant would be wonderful for a special occasion, the set menu offers value for money on a week day evening or, as Les 110 de Taillevent put it themselves, is ideal for a business lunch, shopping break or a pre-theatre meal. Much recommended!
Wines for the evening:
Champagne Brut N.V Laurent Perrier
Corbieres "La Begou" 2014, Domaine M. Magnon
Saint-Estephe 2009, Frank Phelan
Cote Roannaise "Oudan" 2014, Domaine Serol
Gruner Veltliner "Lois" 2015, Loimer, Kamptal, Austria
Commandaria 2008, Kyperounda, Cyprus
Tokaji "Edes Szamorodni" 2013, Domaine Disnoko, Hungrary
Les 110 de Taillevent London
16 Cavendish Square
London
W16 9DD
Tel: 020 3141 6016
http://www.les-110-taillevent-london.com/en/
Twitter: @110london
Instagram: @110london