If you like glitz with your glamour, and more than a sprinkle of razzle in your dazzle, the ultra glamorous Quaglinos is the place for you. Nestled in the heart of St James and dating back to 1929, it is a stalwart of old London decadence. If you look back at old -insert equivalent to Hello – magazines from the 90s, it is always Quaglinos you see celebrities and rock stars spilling out of. Its floors have certainly seen some action over the years.
First thing you notice when you come inside is that it is GORGEOUS. It got a face lift from the D & D group in 2014 and is knock out. There's a stage at the front and there is live music or DJs most nights and weekend days.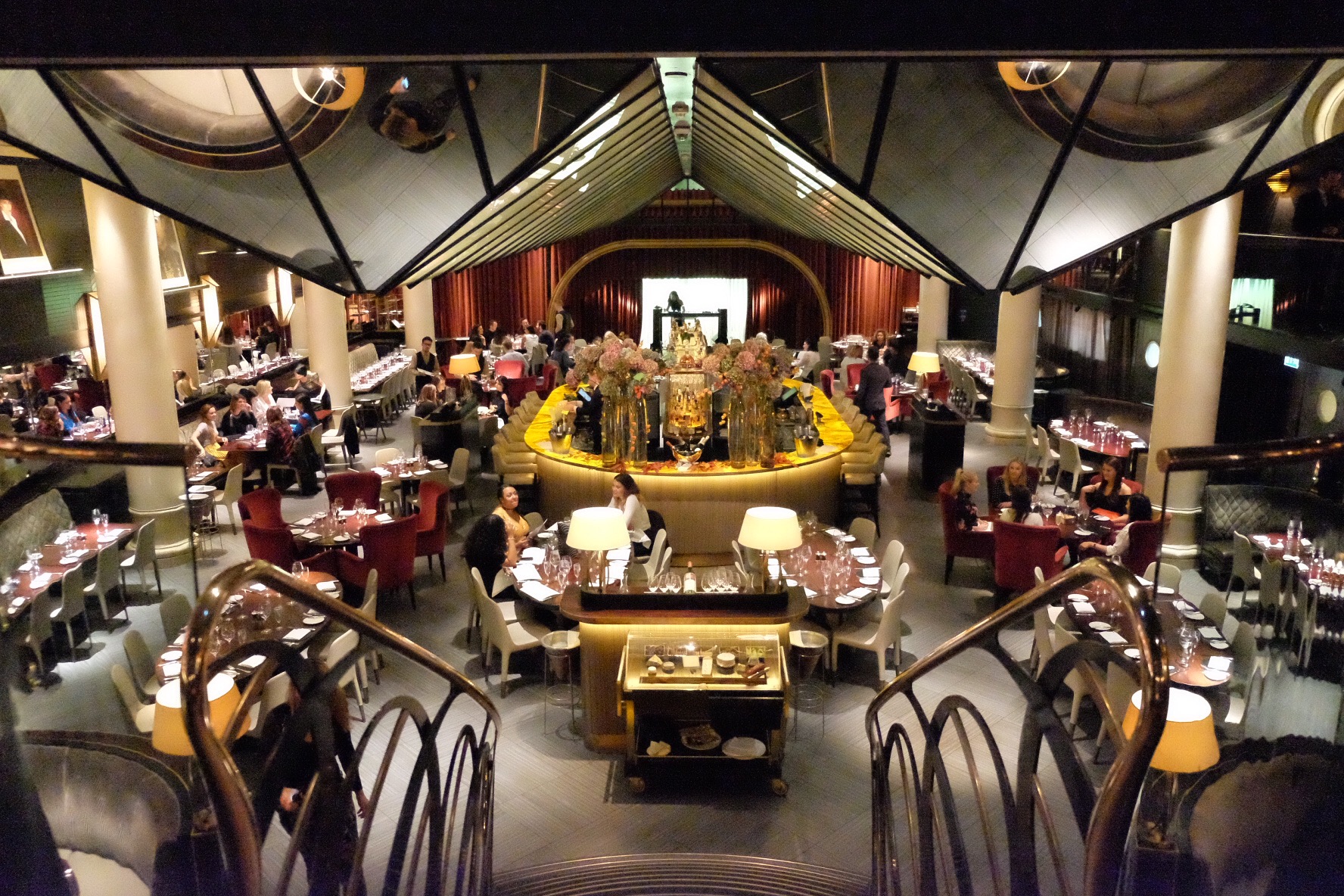 On weekend days they do a brunch and lunch set menu – I've done the brunch before and it is fabulous, but on this visit opted for the 'Q Lunch'. 3 courses are £29 and you can add bottomless bubbles for another £20 (why wouldn't you) and so for the location and venue, it is really quite excellent value. For this reason it is super popular for birthdays or hen dos, but the staff manage the large groups well and there is zero rowdiness. The atmosphere is chic, cool and has a constant buzz.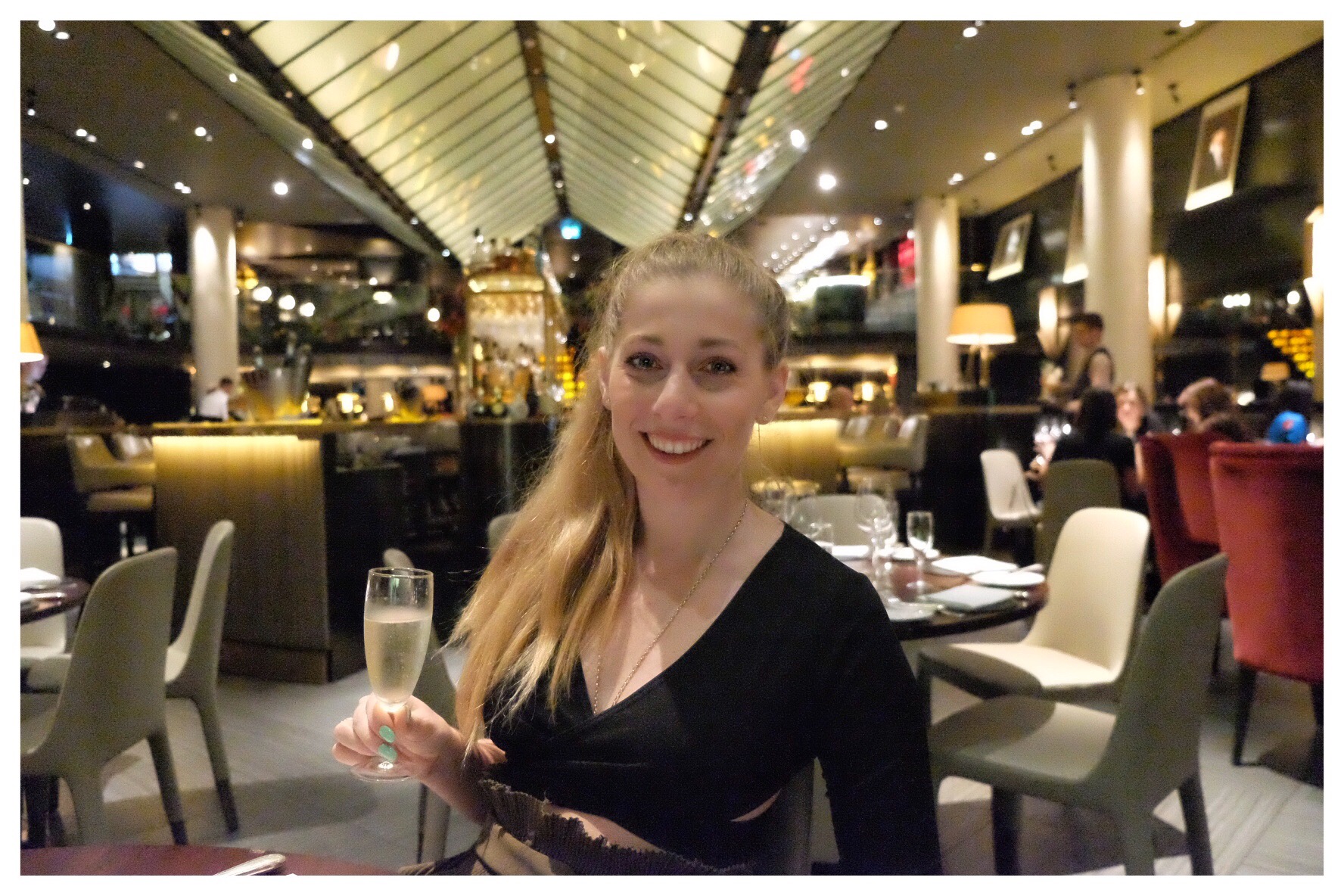 So…what about the food? The style is contemporary European and the menu oozes with yummy sounding modern classics. I start off with a Venison Tartare with Tarragon Emulsion and Hazelnuts. I judge a place by its tartare – I think it's a good benchmark – and this is a good one. Not dance about with your pants on your head good, but pretty darn good. The seasoning is on and the texture is great and chunky, but I think I'm missing egg yolk.
I also try Burrata with Parma Ham and Figs because…well Burrata. It's great – how couldn't it be.
Moving onto mains, I try their Chicken Supreme with Wild Mushrooms and Cabernet Sauvignon Vinaigrette because I want to check out how they cook chicken. It's moist and juicy, seasoned nicely and the mushrooms are earthy. I like it. I want more sauce though.
A pal tries Roasted Sea Trout with Baby Fennel, Sauce Vierge and Beurre Blanc. It's gorgeous; the skin is crisp and the fish is perfectly cooked.
Mains are good but desserts are special. A Chocolate Fondant with Tonka Bean Ice Cream is heavenly. Deep and rich in Valrhona chocolate and set off with smooth ice cream – what's not to like? A second dessert of Buttermilk Panna Cotta with Iced Blackberry and Oat Crumble looks pretty as a picture, set in a bowl and dressed like a flower garden. I am very happy.
Service is excellent and at no point does my glass run dry. This is important when going bottomless; nothing is more stressful than having to chase down refills, but Quaglinos stay attentive for the full table sitting.
All in all, Quaglinos is THE choice if you're looking for glamour and pizzazz. Take a group or a date here that you're looking to impress and you'll do just that. The food is good, the ambience buzzing and the venue…simply one of the best.
http://www.quaglinos-restaurant.co.uk/
16 Bury St, St. James's, London SW1Y 6AJ
020 7930 6767