Years ago when I was relatively new as a blogger in London I reviewed Chelsea's Rasoi, a fine dining Indian restaurant there and holder of a michelin star (http://www.foodgoblin.com/rasoi2/). I adored its refined food, deft spicing and somewhat luxurious interior. Ever since then I've been dying to go back and when it shut earlier this year I was gutted.
It was therefore with GLEE that I received a note from its Chef Vineet Bhatia, letting me know that it was reopening with a concept, name – Vineet Bhatia, after its chef – and makeover and asking me to come down and see how it compared to the old Rasoi that I had so loved. I roped along another food blogger pal, the lovely Gary from The Foodaholic, and headed down one chilly Friday night to try it out.
Gone is the previous decadence, replaced with a much more modern, chic look punctuacted by the odd nod to its Indian roots, such as a pineapple chandelier (a symbol of hospitality) in the entrance way. It's in an old townhouse off Chelsea high street and down a quiet little residential street. Little betrays the restaurant inside and you have to ring a bell for entry. Lunch is no longer served and there's no a la carte offering, only tasting menus. It feels focused, and more than a little 'in the know', without being ponchy,
The tasting menu is about 16 courses strong and is £105pp, £175 with the matching flight of wines. Both the price tag and the army of courses can seem daunting but the portions are light and pricing fit for what you're served here – fine dining. I'm sure it's going for another michelin star – everything screams that from the style, menu and service. Beyond striving for michelin, Vineet Bhatia London is looking to shine a light on regional Indian cuisine and the menu takes inspiration from all across the country, rather than focusing in on one region.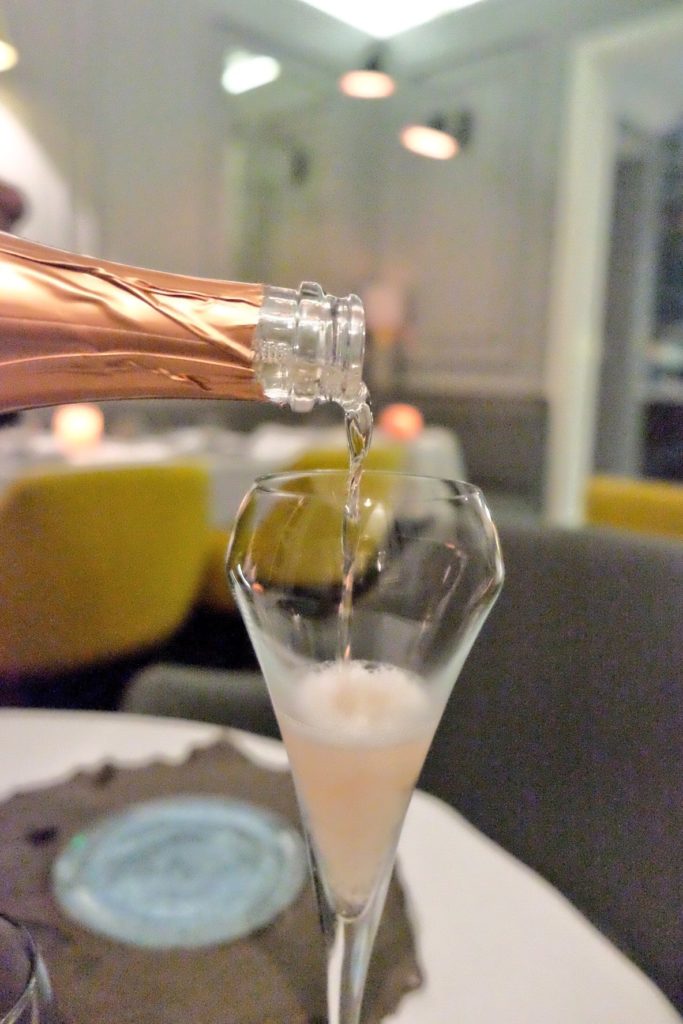 We begin with 5 little amuse bouche and an English sparkling rose wine that fizzes in sweet strawberry blushes on my tongue. I love a dish of seared scallops in ghee, served with pearl cous cous and in the most beautiful bowl (see below). The scallop melts away and was perfectly rare on the inside. Gorgeous also are crisp little bhajis, with a pippet of yoghurt to squirt inside, and lovely soft and spiced breads, with bhaji butter.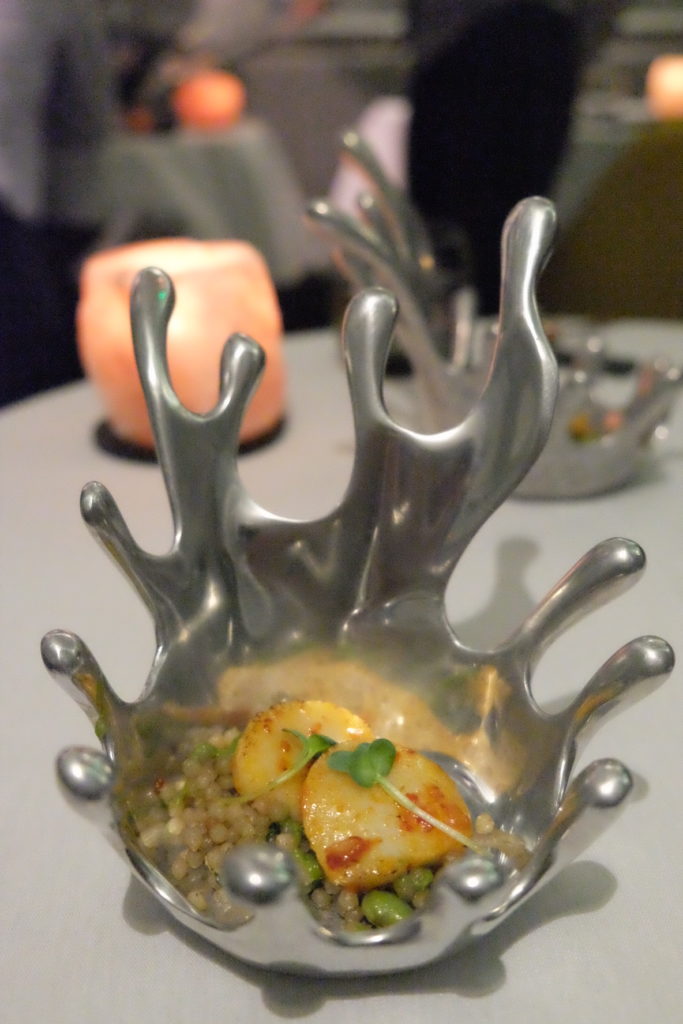 Moving to the starters, I'm happy to see that the signature Rasoi tandoori salmon remains on the menu. It's a perfect cube of pink salmon, spiced and moist, alongside herby coriander chutney. I'm not sure what region of India this is nodding too, but I've had many such coriander chutneys in Goa, South India, so perhaps that's it.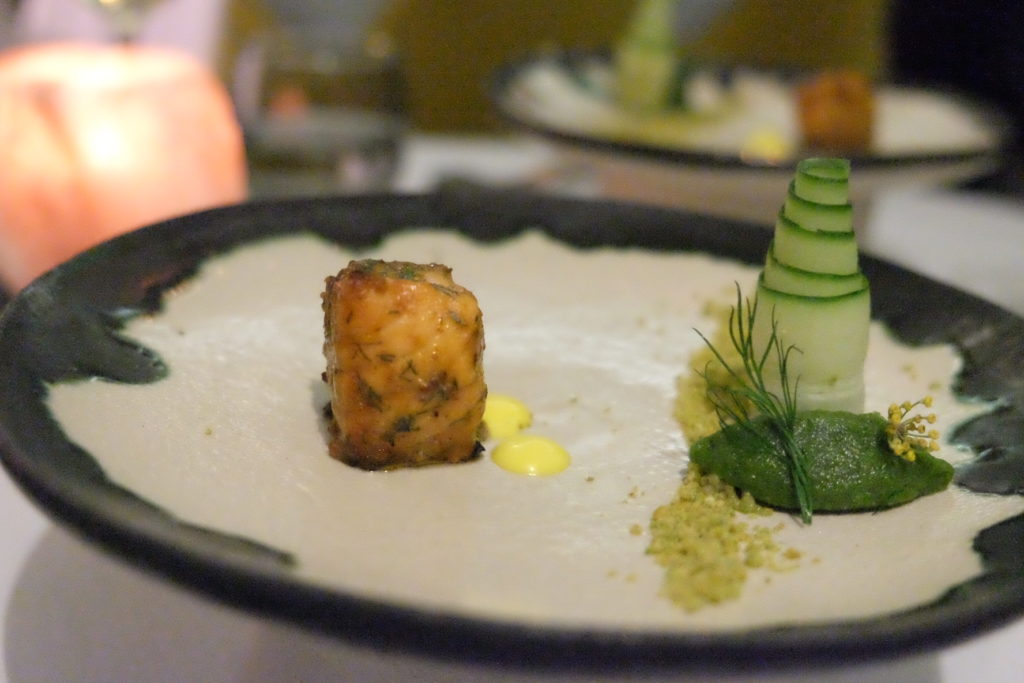 Next comes a mushroom momo, alongside 3 different sauces. Momo's are a Nepalese dish that I remember very fondly from my travels and I'm delighted to see them represented on this menu.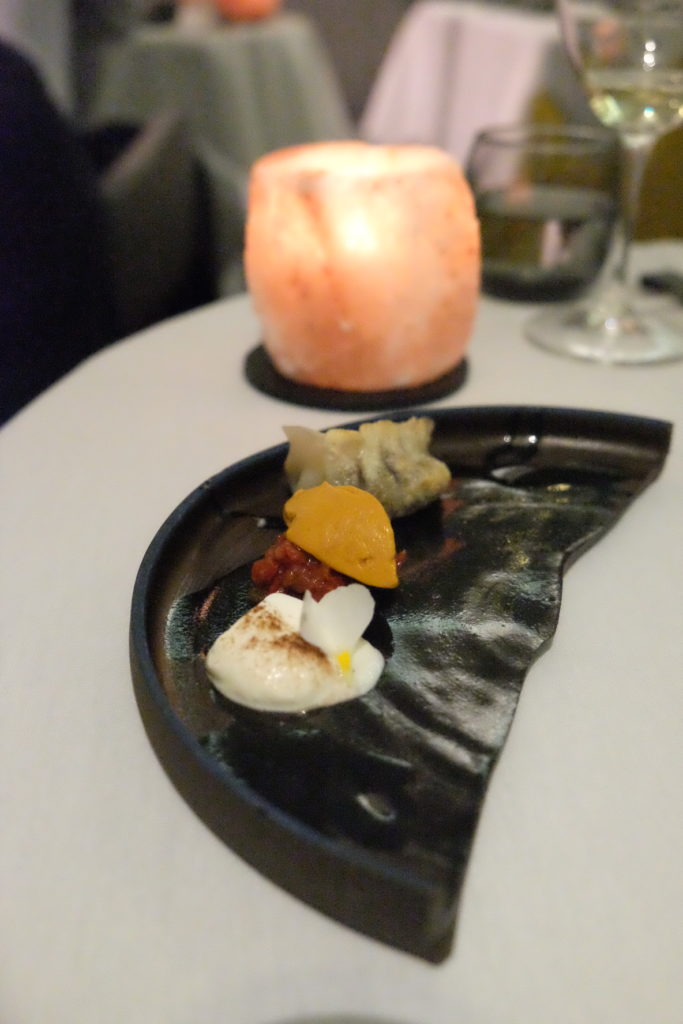 Next – luxurious lobster with baby melons no bigger than my thumb nail, indian bread spiced with coriander and fenugreek, and a squid ink foam. Lobster usually works very well with Indian spices, provided they're well balanced, and this is no exception. This is closely followed by my favourite course of the evening -malai chicken, slow marinated in yoghurt and served with a creamy sauce. The chicken is wonderfully moist from the yoghurt and the spicing is subtle, texture coming from a crisp bread on top.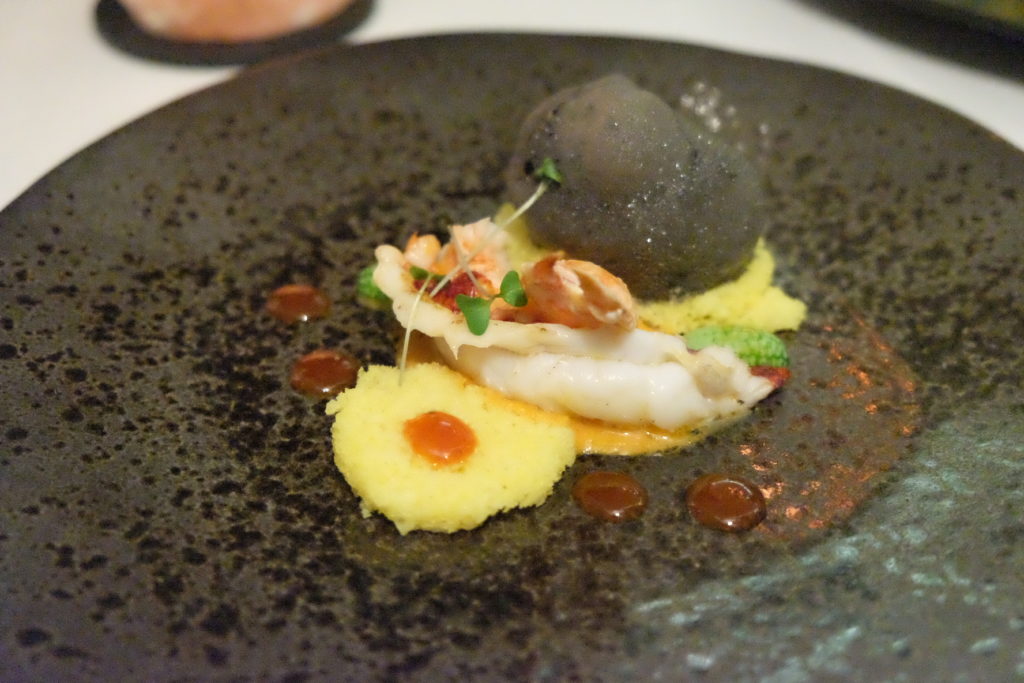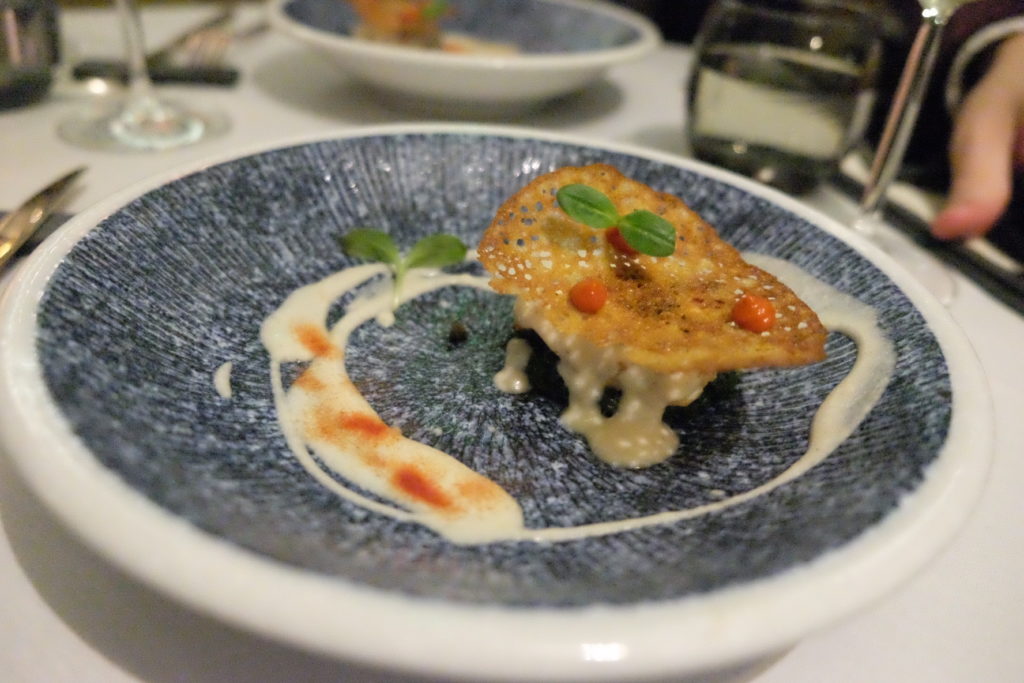 The last of the meat courses is also the richest – Kapi lamb chops in thick gravy, served at the table. I've probably never tried more tender lamb than this. I ask the waiter and he says it's again down to marination in yoghurt and through the quality and age (super young) of the lamb.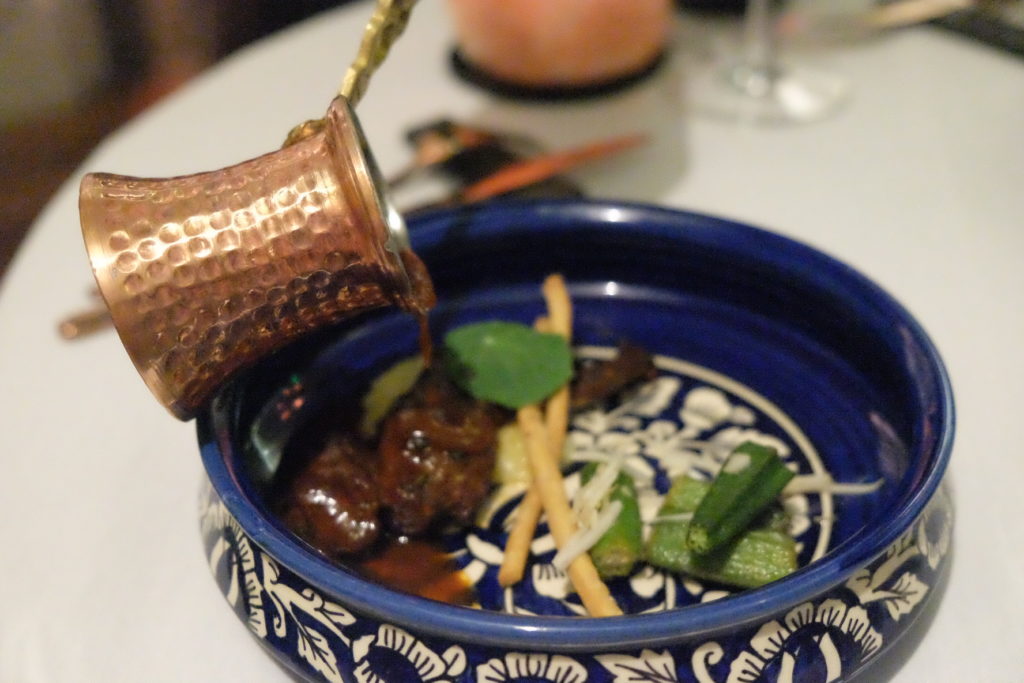 Desserts are surprisingly good. I normally don't love Indian desserts, missing the rich creamyness and pastry of European styles. Vineet Bhatia's probably showcase some of the best Indian desserts out there, but for me aren't as special as the mains with an exception of a NEW Himalayan Salt dish to the menu. It's a long tube of salted caramel parfait, served on top of a pink slab of Himalyan stone and it was gorgeous. The signature chocolate samosa is still on the menu and I like it enough.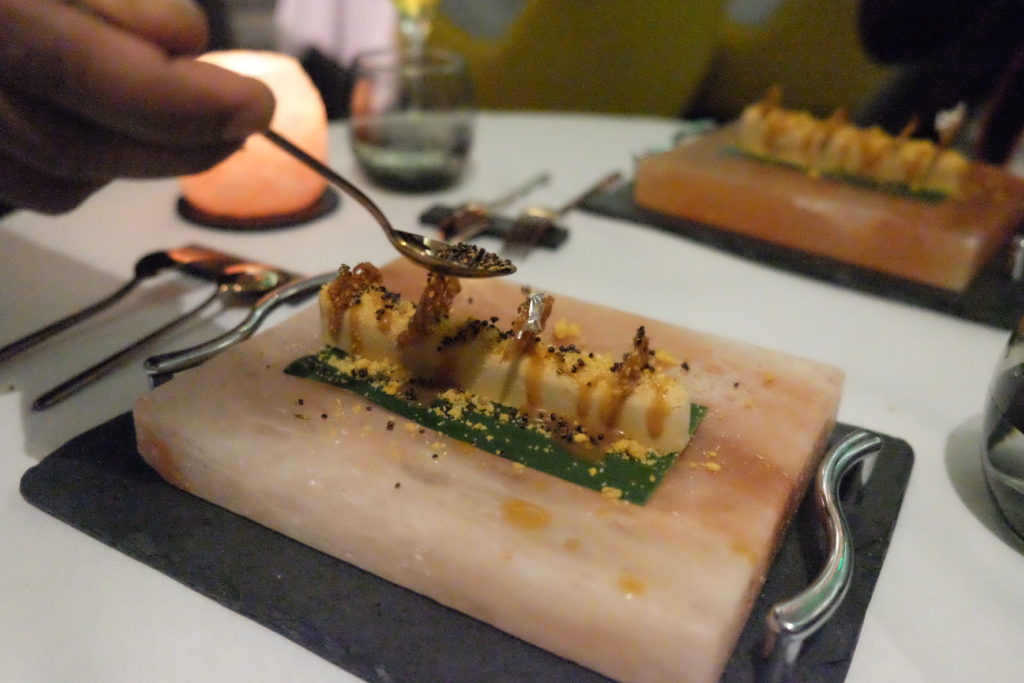 All the wines paired with the courses were well chosen, showcasing some good organic and natural wines, and including the odd UK one too. No Indian wines are served which, all in all, is probably a very good thing.
I'm delighted with the new Rasoi, now Vineet Bhatia London. It's held onto the fine Indian cooking that Rasoi displayed in oodles, but has modernised, getting rid of some of the unnecessary fuss and fancy. The success of the model of dinner only tasting menus remains to be seen – I'd be interested to see what kind of three course weekend lunch menu they could offer at a lower price bracket. I'd love to visit more and I'm loathe to see it become a solely special occasion destination, rather than a regular which its current format risks it being (with the exception of its well heeled Chelsea clients, perhaps). I'm also happy to see some of my old favourites still on the menu, along with some exciting new additions. All eyes on the new Vineet Bhatia – let's see how it evolves next.
http://www.vineetbhatia.london/
10 Lincoln St, London SW3 2TS