This salsa recipe is perfect served with dipping chips, or even alongside fish or meat. Roasting the vegetables first really brings out their natural sweetness and gives the dip a real mature smoky, deep flavour. Enjoy!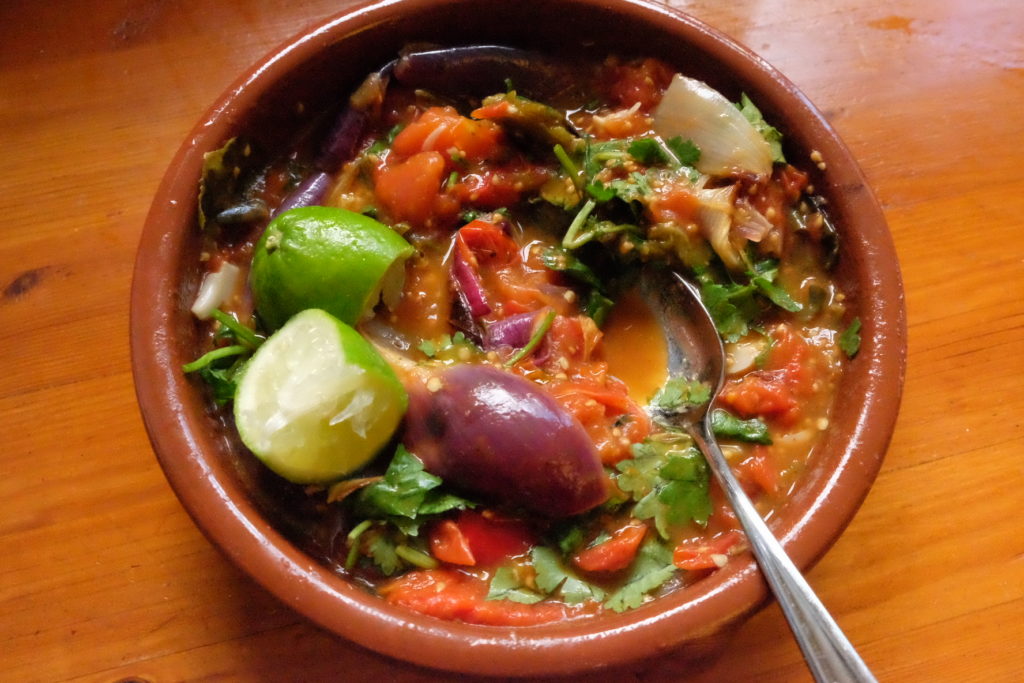 Ingredients (makes 1 bowl)
1 bunch cherry tomatoes on the vine
1 handful fresh coriander
1 lime
1 bulb garlic
1 long red Marconi pepper (a normal red pepper will do) – halved and seeds and stalk removed.
1 dried ancho pepper (don't sweat it too much if you can't find this – substitute a red chilli and some smoked salt). Soak in warm water for 30 minutes before to soften.
1 red onion, skin off and halved
Salt and Pepper
Method:
1. Set your oven to 180C. Put your garlic and onion on a roasting tray whole and give it a head start in the oven for 15 minutes – they take longer than the other vegetables.
2. After 20, add your tomatoes and red pepper. Drizzle generously with olive oil and roast in the oven for 30 minutes until the skins are bursting and they are fragrant. Remove and let cool slightly so you can handle them.
3. Remove the vine from the tomatoes and add the tomatoes, onions, pepper and ancho pepper to a pestle and mortar and grind down into a rough paste. Squeeze the garlic out of its shells and grind in too. The texture should be rough – grind as much as you like according to your taste. I like mine chunky!
4. Chop up the coriander (including the stems – all the flavour is in them) and stir in. Season with fresh lime juice, salt and pepper to taste, and you are good to go!