I like Sundays. This is the only day in the week that I can, and do, give myself solely over to self-indulgence. Monday-Friday sees my day job compete with my evening 'job' of food blogging (and in October-November it literally is every evening), Saturdays I claw back the tattered remnants of my social life, so neglected in the week, and Saturday nights….well, these are better left undisclosed. By the time Sunday comes around I am tired, hungover (often) and ready for a day dedicated only to M.Y.S.E.L.F.
Recently I found a perfect spot for this at the Mirror Room at the Rosewood Hotel…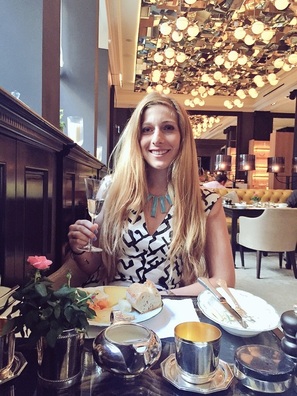 If you read my
previous post on Scarfes Bar
, you'll have seen that I love this hotel. It's a super luxury, yet super comfortable and terribly British hotel over in Holborn with a number of different restaurants/bars/bistros, each of which I'm adoring at the moment. My latest discovery is their Slow Brunch and Slow Food Market, held every Sunday, rain or shine. Brunch, a farmers market and a languorous Sunday philosophy….it sort of has my name on it, doesn't it?
Every Sunday their central courtyard is taken over by a cute Slow Food and Living Market, with circa. 30 different local producers selling their wares. If a farmers market seems incongruous to the grandeur of the surrounding hotel, think again. This is very Rosewood. I stayed in their San Miguel de Allende branch in Mexico and they had a similar market on the grounds. The hotel group is all about 'sense of place' and fostering community – what better, or more tangible, way to do this than to invite in the very community that makes each area so special?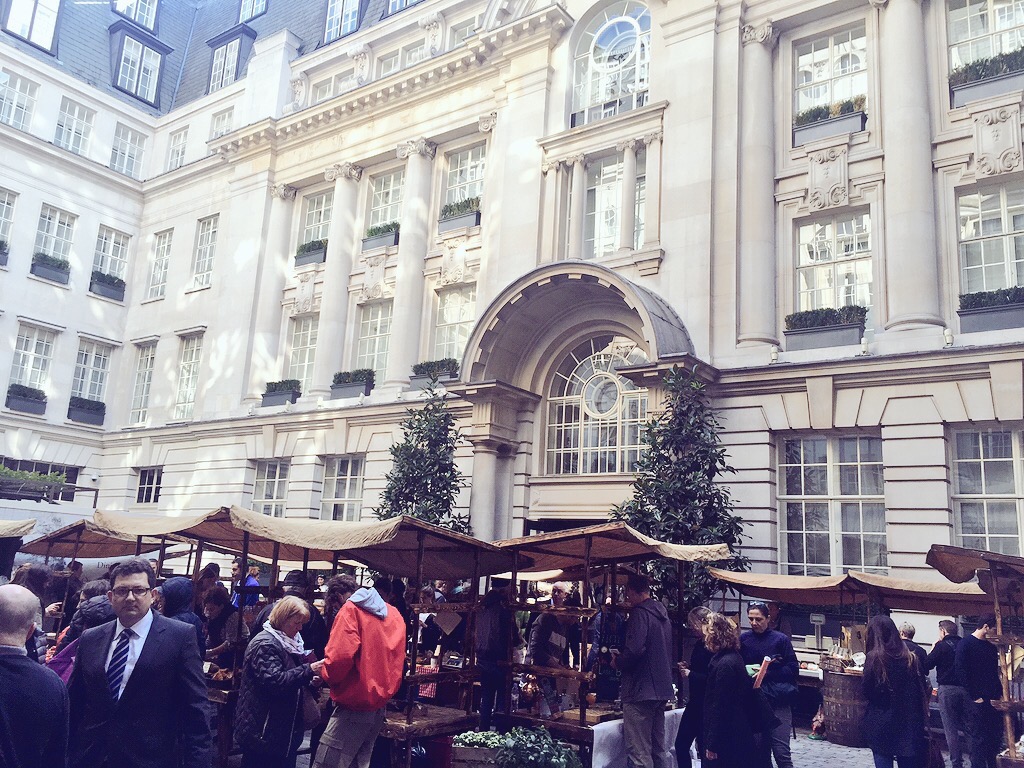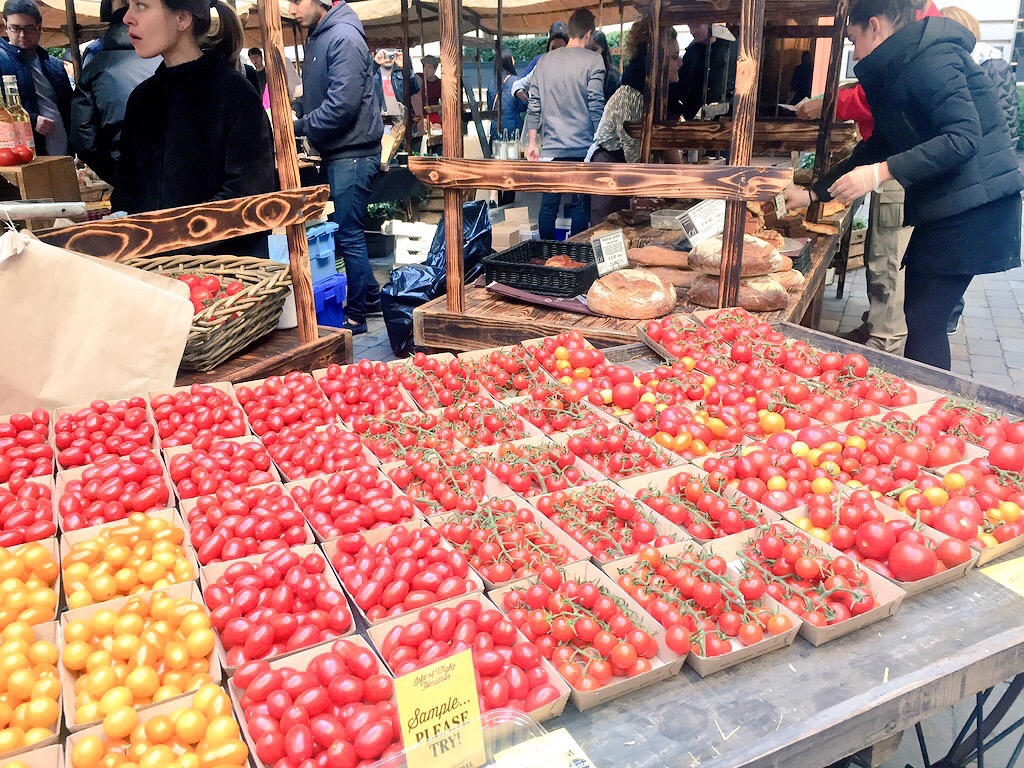 Alongside the market each Sunday is also a Slow Brunch in their exquisite Mirror Room, looking over the courtyard and featuring much of the produce sold there. The whole idea behind this brunch is that it is designed to be un-rushed. You can sit, luxuriate in its lounge like surroundings and dip in and out of the food offerings, as slow as you like! I popped along one late morning to try it out.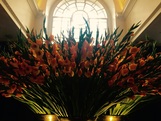 First of all, the room itself. Simply put, it is beautiful. The ceiling is a work of mirrored art, giving the room its name. Fresh flowers are everywhere, perfuming the air, and the seats are either low flung sofas or cushioned chairs.
There are about 6 different food stations around the room serving everything from charcuterie and smoked fish (the salmon is excellent), to cheese, to interesting salads, homemade yoghurts and juices, a vast array of desserts and the obligatory chocolate fountain. The bread selection is massive and a carbivore's dream. There are about ten different types of fresh pastries, various types of BUTTER (including a fabulous vanilla butter), too many types of jam to count and teams of fruit compotes. An adjoining room has a hot stove where bacon, the most delicious sausage and chicken or duck eggs are dished up in any form you like. They even have ostrich eggs there on display, although we didn't see them actually cooked.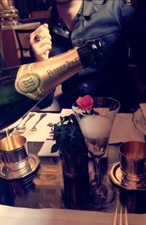 Champagne flows, if you want it to (Perrier-Jouet is the house pour), as does tea and coffee. Then, when you think it's all over after 5 or 6 trips up to refresh your plate, someone comes over and asks what you would like for your main course!! I wish I'd known because by this point I was as stuffed as a dormouse but, ever the consummate professional, I ploughed on.
I'm glad I did. These were spectacular. I had the beef short rib that arrived falling off the bone and tasting…well, deeply beefy; exactly like it should. The jus wrapped around it was intensely flavoured too and the rib had the right amount of fat to keep it moist and luxurious. My friend had the pan fried salmon with vivid green whirls of Romanesco broccoli; all cooked on point and seasoned well.
With the menu coming in at £60 (£70 with champagne), it is probably one for a special occasion however when you consider the scale of the brunch and the overall experience, it's undoubtedly value for money. I can't imagine anywhere nicer, for example, for a hen do breakfast or any celebratory brunch.
All in all this brunch stretched over 3 hours, 5 rounds of tea and coffee, 8 visits to the stations, a set of large mains, 1 round of champagne and many, many pauses to breathe. This is a slow, slow brunch, it is delicious and it is my idea of the dreamiest of Sunday's. So, readers, follow my slow and sluggish lead and visit the Rosewood this Sunday. Come for the market, stay for the brunch.
9.5/10
http://www.rosewoodhotels.com/en/london/dining/Mirror-Room
http://www.rosewoodhotels.com/en/london/interests/Slow-Market
252 High Holborn, London WC1V 7EN
020 7781 8888