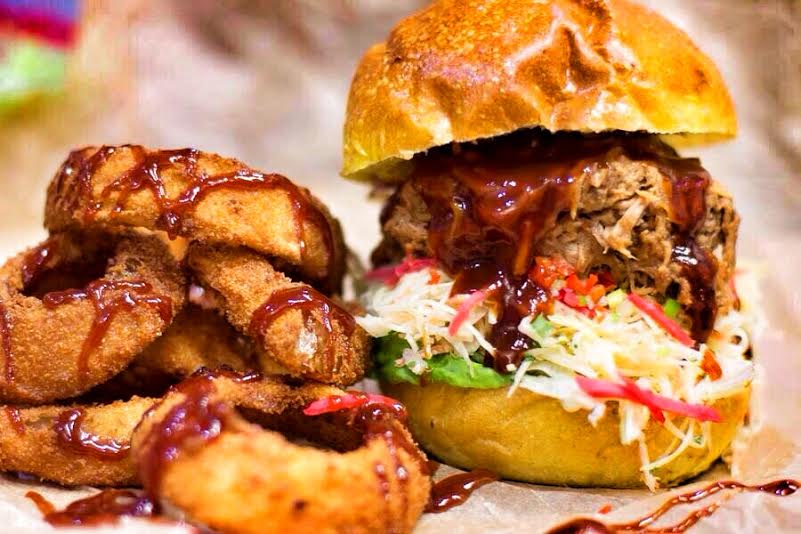 Recently I pottered on down to new American Barbecue restaurant, The Joint, in Marylebone. I am no stranger to The Joint. I've long been a customer of its pop up in Brixton Village Market and I adore their trademark pulled pork buns.
It's exciting to see the Joint grow and expand. The Brixton site is barely more than a shack and the customer tables are set outside along the arcade passageway itself. There are always queues to eat there (for good reason) but this larger, permanent site with 65 covers hopefully should put a stop to that….for now at least. The new site in Marylebone is large and airy, with exposed brick walls decorated with street art, long refectory tables and a downstairs 25 cover cocktail bar. A quirky touch comes in steel bin trays set into the tables where dinners can chuck their bones in true Tudor-style carnivorous decadence!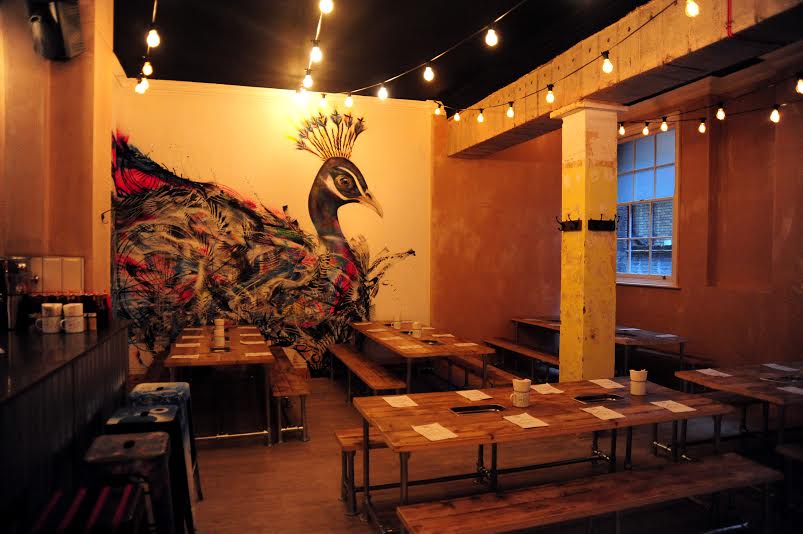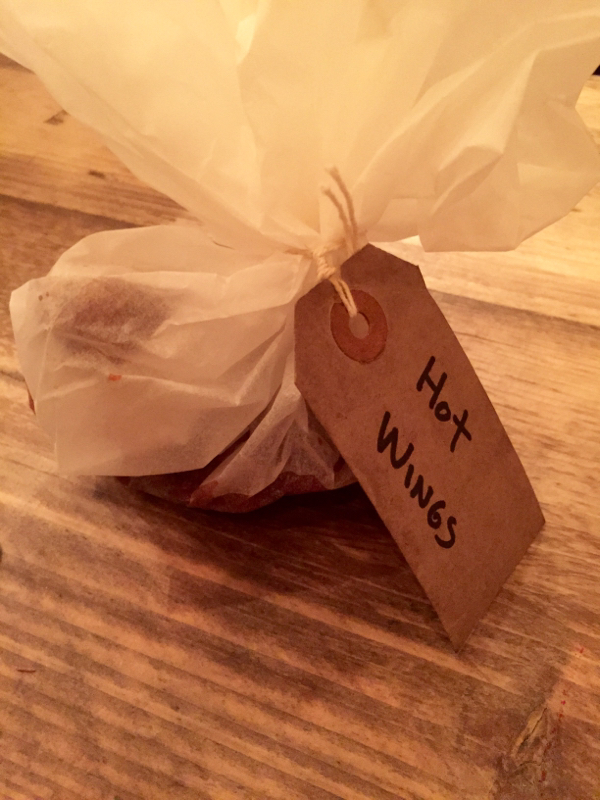 The founders Daniel Fiteni and Warren Dean are also obviously good eggs; all the buns are made by the Bad Boys Bakery at Brixton Prison where Fiteni trains up inmates with the intention of employing them once released. There's nothing like guilt free eating…if only from a sustainability and charitable sense, not a calorific one…
The menu is more of what The Joint does best: 16 hour slow cooked pulled pork, baby back ribs and BBQ. I tried the Asian pulled pork burger served with spring onion, ginger, chilli, slaw and salad in their token bun. Sandwiches don't really get better than this. The pork is juicy, moreish and melts in the mouth and the Asian flavourings give a fragrant and unusual twist. I have to say; the bun itself is pretty special. It is a sourdough base, scented with fig and vanilla, slightly squishy, sweet and the perfect accompaniment to salty pork. The classic BBQ bun is excellent too; it comes with candied apple bacon which blends fabulously with the pork. The Joint also serves a number of sides, served in brown paper parcels which you unwrap like presents at the table. These include wonderfully flavoured chicken wings in a saucy glaze, BBQ or chilli riblets that fall off the bone, giant crispy onion rings coated in BBQ sauce and simple, fresh corn in BBQ butter. The pricing is sympathetic, with buns coming in at £8.50 and guaranteed to satiate even the greediest dinner.
One of my highlights of this spot however came in the drinks menu. I knew the food was going to be great, but the new cocktails came as a surprise. My absolute favourite cocktail in the world is the Old Fashioned and The Joint has delivered an absolute blinder in its Figgy Old Fashioned twist on this classic. This is, simply put, delicious. I also tried their Thyme Collins which pairs gin with lemon thyme and agave in a long, fresh sip. Good stuff. Again, at £6.50 these are a steal and a high quality one at that.
To put the final cherry on the proverbial cake, this outbranch of The Joint will be holding events, the first of which merges my twin loves of meat and men in a 'Meat and Greet' dating event! On March 4th The Joint will open its doors to like-minded meat lovers 'tired of cringe-worthy tinder dates', aiming to ignite the eternal flames of love with slow-cooked pork and sharing cocktails! Tickets are £25 and include mains, sharing sides and 2 cocktails. There's little more I can say to this but 'hell yes'!!

A well-due and most exciting addition to the Marylebone area and Joint empire. You will find me there frequently. Hopefully with a pork bun in one hand and a meaty man on the other.



7.5/10
http://the-joint.co/
Meat and Greet Tickets – https://billetto.co.uk/meat-and-greet
19 New Cavendish Street, London W1G 9TZ
020 7486 3059