Budapest is one of the most popular mini break destinations for UK Tourists. No wonder, its twin cities of Buda and Pest offer that holy trilogy of sightseeing stardom: history, extreme beauty and fabulous value for money. That latter point is worth emphasising: I got flights, 3 nights accommodation in a 5 star hotel, the Boscolo hotel, recognised as probably the best hotel in Budapest (and a tourist destination in itself) and spa access for £150 through LastMinute.com.
See my guide of the top things to do whilst you're there:
DO…
1. Go for tea in the New York Cafe at the Boscolo Hotel – it has the reputation for being the 'most beautiful coffee house the world' and is decked out in gold leaf, and often has a live pianist playing.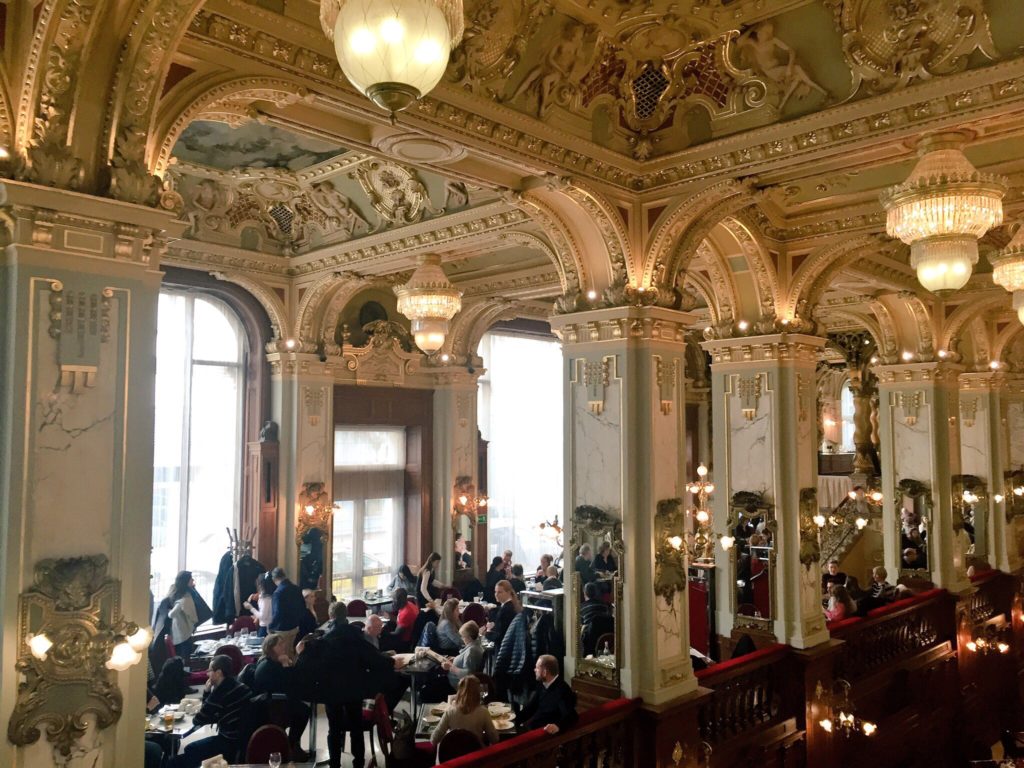 2. Eat in the Jewish Quarter.
This quarter has a rich history dating back to its creation in 1944 and the Nazi occupation of Budapest, and houses the largest synagogue in Europe (and the 2nd largest in the world!)! Add to this some of the best restaurants and bars of the city and it's a top spot to check out. I recommend Macesz Bistro for some of the most delicious Jewish food I've ever tasted. Try the Ludaskasa – goose leg, liver (foie gras) and vegetable risotto. 2 courses with Prosecco at lunch set us back a mere £18.
3. Walk across the Chain Bridge and take in the view over the River Danube of both sides.

4. Peek at the 'love lockets' left there by couples….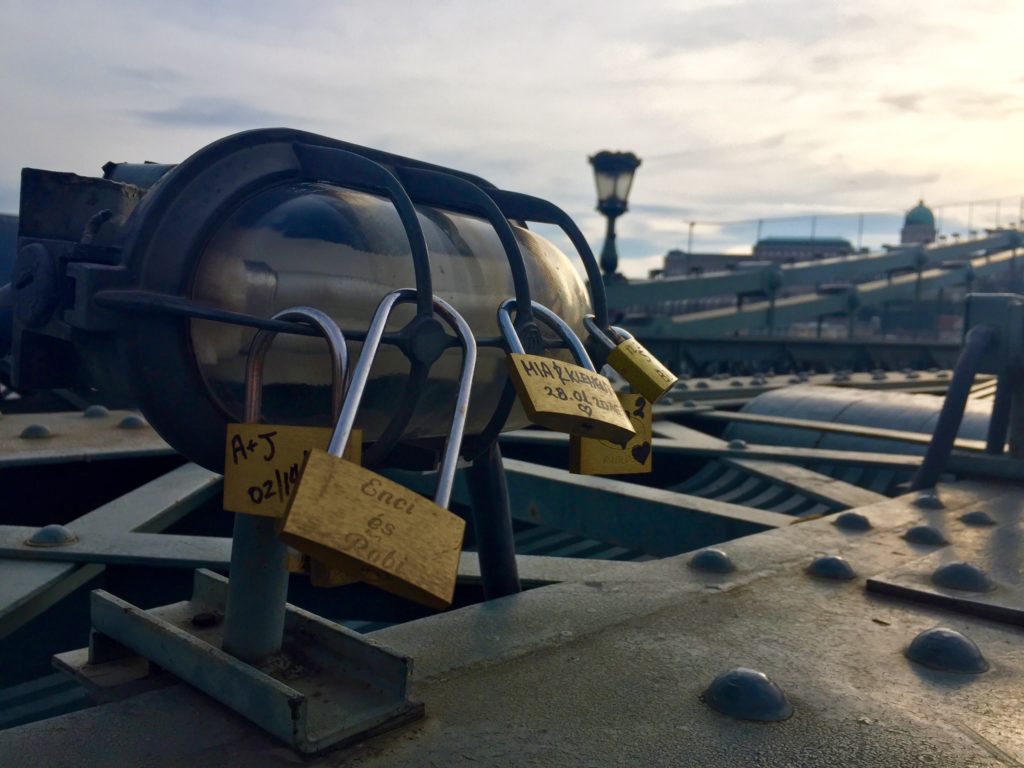 5. Head to Fisherman's Bastion and pretend you're in Gondor from Lord of the Rings.
This is probably the most romantic place I've ever been and I'm already planning my wedding there. It has the best views over the city and is nearby to the, also beautiful, Matthias Chuch.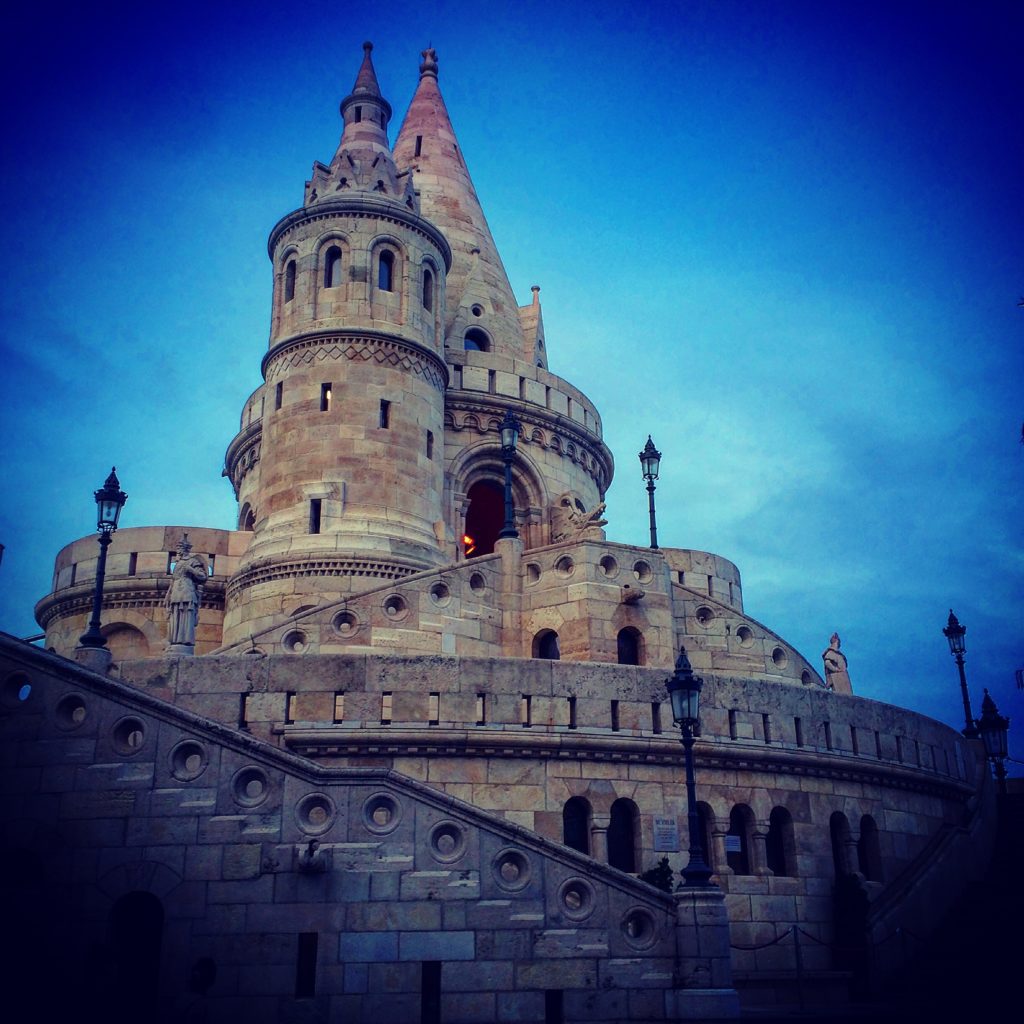 6. Whilst you're there….wander around the Castle Hill.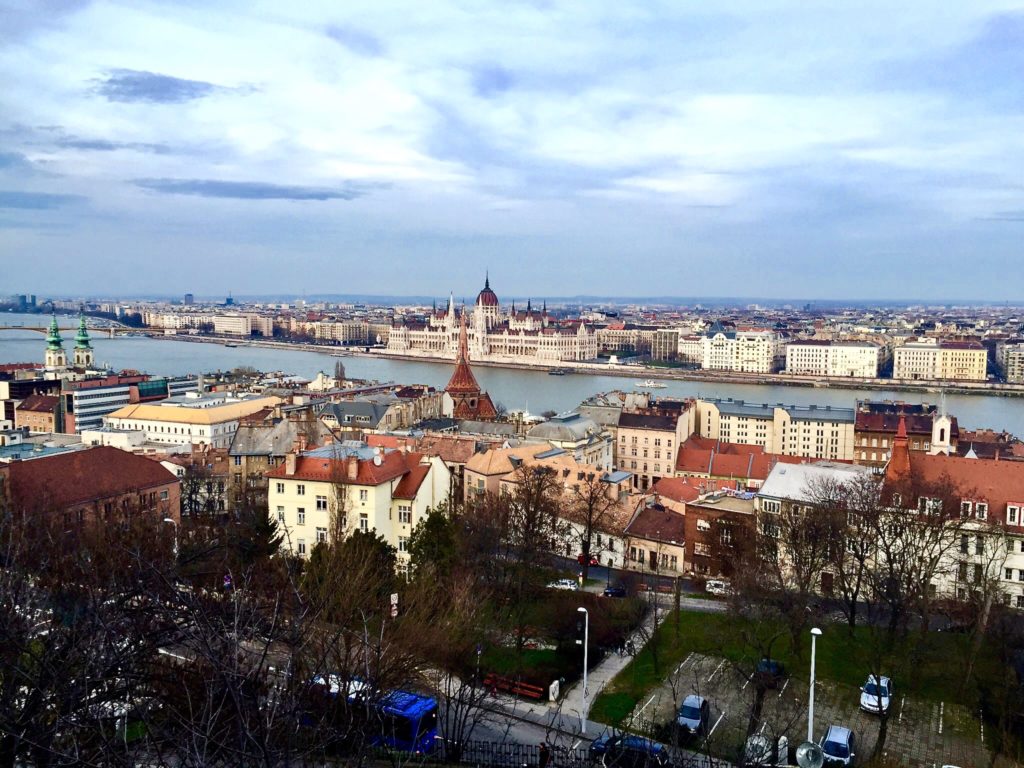 The Castle District is a plateau above the river with gorgeous views over the city. It's a UNESCO World Heritage Site for its beauty and number of medieval buildings. Beneath the plateau is a network of caves and themal springs which you can also visit. You get to it by crossing the bridge and either walking or taking this quaint little funicular train (built 1870!) up the side of the hill!
7. Go to a Thermal Spa.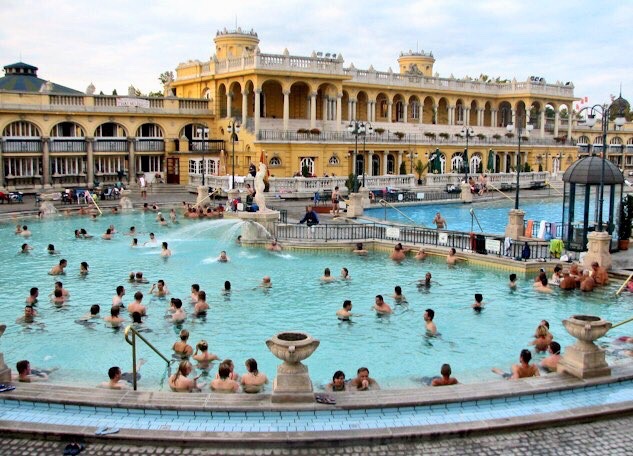 No blog about Budapest would be complete without mentioning their famous thermal spas. Budapest sits on land riddled with thermal springs and has been famous for its baths and spas since Roman times. Now the city has many spas, some modern and some historic and a visit is a MUST. I tried the Széchenyi Baths in City Park spa which is the largest and most famous, with 15 indoor baths of different temperatures, and 3 huge outdoor ones – you could easily spend 5 hours here. Pick one according to your taste (single sex/size/indoor or outdoor) –Lonely Planet has a decent guide.
8. Visit the Great Market Hall for your foodie fix.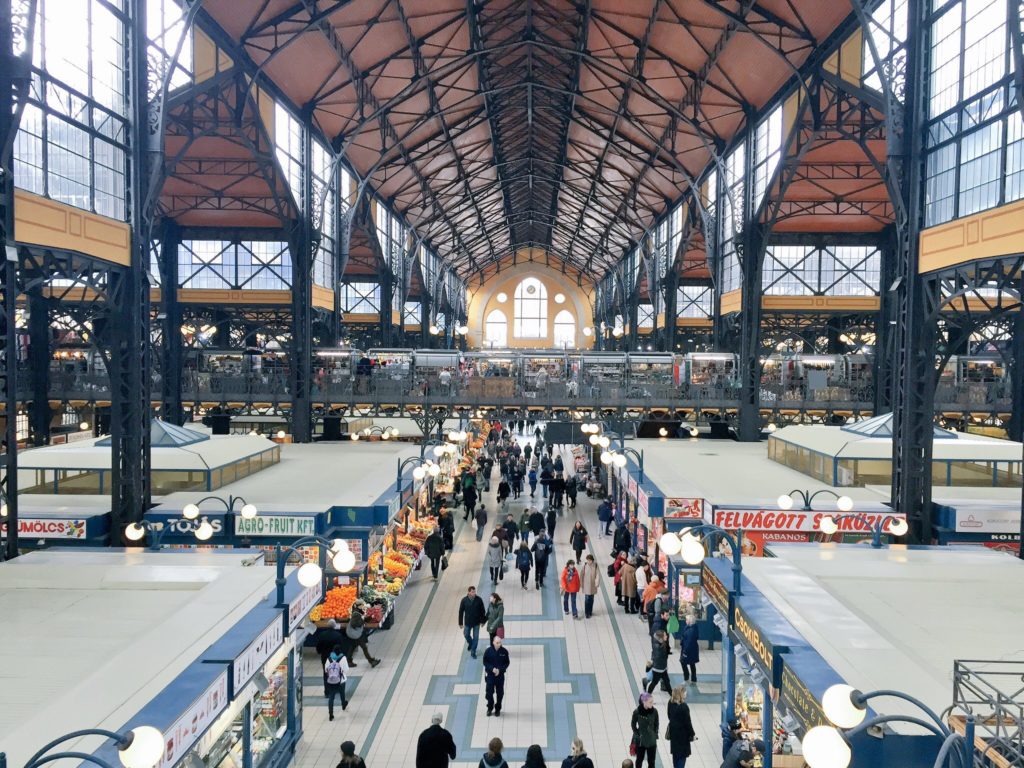 This is one of Budapest's main attractions and it spans a whopping 3 floors filled with food and craft stalls. Plan to stay for around 1-2 hours, and it's a good place for mid morning so you can grab a lunch there at one of the many foodie spots. Wonderful to immerse yourself in Budapest's food scene and see all the local produce!
9. Drink Bull's Blood!
No…I'm not recommending you join some sort of cult – Bull's Blood (Egri Bikavér) is a type of Hungarian red wine from the Eger region. It used to be big in the UK in the 1970s and it is FANTASTIC. Hungarian red wine in general is great and should be drunk a lot more- it is huge, full bodied and packs a red wine punch. There are tonnes of little wine bars around where you can try local wines: I can recommend Doblo in the Jewish Quarter – it's gorgeous, tremendously elegant and often has live music.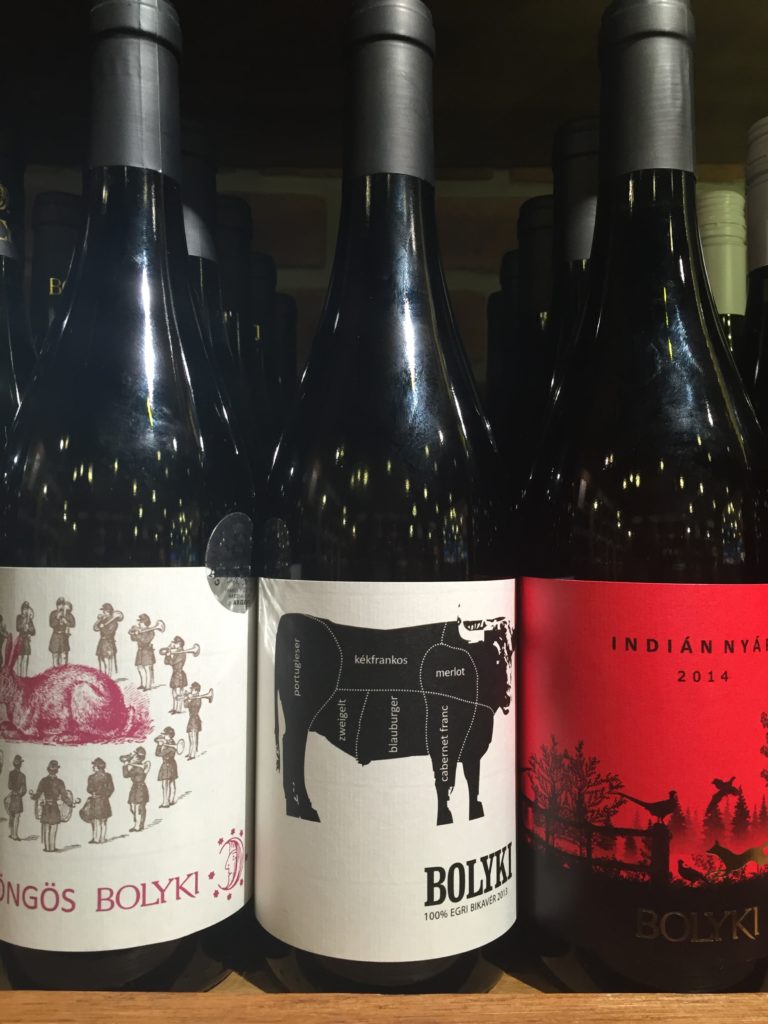 10. Visit Budapest's 'Ruin Bars'.
Ruin Bars are officially the coolest things ever and shouldn't be missed. In the ruins of old abandoned buildings in the Magyar Area of the city, sadly left somewhat to decay after WWII, an underground bar and food scene has sprung up. These spaces have been changed into awesome complexes of bars, art and music. Szimpla Kert is the oldest and most famous one but there are many more – Ruin Pubs has a comprehensive guide.
Most of all….enjoy yourself. Budapest is a wonderful place to visit and you'll find hidden gems just by getting out and wandering around the city! Keep me posted on your travels and help me update my list!